As flowerpowerdaily.com reported, there are now 16 million new gardeners as a result of the COVID-19 pandemic. If you're one of those 16 million, or if you're still trying to figure out how to turn your thumb green, look to these 22 garden designs featured in the aspire design and home magazine summer issue for inspiration:
GARTH ROBINSON
LOCATION: BEREA, KWAZULU-NATAL, SOUTH AFRICA
Passionate gardener and bush guide Garth Robinson created his own garden to blend with his tropical modern house using an abundance of oversized leafy plants. Wherever possible he used native flora, but as the climate in KwaZulu-Natal is subtropical, he was also able to incorporate some exotic plants too, including a smorgasbord of lilies, palms, ferns, stag horns and orchids. His dream garden? "My great-great grandfather John Geekie was a cabinetmaker who came to South Africa from Scotland at the age of 20. He planted Benvie Arboretum in Howick, KwaZulu-Natal between 1882 to 1887. It is widely considered the largest exotic garden in the Southern Hemisphere." Photo by Lar Photography / Frank Features.
MABLEY HANDLER INTERIOR
LOCATION: WATER MILL, NY
Jennifer Mabley Handler and her mother, Cary Mabley, designed this garden together for Cary's home in Water Mill. Jennifer explains, "The property connected with ours and we created the house and extensive gardens from scratch. The black pine was one of the first selections to help ground the house and it became the watchful eye on all the flowering plants below. This garden was inspired by the late Jim van Sweden of the prestigious landscape architect firm Oehme van Sweden. The sweeping clusters of colorful and wild looking flowers and grasses made for a natural and theatrical garden. We also assisted on hardscape details like the walled garden facing the pool." Mabley shares that her dream garden would be beachfront, using native plants, or a desert garden, inspired by her childhood in the Southwest. Photo by Costas Picadas.
GRACE DESIGN ASSOCIATES
LOCATION: SANTA BARBARA, CA
This hillside property, designed by Margie Grace, was burned in the Montecito Tea Fire of 2008. Grace explains, "With the exception of the native oaks, every stick of vegetation was burned down to the ground, and the fire burned right up to the exterior walls of the building, then moved on." The owner wanted a "spool"— a water feature that Grace describes as "Larger than a spa, smaller than a pool."The spool is cozy and warm in the cooler months and provides a place to cool down in the warmer months. But perhaps its most important function? It stores 3,600 gallons of water for fighting fire and is equipped with a gas-powered pump and a 2-inch fire hose. Photo by Holly Lepere.
DAVID SCOTT INTERIORS
LOCATION: WATER MILL, NY
For his own home, David Scott collaborated with Chris LaGuardia and his colleagues at LaGuardia Design in Water Mill. The blue garden gates in the privet hedges echo the front door color and are inspired by the most beautiful mature blue hydrangeas that greet you at the entrance to the property and surround the house. Photo by Antoine Bootz.
WORTHYdomes
LOCATION: MONTERREY NUEVO LEÓN, MEXICO
Reagan Rodriguez is the founder of WORTHYdomes: modular, sustainable dome-shaped homes that are made from recycled plastic and are both bulletproof and fireproof. The homes are perfect for installing a green roof, as Rodriguez created here for an Airbnb in Monterrey, Mexico. Rodriguez shares, "A green roof absorbs rainwater, providing insulation. Most of Mexico gets cold in the winter and Monterrey can be colder than Canada sometimes. The garden on the roof can decrease stress by providing a more aesthetically pleasing landscape. And since Monterrey is very industrial there is a great deal of pollution. A green roof can help filter both air and water. The lush green walls are attractive to look at, they reduce ambient temperature and noise, and they boost productivity. Exposure to greenery can enhance learning and improve decision-making skills.
JANICE PARKER LANDSCAPE ARCHITECTS
LOCATION: CONNECTICUT
Janice Parker created a practical yet beautiful and chic approach to outdoor living that allows for entertaining, dining, playing, swimming and sports, as well as privacy and seclusion for a young and active family. Parker shares that she loves to create gardens that are really outdoor rooms. "I feel strongly that a garden needs to be enclosed or it is not a garden, but a landscaped area. By enclosing a space, you create a sense of privacy and intimacy that relates to indoor rooms and floor plans. These enclosed areas can be a place of sanctuary and peace." She used many native plants as well as ornamentals that are not native but suited to the site. "If non-native plants are not invasive, they give you a large and lovely palette of plants and colors to choose from," she explains. Lavender, Agastache and flowering limelight hydrangeas add shades of purple and chartreuse, and fruiting apple trees bring a sculptural element along with delicious fruit. Photo by Neil Landino, Jr.
NIEVERA WILLIAMS LANDSCAPE ARCHITECTURE
LOCATION: PALM BEACH, FL
An overgrown site located on top of a natural coral ledge led Keith Williams to use traditional materials in a modern approach, creating an indoor-outdoor connection with functional exterior rooms while transitioning the gardens through changes in topography. While this garden is more structured, his own taste runs to "organized chaos," and he shares that he prefers any ornaments that are "old and patinated." As far as inspiration goes, Williams admires landscape architect Thomas Dolliver Church: "Everything he designed has meaning and he made it look so easy and obvious when he did it." Photo by Michael Stavaridis.
LAND MORPHOLOGY
LOCATION: REDDING, CT
Richard Hartlage captured the essence of the Connecticut terrain and flora. The eight-acre landscaped property has further evolved into a sculpture garden that Hartlage's client intends to make public at his passing. The reconstructed meadows and woodland gardens incorporate many native plants, but also use a wide range of non-native species. Hartlage explains, "We are not purists; we strive to select well-adapted and sustainable plants for all our projects. This garden is expansive and immersive. We have tried to create a place that is beautifully engaging, offers deep emotional complexity, and leaves the client and his visitors feeling inspired and refreshed." The property includes many sculptures, but Hartlage was so taken with a particular mosaic penguin from Italy that he bought one in turquoise for his own garden. Photo by Derek Reeves.
CHANTAL DUSSOUCHAUD
LOCATION: GOULT, FRANCE
In Chantal Dussouchaud's garden in Provence, she created an indoor-outdoor living space that includes covered terraces on the south, west and north façades of the renovated 1750 farmhouse. Dussouchaud planted the gardens with respect for the climate of the region. "We wanted a low-maintenance garden with native plants. I was brought up knowing that water is a rare commodity in Provence. My grandmother would cringe at pools surrounded by a manicured lawn." She opted for natural grass around the tennis court and Linden trees ("we harvest the flowers in May and June for herbal tea"), along with London and mulberry plane trees for shade, as well as lavender bushes and other flowering plants for their delicate scent and ability to tolerate warm climates. She uses the lavender to create sachets she calls Knobags; small linen bags filled with dried lavender to hang on a doorknob and scent a room. Photo by Eugenia Daneri.
SMITHHÖNIG
LOCATION: NORTHWEST GA
Melanie Hönig wanted to create the effect of garden rooms that had evolved over time behind her historic home. The house, located on a steep hill, had woodlands in the back which seemed to crowd and overpower the house. She explains, "We excavated and built stone retaining walls that were designed to look as if they've been there forever. The painted wooden gate is from India. It slows you down and invites you into the next space." Hönig is inspired by both Gertrude Jekyll and Vita Sackville-West. "I love that they were writers and artists as well as gardeners," she shares. "Gardening was an influence on, and an extension of, their creative lives." Photo by Melanie Hönig.
ALAN BARLIS AND JESSIE GOLDVARG OF BARLISWEDLICK AND ANTHONY ARCHER-WILLS
LOCATION: ANCRAM, NY
This garden was designed to complement the adjacent water garden in the natural swimming pool. The pool and surrounding decks are rectilinear and modern, so Barlis explains that it was key that the planted areas offset the hard lines in an organic way. The outdoor space needed to feel as comfortable, casual and "informal" as the adjacent barn, and reflect the rural nature of the surrounding landscape. The plantings are a mix of native and non-native species. Barlis reveals, "Gardens can feel especially well suited to a landscape when their formality level is an extension of the home's architectural style. As outdoor spaces extend further away from a home, it can feel very natural for these to be a little less formal and manicured, and a little wilder and more relaxed." Photo by Reto Guntli.
MARK WEAVER & ASSOCIATES
LOCATION: MONTECITO, CA
Mark Weaver used drought-tolerant native landscaping to create this highly designed oasis in his own backyard in Montecito. The property has a Mediterranean/Italian aesthetic. The house is adjacent to a creek and while sitting in the garden, visitors can hear the relaxing soundsof the water running. This project was his dream garden, and within it, he included everything that made him feel comfortable and nurtured by the beauty of nature. For this particular project, his favorite plant was the Agave Attenuata. Photo by Tim Street-Porter.
LOCATION: LODZ, POLAND
For a garden near Lodz, Poland, a homeowner worked with a designer to create a garden filled with plants that inspired joy. The garden area was originally a recreational space for the elderly, so there were already a lot of beautiful plum and apple trees, which they opted to keep, and they added wild trees and grasses to evoke a woodland forest. The plants don't collide with each other and the homeowner was able to incorporate six types of grasses as well as a fishpond and an arbor. While the garden feels natural and organic, it also satisfies the homeowner's need for a more manicured and organized space. Photo by Celestyna Król / Alicja Trusiewicz.
NIEVERA WILLIAMS, PEMBROOKE & IVES
LOCATION: PALM BEACH, FL
Nievera Williams designed a simple, low-maintenance garden on behalf of their client. The symmetry works nicely to frame the swimming pool and the boxwood allows for privacy while also maintaining the view to the lake. Williams is inspired by the famous Marqueyssac Gardens in the Dordogne, France and exclaims, "They are playful, stunningly gorgeous, and like nothing you've seen before!" Photo by Stephen Kent Johnson.
JACKSON PAIGE INTERIORS
LOCATION: FRYMAN CANYON, LOS ANGELES, CA
In her own home, Kristine Paige's goal was to create a drought-tolerant, fragrant and magical environment by introducing native plants that transport visitors to the South of France. They completely uprooted the existing garden, which was not drought-tolerant and demanded an excessive amount of water. A redesign of the front entrance to the home created a direct pathway to the front door that branches off to pebbled walkways hidden within the garden. Paige explains, "I love a mixture of formal and wild. I think it's important to include native plants as they will perform the best in your environment, but you must introduce your own personality and create a landscape that speaks to you and enlivens your senses."
KAA DESIGN GROUP
LOCATION: LOS ANGELES, CA
Michael McGowan designed this garden for a client who, "is blessed with one of the most spectacular views of LA." This private roof garden off the master bedroom was designed with the goal to make the roof edge disappear and connect the garden to the landscape beyond. Similar to the way an infinity edge pool works to connect the pool to the ocean beyond, the gently swaying grasses at the border of this garden blur the edge into the planting beyond. McGowan explains, "Ultimately you feel like you are on a garden precipice and not on a roof. The carpet of succulents within the bounded area of the garden focuses attention, softens the hard decking edge and provides visual interest, changing color and texture." Photo by Sharon Risedorph.
DWB BOTANICAL DESIGNS
LOCATION: ROXBURY, CT
Client Michael Leva and designer David Bergman worked hand in hand to design a special and original garden. Bergman says that he prefers a mix of wild plantings but within a contained environment. "The combination of wild and wonderful needs some borders, otherwise it looks too haphazard and sloppy." When it comes to famous garden designers that inspire him, he shares, "I am inspired by almost all of them. There's something to learn from everyone throughout history. It's the combination of ideas that propels us forward." Photo by Gross and Daley Photography.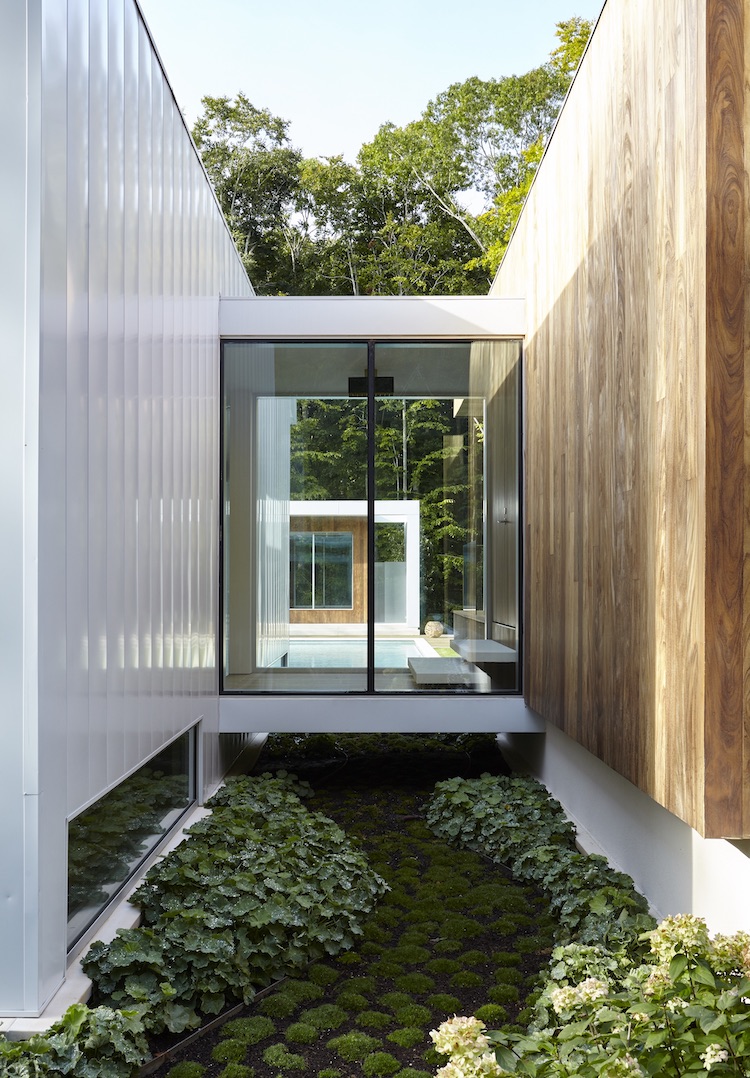 DAVID SCOTT INTERIORS
LOCATION: EAST HAMPTON, NY
David Scott collaborated with Michael Derrig of Landscape Details in East Hampton for this vast modernist garden for clients. The garden has many native trees, bushes and grasses mixed with various hydrangea, boxwood and moss. Scott says, "This is a highly designed garden with several areas for contemplation and resort style living." He shares, "I have been so fortunate to work with gifted landscape architects on gardens throughout the United States from the lushness of the Hamptons to the Arizona desert, but I would love to work on a garden in Europe; perhaps one that was established and then neglected just waiting to be re-imagined and brought back to life in a new modern way." Photo by Joshua McHugh.
HOLLANDER DESIGN LANDSCAPE ARCHITECTS
LOCATION: THE HAMPTONS, LONG ISLAND, NY
This house puts a contemporary twist on traditional seaside architecture, removing embellishments and stripping down the materials to a much simpler form. The landscape design responds in a similar way. Edmund Hollander shares, "The plant and materials palette are restrained and simple, frequently relying on the play of texture and concentrations of color. In the gravel garden, stone slabs create a rhythm that connect it to the house, while fragrant herbs planted into the gravel keep it from feeling too formal. A garden feels part of a home when it responds to the home's architecture and the site – its location, topography and relationship to the adjacent residence." Photo by Charles Mayer Photography.
KAA DESIGN GROUP
LOCATION: MANHATTAN BEACH, CA
This garden was designed for a private client concurrent with the design of the home. Michael McGowan explains, "The site is rather steep, with different levels of the home opening out to different levels of the site. Garden spaces were used to mitigate the transition between levels." A garden stair, located partially in the shade and partially in full sun, connects the indoor/outdoor room, with a play lawn beyond. McGowan continues, "The challenge was to design a plant palette that could thrive on each side of the space respectively but could also work together as one unified expression. This was achieved by matching the scale, texture and color of plants on each side of the space, while allowing lower plantings that can survive in both light conditions to hold the sides together. The result is a verdant stairway that beckons residents and guests to explore the mystery beyond." Photo by Manolo Langis.
JEJON YEUNG, WORRELL YEUNG; HANNAH EDMUNDS, GARDEN DESIGN
LOCATION: BROOKLYN HEIGHTS, NY
In a renovation of a brownstone garden in a historic landmark district, the design team was charged with updating historical details and creating a rich, layered garden environment. In keeping with Worrell Yeung's overarching architecture and design practice, several discrete but similar cubic volumes were designed to organize space within the gardens, containing plantings and a spa in the back. "This is consistent with a lot of the interior architecture work we do, in which we deploy objects within a space. We treated these objects like vitrines, which helped us to organize the cubic hot tub with the plantings, for example," explains Jejon Yeung, co-founder of Worrell Yeung. Instead of laying out a more traditional wall of hedges, the team layered multiple plant areas in the garden to achieve lushness while still maintaining privacy. Photo by Alan Tansey.
K INTERIORS IN COLLABORATION WITH DANIEL NOLAN DESIGN
LOCATION: NOE VALLEY, CA
For her own garden, Kristen Peña worked with Daniel Nolan Design to create a lush, green (only!) garden that serves as a private oasis nestled within the city. Her priorities were to keep the garden low water, as well as to integrate the interior color palette of neutrals, blacks and greens. In addition, she exclaims, "A fire pit was key! While Noe Valley is a sunny warm microclimate within San Francisco, when the fog rolls in, it is cold. Nothing makes me happier than to see my kids and their friends around the fire pit." Photo by R. Brad Knipstein.
Like what you see? Get it first with a subscription to aspire design and home magazine.