An oil by 20th century painter Martin Sumers at the left and an abstract by Dutch artist Larry Beiboer on the right lend bountiful color to the stark, blackened-steel staircase.
---
Northern and western exposures provide streams of sunlight into the dining room. The walnut-top table from Desiron features steel legs and is surrounded by vintage cane chairs.
---
Beth Rumore and Craig Stanley had been living on the Upper West Side and were ready "to start fresh with just a few things from the past" in their new digs located near High Line Park. Acquainted with designer Kati Curtis from yoga class, the two had peppered her with questions about everything – from what part of town might be a good place to live to what type of decor they should contemplate – before formally asking her to work with them. It was a fortuitous beginning for the designer, who calls herself a "visual storyteller," and it got even better when the homeowners gave her their design directive: "Do what you do best."
Curtis suggested a flower-covered wall to contrast with the blackened-steel handrail on the staircase. "The ceiling there was 20-feet high," she explains. "We needed something to draw the eye upward." Stanley shares, "Once we saw it, we thought it was fantastic!"
---
A close-up of Marcel Wanders' Sky Garden light fixture with steel cable suspension. On the interior of the dome is a recessed floral design that creates a pattern through the diffuser when lit.
---
Curtis began the assignment with a face-to-face meeting during which she learned that, beyond wanting to eliminate the "white box" feeling, the couple wanted to incorporate color. "We're partial to green," states Rumore, "but there's no color we wouldn't have considered."
Stanley adds, "I'd been a fan of neutral palettes in the past – cream, gray, ivory – and wanted something bolder that reflected a New York City kind of space." Expanding on their desires, he further shares, "We also wanted something to challenge our thinking, that we wouldn't have come up with on our own, and lastly, we needed sufficient room for the entertaining we love to do, including frequent visits from Beth's mom and my three kids."
---
Paired with a vintage rug from Studio Four, walnut cabinets from Henrybuilt add warmth to the kitchen. Brightening up the space are Stone Source quartzite counters.
---
Hand-painted linen draperies back a sleek brass table with raw-edged walnut top, a textural juxtaposition often seen in Curtis' work.
---
With her clients' complete trust, the designer plunged in by gutting the 2,800-square-foot space, working with renowned New York architect John Reimnitz, who along with the rest of the team had been selected by Rumore and Stanley. "I'd heard so many horror stories," tells Stanley, "that I decided to go with references from some trusted friends. We also made sure that everyone could work well together before getting started."
While most of the gutting focused on the kitchen, which was a white-lacquered affair, and the baths that sported half-walls of nondescript tile, Curtis also improved the flow throughout the home. Nine rooms resulted: living and dining rooms, kitchen, master bedroom, guestroom, den/study, powder room and two baths.
---
The vintage secretary made of teak was sourced from 1st Dibs. An accordion closing hides shelves above the pull-out desk. The blockprint fabric shading the window is from Pintura Studio, Brooklyn. A Carl Hansen & Son wishbone chair gets cozy with a vintage Suzani throw and the petrified wood tree stumps – one light, the other dark – add a global flavor to the den.
---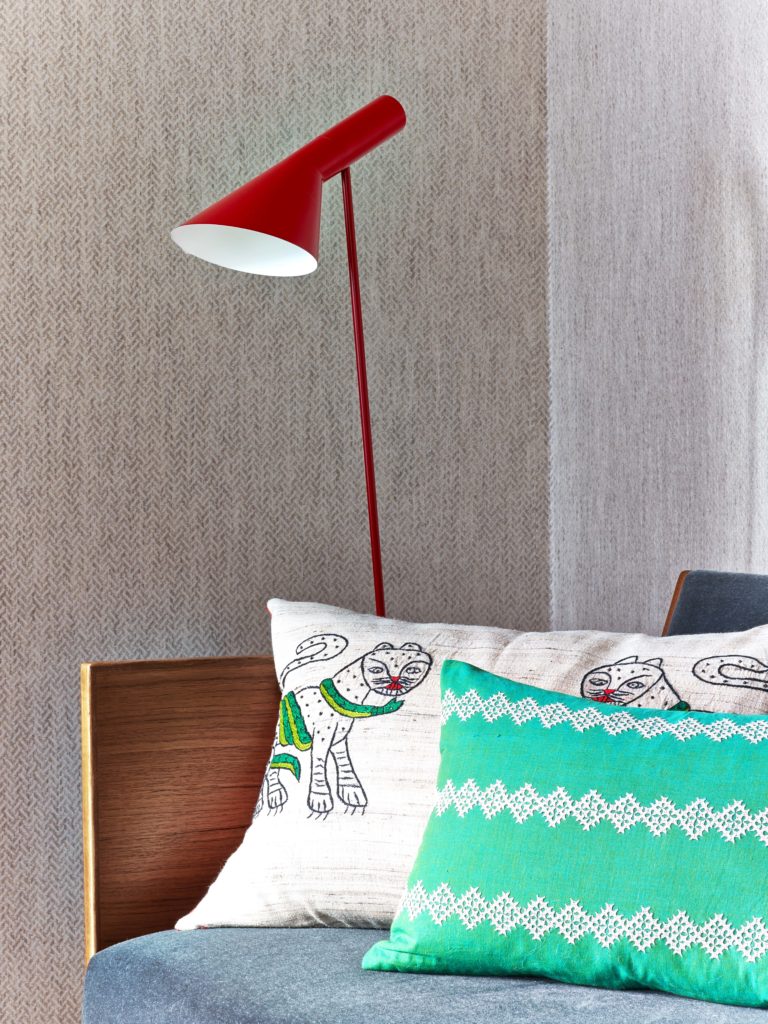 Leading to the guestroom, which is also used as a den, is the hallway set off by an enormous painting done by the Stanley children in the style of Jackson Pollock. The Indian rug is from ABC Carpet. Sheathed in a herringbone tweed wall covering from Phillip Jeffries, the den is cheery with hand-embroidered pillow covers by Clare Louise Frost, a Brooklyn artisan. The lamp is by Arne Jacobsen.
---
She left the walls virgin white, approaching them as a canvas on which to add color, and Venetian plastered the vast ceiling expanses for texture and a subtle sheen. With the cocoon ready, Curtis and her team took on the kitchen, giving it a warm, homey sensibility with walnut throughout, broken up with a vintage rug and quartzite counters streaked with green, blue and gold.
Balancing an evocative mix of antiques with midcentury and modern pieces from locations as different in nature as Brooklyn and India, Curtis notes, "We pushed them (the clients) toward new levels of textures, patterns and colors, at times making them almost leap out of their comfort zones."
---
In the guestroom, a geometric-figured, wool rug from India reinforces the multipatterned dynamic found throughout the house.
---
Moorish-inspired embossed wallpaper of plaster on Mylar behind the guestroom bed emphasizes Anthropologie's hand embroidered bed linens. Glass lamps provide sparkle.
---
The guestroom epitomizes this, echoing patterns reminiscent of the ancient Middle East and the contemporary simplicity of Europe. The living room similarly intrigues with diverse textiles interacting beautifully: A vibrant Martin Sumers oil counters a bright green chenille and silk velvet sofa nestled with pillows bearing various motifs, one of them created from a vintage Hermes scarf painted with a horse, made especially for Rumore, an equestrian in her free time. In the den, calm tones prevail among furnishings that include a vintage teak secretary, an Indian rug, handprinted cotton, and petrified wood cocktail tables.
The homeowners have now been living in their new space for about 18 months, and they love it. "While the colors and patterns are bold, the net effect is calming," they say. "We love having our friends over, and they love being here! It's really 'us.'"
Photography Courtesy of Eric Laignel.
Like what you see? Get it first with a subscription to ASPIRE DESIGN AND HOME magazine.