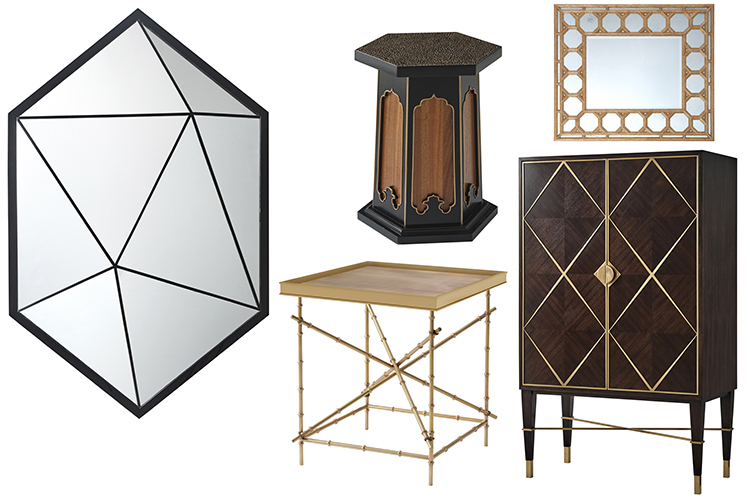 Every season interior designers, architects, and furniture buyers from all over the world gather at the High Point Market to see the latest in furnishing. This Spring, Theodore Alexander will use that stage to debut the latest collection from designer Alexa Hampton.
"I love a blank sheet of paper and the chance to create something new. Design is always about individual vision as well as collaboration and partnership," Hampton said. "It's been a no-boundaries design process with Theodore Alexander; an amazing creative adventure. In fact, I've felt a bit like a kid in a candy shop with Theodore Alexander's support and enthusiasm and I think it shows in the collection."
The collection is comprised of 120 new pieces including case goods, upholstery and accessories. In designing the work as a whole, Hampton wanted to be sure to include basic, versatile pieces that designers could utilize in a variety of spaces.
"I wanted my collection to contain both classic essentials that designers can turn to time and time again as well as unique statement pieces that function like jewelry," Hampton said. "I am a lifelong student of design and am always plucking ideas from art, architecture, antiques and travel. I like to apply a functional pragmatism to these ideas because I believe that good design is not only beautiful but also serves a purpose."
With over 20 years as the president of renowned design firm Mark Hampton, created by and named after her late father, Hampton's work is extensive and highly acclaimed. Her designs have landed her regularly on the Architectural Digest AD100 list, as well as other popular top-designer lists. Praised for both the beauty and practicality in her pieces, Hampton has become known for her contemporary updates to classic styles.
In launching this collection with Theodore Alexander, Hampton has established a partnership with one of the leading furniture manufacturers in the country. A partnership that both parties agree was a natural fit.
"Alexa Hampton is a modern design icon. The creative collaboration behind this collection has been amazing, bringing Alexa's ideas and energy, and pairing them with Theodore Alexander's formidable manufacturing expertise," said Neill Robinson, president of Theodore Alexander. "Like Alexa, the collection is sophisticated but approachable; elegant and inviting. It has design provenance, but still manages to feel entirely fresh."
The highly awaited launch leads a number of new collections from Theodore Alexander, that they anticipate will appeal to a wide audience.
"The Alexa Hampton Collection is perfectly in step with the needs and desires of today's designers and shoppers," Robinson assures. "[It] will resonate in both the retail and trade channels."
The collection will be on display from Friday, April 5 through Wednesday, April 10, at the High Point Spring Market.
Like what you see? Get it first with a subscription to ASPIRE DESIGN AND HOME magazine.