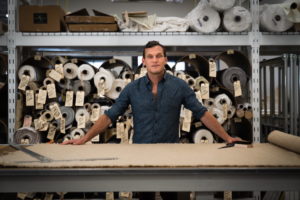 Grant Trick, furniture maker and owner of custom upholstery workroom Grant Trick Furnishings, joins us to discuss the design process behind the Shearling Swivel Chair. Void of hard corners and sharp angles, the design blends rhythmic organic forms found in nature with classical architecture proportions to create a medium worthy of showcasing the beauty of natural hair-on-hide material.
Raymond Paul Schneider: When did you first start to develop this new collection?
Grant Trick: The collection was years in the making. I've been a huge fan of shearling since I first graduated college and was working in the fashion industry. Part of my job was to run samples back and forth to the fur factory – I became obsessed. I would buy shearling hides here and there and would stash them away for future projects. While they never became the jackets, I was dreaming of in those days, I hung on to them for all these years. I pinned one to the wall a few years ago when I started designing my furniture collection.
Raymond: What was the overall timeline from conception to achieving the final design?
Grant: To be honest it was probably a couple of years. Staring at that one hide … waiting for it to tell me what it wanted to be.
Raymond: What was your initial inspiration, and where did the idea(s) come from?
Grant: The initial inspiration was the material and equal parts, the process. As much as I love the look and feel of shearling, I equally love the process of piecing together many unique hides that create a cohesive whole. It's kind of an art and a science.
Raymond: Please describe your overall creative and design process.
Grant: I chose a curvy frame with a nod to French Art Deco because the visual volume of shearling blurs straight lines. Therefore, to me, it doesn't make a lot of sense to put it on a linear frame. So, we really leaned into the curves of the frame and the curls of the hair.
Raymond: Did you have a specific audience or theme that you had in mind?
Grant: My audience is always architects and designers. So, I try to imagine what type of project they would plug our furniture pieces into. In the case of the shearling chair, I see this in a luxurious ski house grouped in front of a fireplace. I could also imagine it being paired with traditional antiques or in minimal spaces.
Raymond: Please describe the methods, tools, and materials you used to develop and prototype this design?
Grant: Methods include grouping hides for each pattern pieced by texture and color so that they blend seamlessly. Precise curved cuts are mirrored from one hide to the next so that they can be inconspicuously pieced. We use an antique cup seam fur sewing machine that sews sideways and only joins the leather while the hair is being pushed toward the face of the hide.
Raymond: Did you utilize a new technique or technology to conceptualize this product?
Grant: We developed a method of using steam and heat to shape the seams and improve their fit on the frame.
Raymond: Please describe any challenges that affected the design and perhaps steered you to an entirely new final design?
Grant: People's perception of comfort is always so different. About half the people that sit in it say it's perfect and the other half want a softer seat. So, we have developed two versions of the same chair so we have a variety for everyone.
Raymond: Describe your overall brand DNA and Ethos
Grant: Our brand is about quality of tailoring, of craftsmanship, and quality of life for our team of artisans. Our aesthetic varies from modern and minimal to traditional. Each piece has the ability to be at home in a variety of environments.
The Grant Trick Collection is newly available at Profiles New York.
Click here to see more of our "Anatomy of a Design" series.
Like what you see? Get it first with a subscription to aspire design and home magazine.