Wallpaper designer Cristina Buckley joins us to discuss the five new bold and sophisticated patterns that make up her Muses Collection.
Raymond Paul Schneider: When did you first start to develop this new collection?
Cristina Buckley: Pretty much as soon as my first collection was finished and launched I started thinking about new designs. The process takes so long that by the time you finally come out with product you really want to start doing something new and completely different.
Raymond: What was the overall time-line from conception to achieving the final design?
Cristina: The process from initial pattern ideas to having final printed rolls of wallpaper was about two years.

Gotham Swing & Dawnridge in development.
Raymond: What was your initial inspiration, and where did the ideas come from?
Cristina: I was feeling drawn to doing patterns that were more decorative than my first collection. I think it was just a natural progression- my first collection of designs were quite bold and graphic. I needed to explore something softer and in a way, more romantic feeling.
The first design for this collection that I drew was "Gotham Swing." This was inspired by antique marbleized endpapers that you find in old books. I wanted to render this idea in a larger scale and with colors to make it feel more modern and fresh. That design set the tone for the collection – a feeling of classicism and touches of Art Nouveau mixed with a little jazz and a little femininity.

Dawnridge, Lady & Ella.
Raymond: Please describe your overall creative and design process.
Cristina: I've been collecting and saving inspiration images for years – pages from magazines, museum catalogs, vintage wallpaper sample books, etc. Just anything that speaks to me in some way. Every once in a while, I go through these files and it always sparks some new ideas. Sometimes the same piece of inspiration keeps resurfacing and I know that it's an idea that I need to start playing around with and sketching. And the funny thing is that it is always the very first sketch or doodle that holds the truest iteration of the design.
Raymond: Did you have a specific audience or theme that you had in mind?
Cristina: I think my work is for someone who appreciates color as much as I do. As a child of the 1970s and 80's I am drawn to bold color combinations and designs that are a bit nostalgic with a modern interpretation.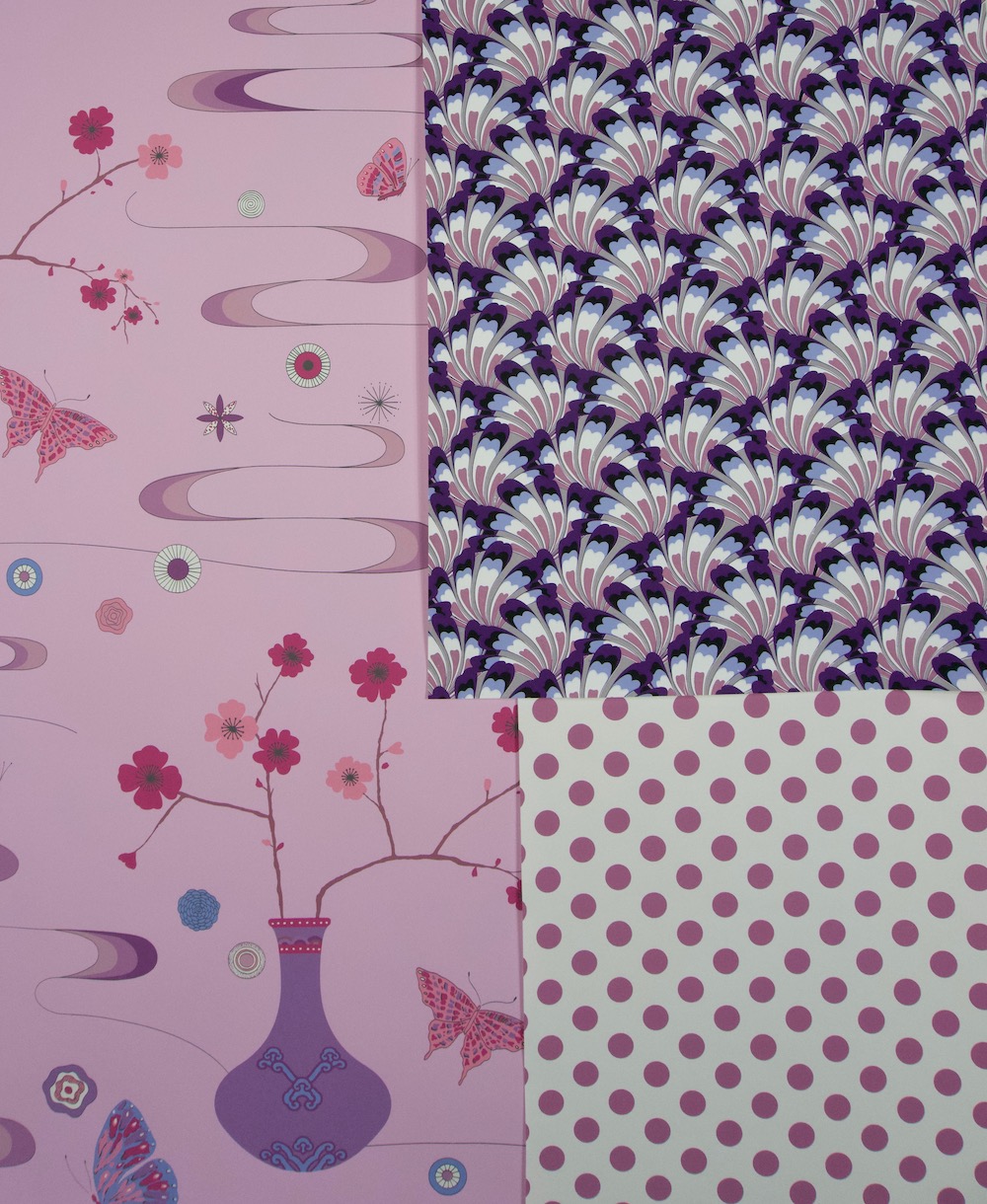 Muses in pinks & purples.
Raymond: Please describe the methods, tools, and materials that you used to develop and prototype this design?
Cristina: I work very old school – I draw and sketch by hand with good old fashioned pencils and markers. I get impatient trying to paint my patterns but I keep wanting to re-explore it as a medium for my work and just as a hobby. Another material that I can't live without is tracing paper. It's such a necessary tool for figuring out how to put a pattern into repeat.
Raymond: Describe your overall brand DNA and Ethos?
Cristina: It's been an amazing process to start my own business and there is nothing as exciting as seeing my wallpaper installed in someone's home. I see wallpaper as a way to really help set a mood in a space – and hopefully my papers bring joy and beauty wherever they are.

Ella, Lady & Dawnridge.
Click here to see more of our "Anatomy of a Design" series.
Like what you see? Get it first with a subscription to ASPIRE DESIGN AND HOME Magazine.