Designer Ben Pentreath and Claire Vallis, Creative Director of Morris & Co., join us to discuss their recent collaboration with the Queen Square Collection.
Raymond Paul Schneider: When did you first start to develop this new collection?
Claire Vallis: We have admired Ben Pentreath's design style for many years, loving that he uses a Morris pattern – be it a wallpaper or a single upholstered chair – in almost all of his interiors projects. We're always keen to share our amazing archive, so we invited Ben along for a visit.
Raymond: What was your initial inspiration, and where did the ideas come from?
Ben Pentreath: We began with the Morris & Co archive – the most incredible archive of Sanderson's original material, including all the very original Morris & Co pattern books. But within the archive was one collection that was incredibly inspirational to us all, which was a late 1960s re-working of Morris papers and fabrics, in beautiful bright colors. Some of the colorways in the new collection are a revival of those, and many others are my own interpretation, using particularly favorite colorways and combinations that I've developed over many years of decoration.
Raymond: Please describe your overall creative and design process.
Claire: Our Queen Square Collection by Ben Pentreath for Morris & Co was a real pandemic-lockdown collection. To get the Designs to market required focus, determination, teamwork, and the joy of creating! We were coloring the collection on press when the first lockdown was announced in England. I gathered everything up and brought it home to continue coloring from my kitchen table! Ben also left his London office during the lockdown, returning to his beautiful Dorset country home, known as The Parsonage.
We worked on colorations from our homes. What was great about this was that Ben could try out the different options in various rooms of his home (a Georgian country house), creating schemes as we worked. He sent me pictures of how the colors looked at different times of the day in other rooms, so lovely to see. It felt simpler to work this way and allowed us to focus and make decisions quickly. We were able to create a collection that worked brilliantly with the aesthetics of this beautiful period house. Our brilliant printers came back off furlough to print the collection. It was wonderful to work with guys on such a joyous collection. Everyone was so pleased to be back working, and there was a feeling we were making something special. I appreciated again, creating something beautiful for others to enjoy.
Raymond: Did you have a specific audience or theme that you had in mind?
Claire: I think this collection is all about the joy of pattern and color, bringing beauty into people's homes and lives, an ethos close to William Morris's heart.
Raymond: Please describe the methods, tools, and materials that you used to develop and prototype this design?
Claire: All the wallpapers are surface printed, the closest print method to the original block printing. The original blocks are also still in our archive!
Ben: We knew that we had many thoughts and ideas that would end up on the cutting room floor. The final collection was chosen to give a range and depth to all the selected patterns and colors; some patterns are rich, with very bold colorways; others are far more gentle, background patterns with soft colors reminiscent of an English summer's day. It's always a question of creating a balance.
Raymond: Please describe any challenges that affected the design and perhaps steered you to an entirely new final design?
Ben: When we first had discussed a product launch with Morris & Co, they were going to rent a house to do room sets for the product shoot. Because of lockdown, the logistics of that got crazy – and then I thought, why not just use The Old Parsonage, our house in Dorset? So we then spent a day picking as many patterns as possible (that was part of the process) and deciding which ones would be permanent and temporary and then weaving a whole demonstration of the collection around that.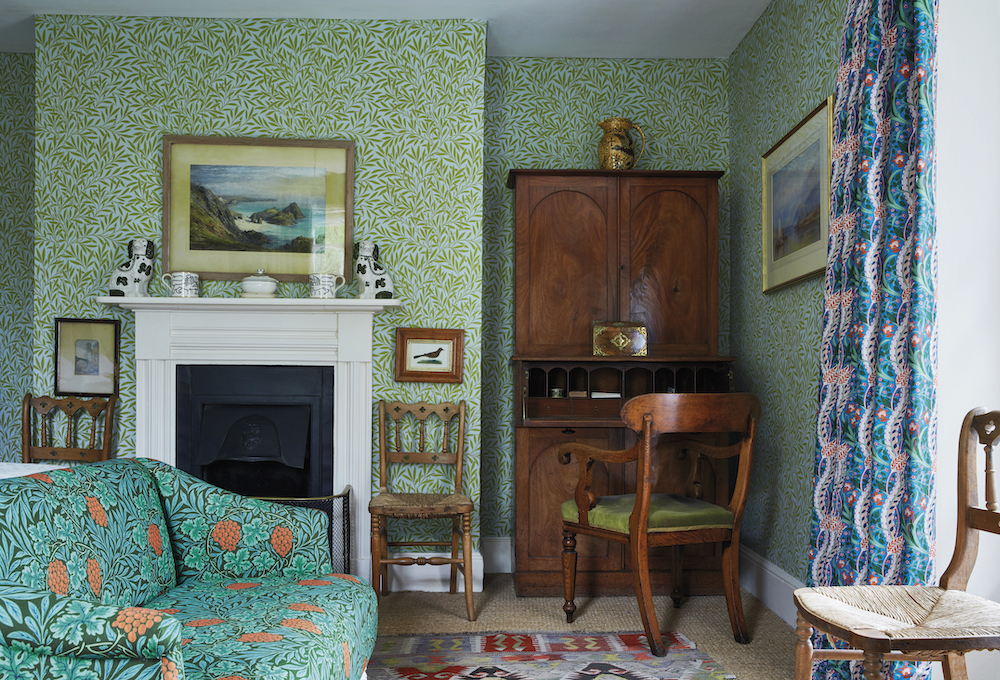 Raymond: Describe your overall brand DNA and Ethos?
Claire: Some regard William Morris (1834-1896) as the greatest designer and one of the most outstanding figures of the Arts and Crafts Movement. He was also a poet, artist, philosopher, typographer, and political theorist. In 1861, with a group of friends, he started the decorating business Morris, Marshall, Faulkner & Co., providing beautiful, handcrafted products and furnishings for the home. Morris was motivated by the desire to provide affordable 'art for all' and driven by his boundless enthusiasm, the output of the company was prolific.
As custodians of the incredible Morris & Co archive, the brand continues to fulfill Morris' legacy by creating inspirational adaptations of original imagery and the original wooden hand-blocks while preserving and celebrating the authentic craftsmanship.
Click here to see more of our "Anatomy of a Design" series.
Like what you see? Get it first with a subscription to ASPIRE DESIGN AND HOME Magazine.