The reviews are in from our panel of leading designers who talk up the hippest trends in outdoor furniture. Get a sneak peek at sumptuous seating that whispers relaxation, ultra-mod pieces for your minimalist side, and playhouse-inspired furnishings that shout fun. Common threads here are rich tones of saturated color and lively artistic lines. Get ready, get set…spring and summer are on the way!
---
CHRIS COLEMAN OF CHRISTOPHER COLEMAN INTERIOR DESIGN
Alternately described as an international tastemaker and a bold, gutsy designer, Chris Coleman helms a home furnishings and accessories boutique in Hudson, NY. He lives by the motto that everyone can achieve good design, regardless of budget. Coleman's vibrant color schemes have enlivened interiors, restaurants and shops worldwide, many of which have been included in scores of publications.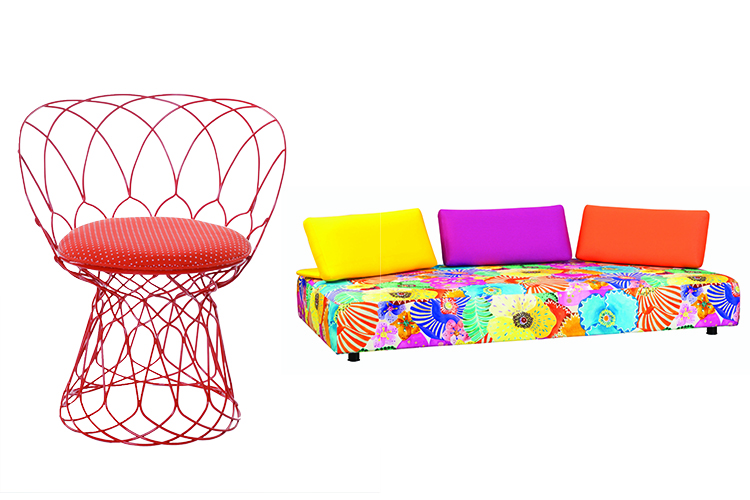 ---
JOE NAHEM OF FOX-NAHEM
Clients lucky enough to work with Joe Nahem appreciate his talented eye. From the very first meeting, his signature curiosity enables him to dig deep into his clients' minds, and to realize their ideas, needs, and individual tastes. The results are luxuriously comfortable, elegant, and livable homes – distinctive spaces that authentically reflect the people who dwell in them.
---
LAURIE BLUMENFELD-RUSSO OF LBR HOME
Laurie Blumenfeld-Russo's true passion for design took hold after she left her career at a major television network as a successful event planner. Her path from the corporate world was followed by enrollment in Parsons' prestigious design program, which led to working alongside a top New York interior designer. Today, she heads a growing company specializing in residential and commercial projects.
---
ROBERT PASSAL OF ROBERT PASSAL INTERIOR DESIGNS
Robert Passal's name is synonymous with classically inspired, yet current design sensibilities. When it comes to designing, renovating and constructing luxury apartments, magnificent homes and sporty yachts, Passal is the go-to choice. His client list includes elite performers, athletes, bankers and business executives. Slowing down? Not his style. Future plans call for expanded operations and retail furniture stores.
Like what you see? Get it first with a subscription to ASPIRE DESIGN AND HOME magazine.