Descriptive terms typically used by architects – sectional, modular and proportional – work equally well to define designer sofas in a spectrum of textures, profiles and configurations. Detailed with elements like industrial bases, lounge-worthy dimensions and clever built-in bookcases, "customizable" is the buzzword of the moment. Whether it's invitingly plush in a classic three-seat design or whimsically modern using sculptural lines, each one is a coveted invitation to be seated.
---
ANDREW WILKINSON
| Andrew Wilkinson Architects is an architectural and design practice focused on new construction and renovations for commercial, retail and residential properties. All projects share the common endeavor of a strong commitment to understanding the needs and requirements of the client while reaching creative solutions.
Rivera Sectional | "This crafty, relaxed sofa is a natural for any casual space. The simple legs and frame offer a refined industrial platform for oversized comfortable cushions that are held in place with a unique leather strap detail which activates the often unconsidered back panel of the sofa making it a 360° piece of furniture . . . be sure to float this sofa in the space!"
---
Tailor | "Loaded with beautiful wood detailing, this 'frame and bucket' sofa is as wonderful to view from the front as it is from the back. The thin seat and delicate frame make this a refreshing departure from the ubiquitous boxy modern sofa, and the artistry and craftsmanship truly set it apart."
---
Maia | "More and more of our New York City-based projects have outdoor spaces that need furnishing. This is one piece that feels modern yet has a level of detail in the webbing that recalls traditional rattan furniture. A beautiful, practical seat!"
---
Yas | "This whimsical sofa appears to be bursting at the seams! The curved wood frame reaches around the back to cradle the oversized cushions and then pokes through the arm fronts. A great detail in an otherwise simple and elegant sofa."
---
LAURA BOHN | Laura Bohn Design strives to create a comfortable atmosphere using LBDA's well-edited approach, often setting unexpected hues and shapes together to give rooms depth and richness that is not easily replicated. A New York design authority, LBDA has gained media attention, attracting clients as far as Europe, Japan and Saudi Arabia. Bohn is the co-founder of The Designers Collaborative, as well as being a member of both the ASID and Decorators Club.
Redondo | "This 3-seater sofa has very beautiful detailing. It is inspired by the upholstery design of 1950s cars. Seams and lines are exaggerated, making it a statement piece. It's extremely comfortable. Great for someone looking for something out of the ordinary."
---
Sydney | "Very space-age sofa. Its feet are set back, making it appear as if it is floating off the ground. It has great lines, from its angles to the one seam, and one continuous cushion."
---
Flex Air | "This piece is absolutely fabulous and very cool looking. Legs are set back which makes it feel light and airy. It is very adaptable to many spaces, from large to small. It's great for making people face different directions."
---
Belgian Track Arm | "Love this sofa, it is usually my favorite. It has very classic lines, completely to the floor and has a single-seat cushion. Comes in many configurations. It's the type of piece that looks good forever."
---
CLODAGH | Clodagh passionately believes that good design supports well-being and can transform people's lives. The experience of entering a Clogagh designed space is one of blissful serenity. A believer in the tenants of integrative medicine, Clodagh embraces both ancient and cutting-edge methods in an effort to comfort the body and the mind. She was among the earliest adopters of Feng Shui in her design practice, and she is once again ahead of the curve by incorporating modalities such as chromatherapy and biophilia.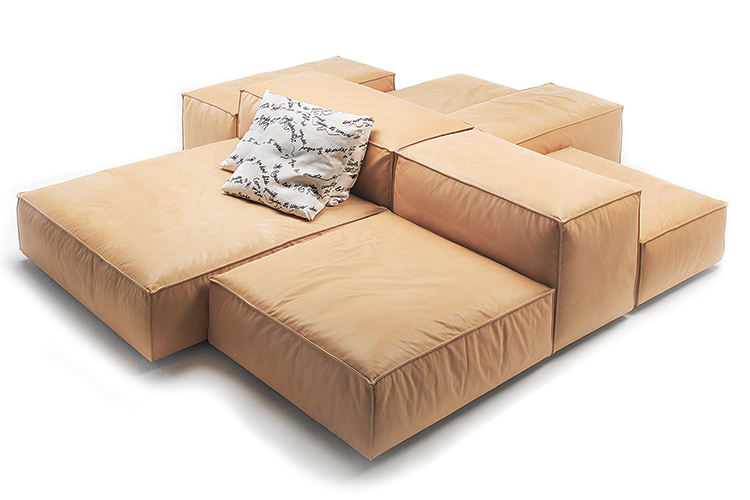 Extrasoft Sectional Sofa | "I love this sofa because it's multi-directional, sculptural and flexible. You can play with it and make your own pattern, and it's incredibly comfortable to lounge on."
---
Cloud Modular Sofa | "This is a wonderful sofa for lounging in your beach residence/holiday home. It's also available for outdoors. We often upholster in outdoor fabric, even for indoors. People who have children or pets or are simply clumsy need all the help they can get. I like sofas that can be used to snooze – double duty sofas."
---
Groundpiece | "This sofa is a bestseller for a reason – its customizable proportions and measurements revolutionized the concept of the sofa. As well as being incredibly comfortable (it passes our studio 'flop test'), it's highly functional – you can add a bookcase to one end if you need that flexibility."
---
Egan Sofa With Tapered Leg | "It's a very elegant sofa. Although our first sit-test of a sofa is always for comfort, this sofa has a nice attitude in a formal environment."
---
KEN FOREMAN | Ken Foreman's design firm utilizes his fine art education along with his knowledge of the "nuts and bolts" of construction. His firm's uniqueness is its ability to combine furnishings, artistic sensibility and practical aspects such as a hands-on understanding of how things can be put together. Ken specializes in New York City residential renovations and has also built a number of offices and art galleries.
The Series 3000 Sofa | "The Danish have always had refined design built into their DNA. This sofa was designed in 1934 and is inspirational to furniture designers today. It epitomizes the 20thcentury love of functional simplicity."
---
The Charles Sofa | "An Italian classic for more than 20 years, today it ranks as one of the most "knocked-off" on the low end market. However, even the best imitators cannot equal its perfect proportions and superb craftsmanship."
---
The Arper Saari 3-Seat Sofa | "Don't be fooled by appearances. This sofa is a must for people with a problem with slick European sofas. Its seats are not too low or deep. This makes sitting or standing up from the sofa easier for most people. The sofa is certainly not made for "couch potatoes," instead it is for those sophisticated people who simply want beauty mixed with proper posture."
---
The Floating Curved Sofa | "A modernist piece of sculpture that one can comfortably sit on. It's become an icon of 1950s modern design. Today one can see the vision of Hans Arp, Alexander Calder and Zaha Hadid reflecting its biomorphic style."
Like what you see? Get it first with a subscription to ASPIRE DESIGN AND HOME magazine.