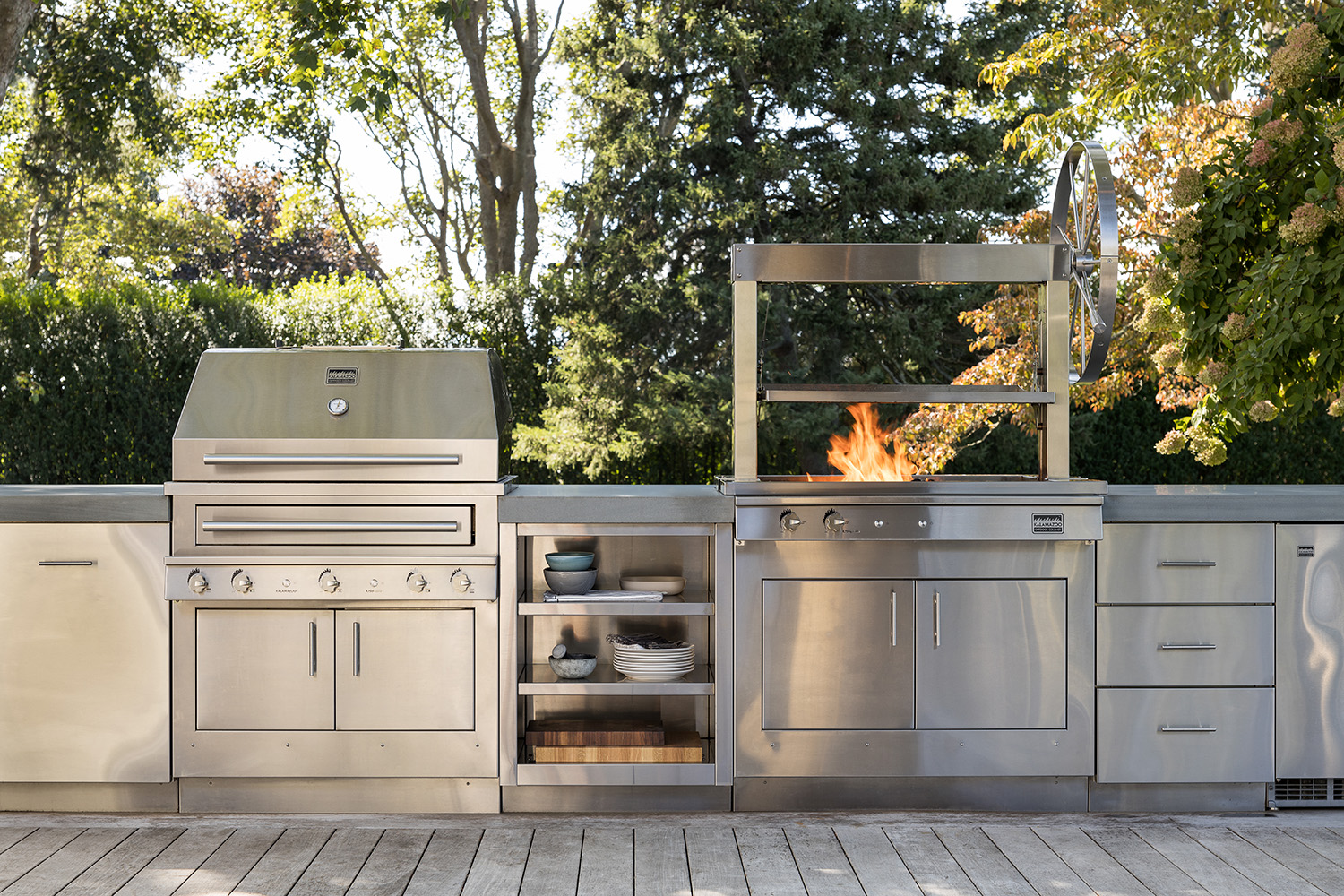 With warmer weather on the way, many homeowners are thinking about springtime home improvement projects. During this era of social distancing, outdoor living– and especially an outdoor kitchen—is a hot trend. From a relatively simple installation to a professional-grade set-up with all the bells and whistles, Kalamazoo is one of the industry's go-to sources for exceptional outdoor kitchens, offering their knowledge from the early planning stages until the day you fire up your grill.
Russ Faulk, Chief Designer and Head of Product for Kalamazoo Outdoor Gourmet, is well-versed on everything from how an outdoor kitchen can improve your quality of life to the importance of designing an outdoor kitchen to meet your unique dining and entertaining needs. "Particularly during these times, having an outdoor kitchen is a safer way to gather with people," Faulk noted. "And post-pandemic, I like to stress that it takes some of the drudgery out of preparing meals for the family. With the right equipment you can embrace different cooking techniques such as wood-fired grilling or smoking." The ability to prepare healthier meals, crafting a memorable entertaining environment and attaining restaurant-style results are among the reasons people seek outdoor kitchens.
Kalamazoo's product line can be installed within sheltered yet open-air backyard structures that offer a variety of options for heating and cooling, so gatherings aren't as weather-dependent, Faulk revealed, adding another benefit that's important to remember, "Being outside makes every meal you prepare a little more fun."
The team at Kalamazoo covers all the essentials with their customers, including sketches and visualizations to help homeowners and designers understand the flow and space of their future kitchen. "It's a back-and-forth process," Faulk explained. "From the sketches, we move onto actual construction drawings and utility locations to document what the Kalamazoo outdoor kitchen will be like. These blueprints are very technical and detailed. Everything is measured to the nth degree. Being involved with a kitchen designer is incredibly helpful to both the design professionals and the homeowners."
Another aspect of an outdoor kitchen involves a Q & A session with the homeowners, Faulk said. "We ask them what do they like to cook today, and what do they aspire to cook in the future? Are they going to be using a smoker a few times a year, or once or twice a month? We determine their need for a smoker cabinet, kamado grill or hybrid fire grill. Pizza ovens are a fun addition for those who have an interest."
A major part of planning an outdoor kitchen is understanding how it relates to the indoor kitchen. "Determining how your indoor and outdoor kitchens will work together is an important inflection point for planning. If you are relying on the indoor kitchen for your prep and cleanup activities, then the outdoor kitchen doesn't need to be as large. This does necessitate the two kitchens being conveniently located to each other. The further away the outdoor kitchen is built, the more capable you will want it to be. We recommend a larger sink, more refrigeration and more counter space for outdoor kitchens that cut the ties to indoors," Faulk explained.
Materials, features and finishes factor into the decision-making process, too. "One thing I always try to do is include a sink if possible; you want to be able to wash your hands and even a small 14-inch sink is fine," Faulk said, a smart safety consideration when handling raw meat and chicken. Be sure to choose a countertop material that does not get hot in direct sunlight. When in doubt, leave samples in the noon sun to see how they react. Lighting is another key component for cooking after the sun sets, as anyone who has cooked by flashlight can attest.
With all the thought that goes into an outdoor kitchen design, the results are well worth the effort, Faulk related. "Beyond cooking, you've got an opportunity to have a second family room that's outdoors and can include any form of media, WiFi, Surround Sound, television and a fire feature. And today's outdoor furniture can be finished with fabrics that drain and dry quickly yet include softer feeling chenilles and suede-like microfibers."
Lastly, an outdoor kitchen can be a strong differentiator when you are ready to sell your home, Faulk concluded. "An outdoor kitchen adds to your home value and is a boon to that home listing."
Learn more about Kalamazoo here.