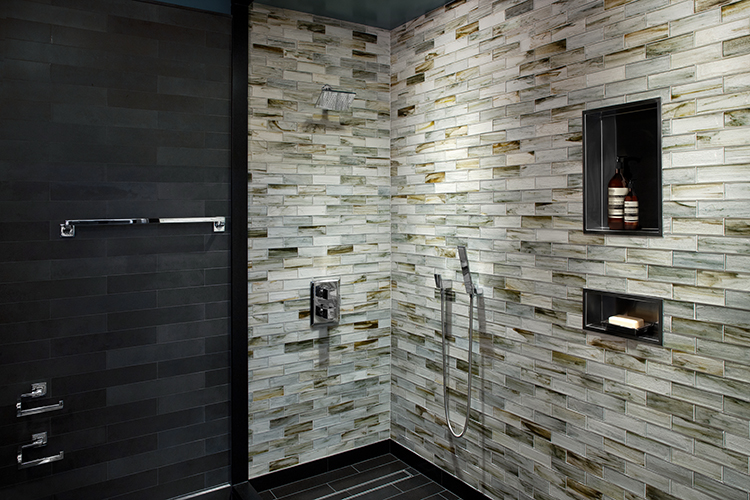 Basalt and Glass Tile Bathroom by Complete Tile Collection | Bold color and dramatic contrast define this incredible master bathroom designed by Denes Petoe, CEO of Complete Tile Collection.
The large shower area features 2"x6" Zumi Structured Glass tiles in natural Stronom color – a subtle yet alluring glow is created when light is cast on these handmade tiles. By stark contrast, the 4"x24" Absolute Black granite is used for the shower floor, framed by a 3" curb of the same striking material, creating a wonderful juxtaposition of ethereal light and dramatic dark. Opal Storm marble is used for the floor outside the shower area – its exquisite black and white veining and texture is reminiscent of a painting, carefully laid out to create the impression of a marble slab rather than tile. It is neatly framed by 5/8" Thassos marble flat liner and 3" border of Absolute Black honed granite tile.
3″x16″ honed Basalt tiles stack the walls outside the shower area, topped with ½" x ¾" Honed Basalt Empire molding and 5"x12" base moldings on the wall create a dramatic backdrop for the floating Amistire Vanity, another unique design by Denes Petoe. This vanity design uses custom fabricated Engineered Milk Glass, a pure white, extremely durable material that does not stain and has a beautiful glow when light is cast on the vanity.
Click here to see more.
Like what you see? Get it first with a subscription to ASPIRE DESIGN AND HOME magazine.