Thank goodness for places like Ikea, Target, and Wayfair where you can find beautiful design at affordable prices.
We are all about hi-lo here since there are some areas in home decor that you must splurge and reproductions are not worth it – especially with Cambria kitchen counters and stylized cabinets. But with creative design details, and a good eye, you can get away with a faux pillow or inexpensive stool and put it in the overall decor that resonates style, sophistication and comfort. It's all about the mix. And your budget.
This category of our "Best Dressed Rooms in TV and Film Awards" is designed to showcase the talents of people who don't have the story opportunity to create lavish places – but still construct memorable and authentic environments consistent with their characters. It's really "cheap chic" because it's done so well.
Adds Set Decorator Beth Kushnick regarding the skillset required on smaller vs. larger shows, "It is a mistake to always look at a show in terms of size or budget to determine its level of challenge," she says. "A set decorator's job along with all other crew is that we are there to support and serve the script and the director. All shows come with their difficulties but it is creating a seamless production that is the challenge for all."
Here are the nominations:

Photo courtesy of Paul Sarkis/SHOWTIME.
Shameless
Judge, actor, and writer Chazz Palminteri is a big fan of this Showtime series that just concluded its eleventh and final season this month.
"Watching Shameless is like watching a symphony of chaos," he says. "From the Gallagher house to the streets of the south side of Chicago, the production team has created a gritty realistic masterpiece."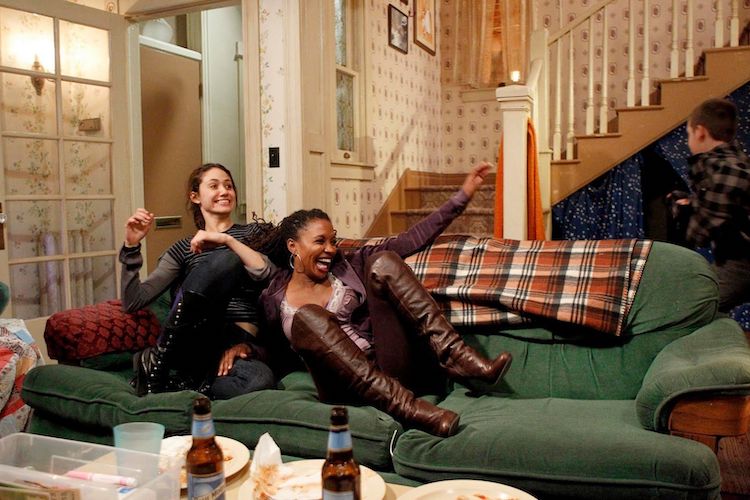 Photo courtesy of Paul Sarkis/SHOWTIME.
Production designer Nina Ruscio and set decorator Matt Callahan searched production houses and even cruised a restaurant that was closing shop to get their weathered banquettes and signs. "I had to say don't clean them, don't repair them," Callahan joked. Among the details Callahan likes is the stuck gum on the wall that was put there for authenticity. In the Gallagher home, the sink is perfectly grimy with pots in it and the green couch has a crocheted throw over it to hide holes or a worn-out look. The wallpaper is florals that are not modern at all. The art on the walls is also skewed in such a way that it looks like it's barely hanging in some places and nothing is perfectly lined up, once again setting the tone that things are not in order and they don't have a lot of funds.
But it takes great skill to create this lived-in look.
---

Photo courtesy of Pop TV.
Schitt's Creek
When the wealthy Rose family loses everything, they have to move into a rundown motel. The characters' luxury clothes and style clash with the shabby furnishings of their new home. But there is something to the set decor that is so relatable to so many and reveals the skill of the production team.
"I love The Rosebud Motel because it brings me back to the '70s when I was little and the world was simple," says judge and independent producer Gianna Palminteri.

Photo courtesy of Pop TV.
"In Schitt's Creek, the use of natural products and semi-industrial shelving and displays were the perfect cocktail for a small town mercantile of local goods and products," says set decorator Kathleen White.
---
Nomadland
Less is more when you are shooting the majority of a film from just a van. Except for the dishes and storage, there are very few decorative or notable features on this set. It is the exterior views and the people Fran, played by Frances McDormand, meets as she leaves her old life, selling all her possessions, and travels as a nomad in the Great Recession, that set the tone for this film.
We urge you to take a look at the featurette above, as McDormand explains some of the decor choices utilized in her four-wheeled costar which she dubbed, "Vanguard."
---

Photo courtesy of Glen Wilson/Warner Bros.
Judas and the Black Messiah
Our judges just marveled at how set decorators can create a space and fill it with discarded goods, old newspapers and beat-up wooden tables to establish a look of a community living without much luxury. The outdoor scenes show buildings in disarray that gives the audience a peek into people's lives who are hoping for more change and opportunity. Though the mint-colored walls of the gathering place does offer a shift to the outside grittiness that is helpful and a relief.

Photo courtesy of Glen Wilson/Warner Bros.
These are not what many would consider beautiful design details, but gritty and real flourishes that anchor this type of film.
---

Photo courtesy of Rz Vincent/Searchlight Pictures.
Jojo Rabbit
Ra Vincent was the production designer and Nora Sopkova the set decorator of this World War II satire which tells the story of a 10-year-old boy who is enthralled by Hitler and influenced by media accounts, while his mother tries to pour into her son the values of empathy and love.
The team used decor to help show her values by creating a warm welcoming kitchen with art deco cabinetry and colors of warm reds and blue tile above the sink. The wallpapers are also geometrically happy and interesting without being too luxurious.

Photo courtesy of Rz Vincent/Searchlight Pictures.
The team didn't want too many gray and gritty colors since the movie was about what was happening to a 10-year-old and how he was seeing his world.
"The period whimsical wallpapers used throughout the apartment were the perfect juxtaposition between the drama of the era and JoJo's exuberance for life and the cause," says judge Kathleen White. "Brilliant."
Vote on your favorite and the winners will be announced April 22nd.