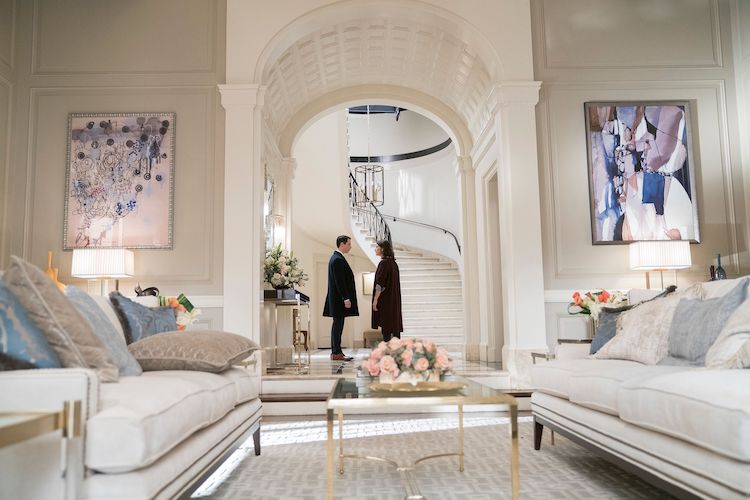 Photo Courtesy of Peter Kramer, HBO.
Drumroll, please. Today marks the first day we will begin showcasing the design talents behind all the shows you've been watching and binging on all year.
And lucky us – because while the "Best-Dressed Rooms in TV and Film Awards" will be an annual event – this year we not only watched shows from 2020, but discovered previous series that were mega-hits internationally that therefore got bundled into our debut awards categories.
Our first category is Best Contemporary Design and the shows chosen by our esteemed judges – who include Oscar, Emmy and Tony award nominees, architects, art and film critics as well as superstars in interior design – were the following:
The Undoing, Succession, Billions, Malcolm & Marie and Grace and Frankie.
Hard to choose, right?
Luckily, we've compiled the reasons our judges made these selections as well as interviews with some of the set decorators who created the looks in the shows. Because while the production designers are the ones who are comparable to architects in creating the foundation and vision of a series, it is the set decorator that finds the decorative details ranging from a couch fabric to a salt shaker and serves the essential role of interior decorator.
At the end of these selections, we are also asking you to vote on your favorite shows. While the judges will make their final vote on April 22nd – we will also have a separate winner for you – our audience – and your personal favorites.

Photo courtesy of Warrick Page.
The Undoing
It is no secret that each person gravitates towards different colors. In fact, set decorators depend on it to tell stories.
"Early on in preproduction of The Undoing we decided to sign a color palette to each character to exemplify their character's past and present and possibly future," explains set decorator Keri Lederman. "Cool blues and grays helped convey Franklin's steely exterior and the relationship he has with his daughter. Fun bright colors illuminated Elena's life, showing her playful personality and ethnic roots.
"For Grace and Zach's family, we reserved warm tones. Oranges, maroons and brown tones warmed the apartment to create a sense of warmth, and family."

Photo courtesy of Niko Tavernise.
In fact, Lederman says that every set was decorated with Nicole Kidman in mind since she starred as Grace in the HBO series. "We wanted to accentuate her flaming red hair and blue eyes. From the romantic wallpaper in her bedroom to the orange of her sofa which was by Franc George Smith and the green work chair," says Lederman.
Both the sofa and the green chair were upholstered at Prestige Furniture and Design.

Photo courtesy of David Giesbrecht.
For Franklin's (Donald Sutherland) house, production designer Lester Cohen found a $30 million townhouse that was for sale which allowed the team to wallpaper, paint, and move around pieces, which sometimes cannot be done. Luckily, with a short shoot time, Lederman sourced turquoise leather blue chairs from Newel to compliment the chess set. For the living room area, the challenge was finding a large enough fireplace mantel and her team settled on buying one that the scenic department enhanced. And that fab coffee table? One of Lederman's favorites too. It was from Greenwich Living in Stanford Connecticut.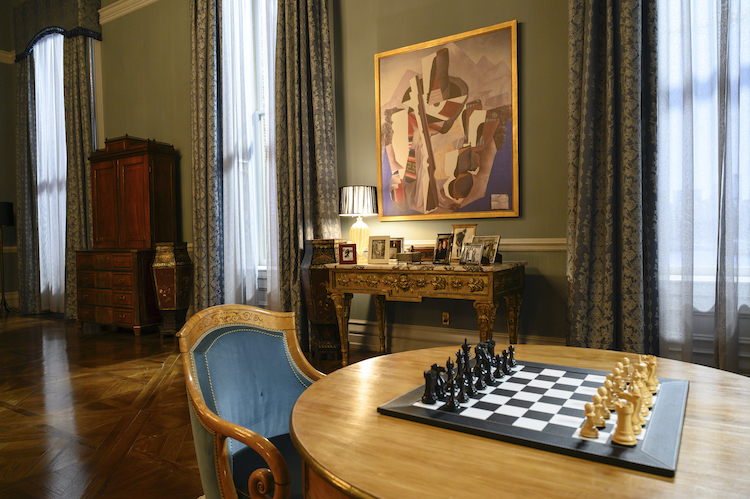 Photo courtesy of David Giesbrecht.
"I think The Undoing is a fantastic fantasy of what life could be like for the 1% in NYC," says one of our judges, Lydia Marks, set decorator for the Sex and the City movies as well as Devil Wears Prada. "Wealth in NY is often about the luxury of space as much as the design of the space. Franklin's home was quite lavishly decorated, including the large scale artworks hanging on every wall, but it never felt crowded. This is particular to NYC, I think. In almost any other place, more abundance reads as more wealth but I believe that (in NYC) having the right pieces in a room, and then allowing some space and flow between them, is really the indication of great wealth and style."
Many judges tipped their hat to the stylish taste of these sets which is why it is one of our nominees. It really was a love letter to New York.
---

Photo Courtesy of Ali Goldstein, Netflix.
Grace and Frankie
The beach coastal look always is an allure. You can almost feel the breeze coming in at any time at Grace and Frankie's oceanfront home and the colors of California allow soothing pastels with lots of creamy whites and soft blues.

Photo Courtesy of Melissa Moseley, Netflix.
Christopher Carlson and Beauchamp Fontaine were both on the same page in creating and maintaining the look of two couples who are seasoned but not wilting. That is a delicate balance.
Traditional touches such as a wooden coffee table reflected a less contemporary character. However, even though the rolled armchairs were present, the choice of burnt orange fabric with some fun swirls did brighten up the mood. Frankie is more artsy so it was a good choice to reflect her sensibility.

Photo courtesy of Netflix.
Carlson and Fontaine, along with production designer Devorah Herbert, balanced boho chic with casual comfort in Grace and Frankie's home and also created contrast in the husbands' home with darker colors.

Photo courtesy of Netflix.
Judges particularly liked the pinstripe fabric on the kitchen counter chairs as well as the headboard and graphic wallpaper for the husbands' bedroom.
---

Photo Courtesy of Dominic Miller, Netflix.
Malcolm & Marie
When the director is shooting a film in black and white, the production designer and set decorator have challenges. Colors don't just pop – it's all about lighting and contrasts.
However, production designer Michael Grasley and set decorator Kate English found solutions starting with using graphic pillows and paintings to add contrast. They also expertly used an array of textures, sumptuous and sensual textures, that were supportive enhancements to the exploration of a couple's marriage.
With only two people in the Netflix movie, each room had to hit the right notes. The team found a fab Anthropologie curtain for the bathroom that had to be clean, but not sterile. Many are raving about the sheepskin rug that brought the viewer in so seductively to the couple's interior lives – as well as the Navajo blanket on the couch. And that couch! Long, lean, expansive.

Photo courtesy of Netflix.
Interior designer Gail Davis was one of the judges who applauded Kate English's eye for scale.
"Their house in the desert – clean lines. sparse but thoughtful furniture pieces," she says. "The bedroom was amazing! I love the low headboard that framed the view outside. The sliding glass doors to the outside weren't the typical glass doors but thick & heavy. Form marries function with beautiful linen lampshades, mismatched pillows that add to the sectional that makes you want to dive in and read a book, listen to music or hang out with friends and family laughing. The flat weave rug delineates the space."

Photo courtesy of Netflix.
Film critic Jeff Sneider, who also nominated this movie, appreciated the setting in moving along the narrative. "It was shot inside California's famed Caterpillar House, which doubled as a metaphor for Malcolm and Marie's relationship – beautiful on the outside, messy and incomplete on the inside."

Photo courtesy of Marcell Rev.
Plus, it takes such an eye to get sheets to be as fluffy as the ones in this movie – as well as all the textures for pillows and accessories to vibrate in a black and white film but not take away from the couple's narrative. The blending is a skill indeed.
---

Photo courtesy of Nicole Rivelli, Showtime.
Billions
Okay, when you have hedge fund billions, it's easy to get a pretty swanky place. Or two or three of them.
For the Showtime series, Billions set decorator Christina Tonkin created custom rugs in cool beige trimmed in steely blue grey. The bed didn't require a large extravagant headboard but just the essentials.

Photo via Christina Tonkin.
Judges commented on how her choices were helpful to character development because there isn't any overly stuffed or flowery flourishes anywhere. It is all business with Axe and all his interiors may be expensive and sleek, but it lacks the coziness in just the smallest most essential way. And that is very hard to accomplish when you are decorating such lavish abodes.

Photo courtesy of Jeff Neuman.
Commercial set decorator Kathleen White, an interior decorator with clients including Robin Wright, was one of the judges who noticed that push-pull that Tonkin accomplished.
"Choosing a modern penthouse, pairing a Serge Mouille floor lamp and monochromatic furnishings and you have a sexy sleek set. boasting floor to ceiling glass walls and windows, a cook's kitchen, shiny concrete floors and a floating sculptural staircase as the perfect setting for the wealthy billionaire," she says. "The billionaire look is at AXE CAPITOL's offices as well. Devoid of personal objects and antiques, the austere sets are full of modern clean-edged furnishings and art paralleling the cold personality of Bobby Axelrod."
Luckily, this look is also not as difficult to replicate in all price points because there are not many layers of accessories, wallpapers and fabrics. The architecture of where he lives is what gives the best signal of immense wealth and the art. But possessions are rarely personal.
---

Photo Courtesy of Peter Kramer, HBO.
Succession
Set decorator George DeTitta always does his homework. One of the truisms he finds in designing sets for very rich characters is that, "Neutral, light creamy color palettes seem to be a recurring theme in the homes of the ultra wealthy. Art and accessories add the hits of color that we desire."
Since the main character in the HBO series is not a youngster, DeTitta wanted the living room to have a contemporary sleekness and used couches from Mitchell Gold + Bob Williams and Lillian August, custom upholstered in fabric from JAB Anstoetz and velvet from Kravet.

Photo Courtesy of Peter Kramer, HBO.
However, DeTitta and his team, who include Daniel Kersting, Bryan Walsh, Von Chorbajian, Lauren & Dan DeTitta, Judy Gurr, Tina Khayet & Greta Mantilla Diaz, had to tell a different story in his office.
"The office needed to imply that sense of power as Waystar is envisioned as one of the largest corporate media giants in the world," he explains. "The approach here was a masculine yet contemporary approach, with darker colors in the upholstery and furniture. We also added a nod to Logan's ancestry with prints of his native Scotland on the wall behind his desk, along with artifacts from his past."

Photo Courtesy of Peter Kramer, HBO.
But textured rugs instead of traditional Aubusson rugs also convey modernism without stuffiness. Here DeTitta got the carpets from Antrim and Rosecore.
Notice also in the dining room that the upholstered chair at the head of the table is higher than others. Of course, the patriarch is running everything so that one chair subtly but effectively tells that back story.

Photo Courtesy of Peter Kramer, HBO.
"Contemporary set design should be stylish and well executed, but not trendy," says judge, and Emmy-award-winning set designer Melinda Ritz. "When you keep this story confined to classical design, the film [or show] can stand the test of time and never appear dated. Trendy contemporary design only really works when the design is actually part of the story."
Contemporary here conveys that Logan Roy is not afraid of the future and ready to conquer it.
For all these reasons, these shows are the nominees for Best Contemporary Design. Which one is your favorite?
Like what you see? Get it first with a subscription to ASPIRE DESIGN AND HOME Magazine.