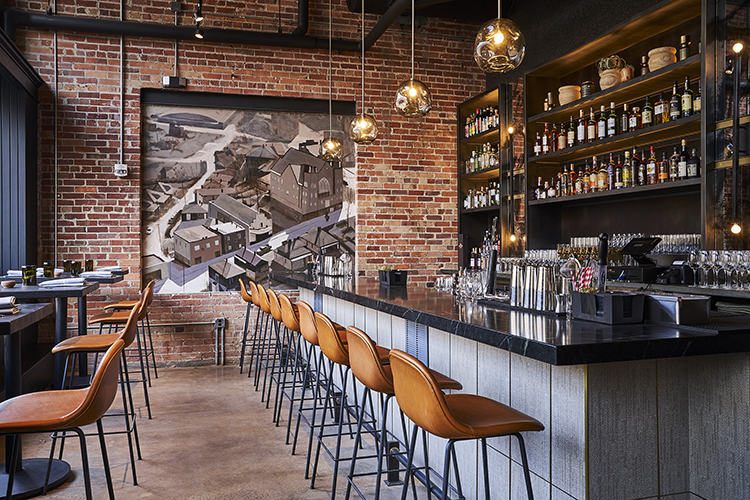 Come to The Block, a historic neighborhood in Asheville, NC, for a true Eagle Street "food history" experience at its newest restaurant Benne on Eagle.
You can learn a lot about the history and geography of a place through its food. Nothing could be truer about the Appalachia, a region that spans across the southeastern states. Appalachia is a major hub of cultural treasures and considered one of the best keepers of culinary traditions and tellers of American food stories.
James Beard award-winning chef John Fleer has been a respectful influence in Appalachia as both a cook and cultural ambassador through his expression with food. Chef Fleer is also a vested influence as he is a son of the region and the creator of what he has termed "foothills cuisine," his homage to the unique foods and preparations indigenous to the areas of Appalachia, where he has operated eateries. However, his latest venture, Benne on Eagle, is his most inclusive and reverential to the foodways to date. Benne on Eagle is what happens when foothills cuisine meets soul food.
He hasn't done it alone, he has recruited Ashleigh Shanti, an African American female who pays homage to the rich African-American culinary traditions that once thrived in The Block and the neighborhood surrounding the restaurant. The duo, locals and other key influences majorly succeed on not only taking your taste buds on a historic tour but on bringing back the neighborhoods: menu, environment, smells, even staff!
Shanti and Fleer have been consistent and diligent in maintaining the integrity of the restaurant's Sankofa mission. They have had help. Benne's culinary mentor is Hanan Shabazz, a former Eagle Street restaurant-owner, who was born and raised in Asheville. According to Benne's website, "Hanan plays an essential role at Benne on Eagle, helping both the restaurant team and its guests reflect on the rich history of The Block through food." Variations of Shabazz's recipes are on Benne's menu.
Photography by Johnny Autry.
Michiel Perry | Michiel Perry is the founder of Black Southern Belle and the curated network of diverse brands Black Southern Belle Collective. Prior to her blog, Michiel worked as a brand strategist and event planner for Google, Inc in Washington, D.C. and a collegiate marketing ambassador at Lillybee. In 2014, she was inspired to develop this lifestyle brand highlighting diverse Southern tastemakers and all things "Southern Bred and Soul Infused", while planning her Charleston wedding and decorating her first home. She desired to build a community to inspire, experience, share a love for the South.
Michiel resides in a historic home outside of Charleston with her husband and son. When she is not exploring the South, creating inspired entertaining experiences, or working with brands, you can find her adding to her antique collections and sharing her love for the low country.