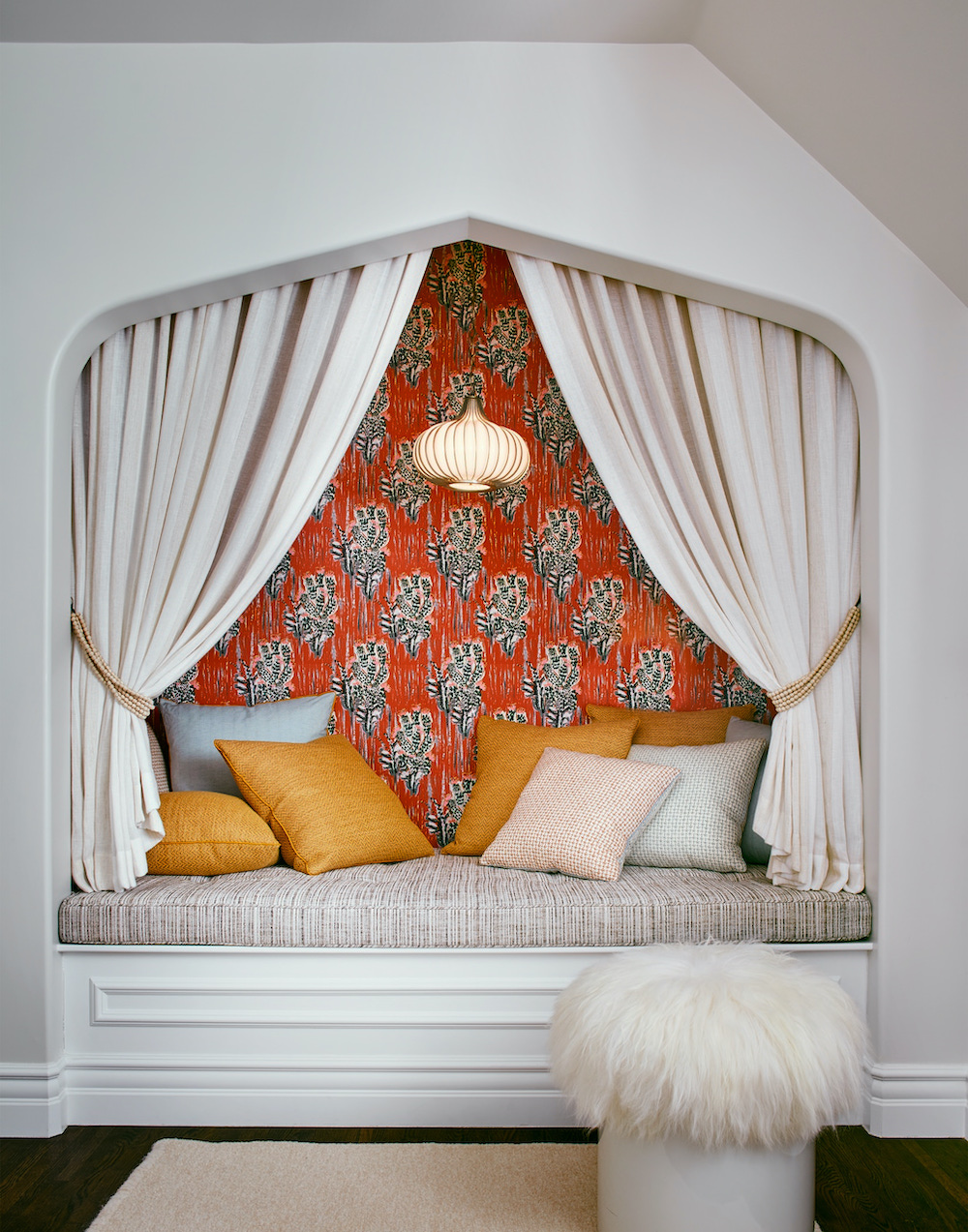 For art consultant, former gallerist and Linda Warren Projects founder Linda Hammes, home is not just a place for shelter, but a new canvas upon which to display the many artworks she has in storage – or on her wish list.
Indeed, while a primo location, natural light, and picturesque views are lovely attributes for a house, wall space is what really turns her on.
When the Chicago resident and her husband, Jeff, decided to purchase a vacation house near relatives in Southern California, they quickly zeroed in on an elegant-yet-dated, 1920s-era Gothic Tudor Revival mansion in the Beverly Hills tony Flats neighborhood. Offering 11,000 square feet and eight bedrooms, the historic dwelling had huge rooms with the type of large open walls Hammes cherished.
After closing on the property, the couple invited local architect Deanna Hinkle, James Thomas Interiors, and Apple General Contracting to help them make it their own. Hammes was far from a passive observer, creating her own storyboard, accompanying the designers on shopping excursions, and providing them with a list of 300-plus pieces of art she was considering for the house.
"Linda came into this project with a strong vision, and that was inspiring," describes interior designer James Dolenc, who previously worked on their more traditional primary residence in Chicago. "She wanted this to be fun, light, and art-filled with vibrant colors and an eclectic mix of furnishings."
While the historic home retained a sense of grandeur, many of the original architectural details had been stripped away. With the help of a book about original architect Gerald Colcord, the designers remedied that, incorporating the arched openings and wood beam ceilings that Colcord favored. "Those kinds of subtle details make the rooms feel more intimate and architecturally rich," designer Jim Josephson notes.
They also worked closely with Hinkle to implement key architectural changes, creating a more elegant "his and hers" closet, for example, and lofting the ceilings in one of the primary bathrooms.
Ironically, picking the right shade of white paint for the walls was one of the most challenging aspects of the design. After experimenting with multiple hues, they ultimately selected Chantilly Lace by Benjamin Moore, a shade they rarely use in the Midwest. "It read crisper here than it does in Chicago," Dolenc explains. "The light is definitely warmer in California, so that was kind of a learning curve."
The neutral backdrop sets the stage for artwork and sculptural furnishings covered in sumptuous fabrics such as bouclé, leather, and mohair. A pair of curvaceous sofas by Vladimir Kagan, for example, define two distinct seating areas in the spacious sunroom, where colorful stools with horsehair fringe and patterned throw pillows coordinate perfectly with a large-scale abstract that occupies an entire wall. "This home is very personal and collected," Josephson explains. "There are iconic designs, but it doesn't feel predictable."
Tile and wallcoverings likewise enliven the interior. Punctuated by mustard pendants over the new island, for example, a mix of green glazed brick and white subway tile enhance the formerly lackluster kitchen – a fitting backdrop for simple black-and-white artworks. And a graphic wallcovering creates a striking backdrop for a table and chairs underneath a plaster pendant in the adjacent breakfast area. "It's a bold statement, but it works," Josephson adds.
The result fulfilled the client's goals, offering them a lively place of refuge during the early days of the pandemic. Perhaps more importantly, the process was fun for both the designer and the client, who is effusive in her praise. "Everybody at James Thomas is so nice and funny, and they have a joyousness, an open-mindedness, and a desire to learn," Hammes quips. "They did a beautiful job and realized my vision perfectly."
Photography by Trevor Tondro.
For more like this Beverly Hills Tudor, be sure to check out this elegant modern Colonial.
Like what you see? Get it first with a subscription to aspire design and home magazine.