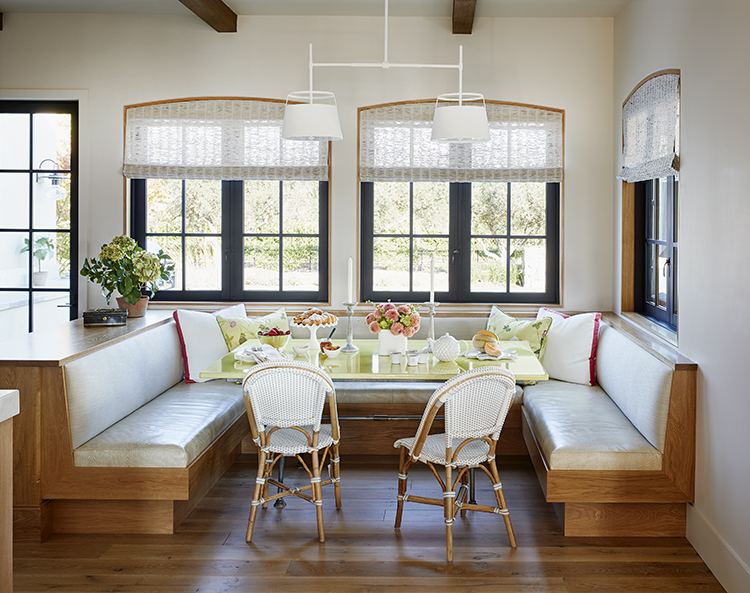 Breakfast is the most important meal of the day, and sometimes a cozy 'nook' can help even the sleepiest of family members get excited for the morning. From George Bevan, principal at the Bevan & Associates architecture firm in Sonoma, CA, here are some pros and cons of the Breakfast Nook.
PROS
They're Not Just For Breakfast | It's a great way to greet the sun and, as I mention in meetings, "break down the paper" in the morning. A perfect way to offer a dining & relaxation space, without using the same space as a detached dining table and chair scenario would. Used throughout the day at any time: quick toast before running out the door, preparing taxes, wrapping up those last couple math problems for homework or that late-night chat about your daughter's boyfriend.
For Living, Where It Counts | Often located in a very social area, where people "like to hang around the island" (if I had a dollar for every time people said that)….it's a great way to add a splash of color in a custom cushion, a hewned piece of hardwood for the top – if it can only talk about all the stories that took place over the years! My five-year-old loves to look for gum under tables, ahhhh. Wonderful.
Heavy Lifting For A Little Guy | Besides a great way to add character to the home, it offers fantastic opportunities for stealth storage and additional seating using a bench instead of separate chairs. Efficiency, Efficiency, Efficiency without looking cheap or cramped for space. Just scoot over and get friendly with your sibling, or grab that "You are Special" plate for the birthday dinner by lifting up the hinged top of the seat.
CONS
Belt & Suspenders | Some people want both: formal dining AND breakfast nook, which is OK. But know that you are taking up space nearby a kitchen, pantry or central circulation area in the home; all critical areas that could affect "flow" and borrow valuable real estate from something else (hello, storage….) that is important if you aren't careful. Although "formal dining" has transformed into a sophisticated casual moment in the house, with killer artwork, vintage silver and funky high-back chairs, it can take up additional square footage – don't feel guilty, it's a great way to have the kids table at "The Nook" and shut off the dining to capture a great adult dining experience.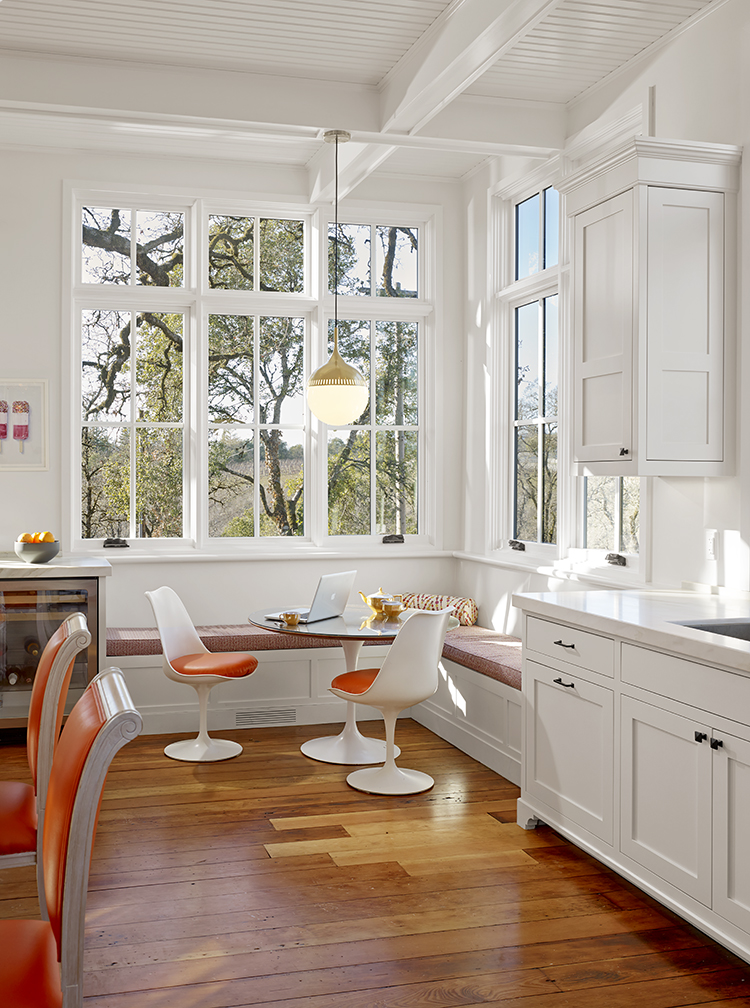 Cramp Your Style | It needs to be designed well, using realistic dimensions. Both for size of area, table (Round or Square?) and whether you pair a couple of chairs with the bench seat. Often people don't allow enough space, and rely on jamming their only dining experience into a small corner…it's a trap don't do it!
Traffic Report, It Looks Like a Mess | Often located in a great location, central to kitchen and natural light – The Nook can be a great place to drop keys, mail and collect a ton of junk! Stacks of magazines, leftover plates, bills, piles of things that find your way from your car to the house, too many pillows and so on…. certainly, a bear trap for an eye-sore in a high traffic, family spot!
For more Breakfast Nook inspiration, head to Bevan & Associates' website.
Like what you see? Get it first with a subscription to ASPIRE DESIGN AND HOME magazine.