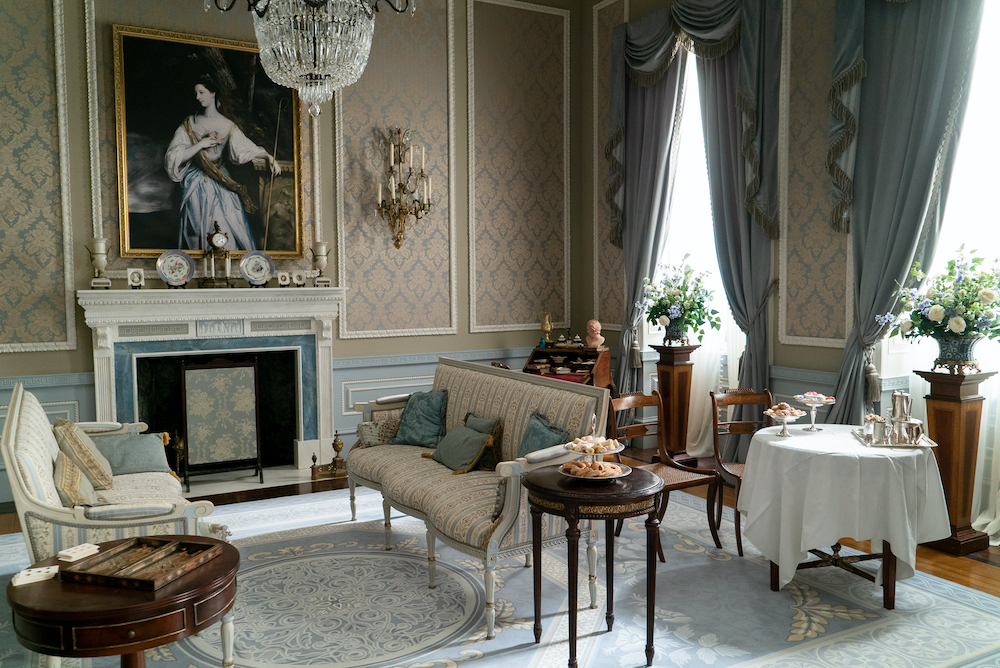 Not only will it be fashion styles that Netflix's massive hit "Bridgerton" has triggered, but design and garden trends are blooming in big and small ways.
"I heard that there has been a 300% increase on Ebay for Regency Empire furniture," laughs Will Hughes-Jones, the production designer for the historical romance series, who Chris Van Dusen and Shonda Rhimes gave a lavish budget to create a swoon-worthy production.
Regency style, which was popular during the British Royal Court of 1813, included elegant furniture with sumptuous silks and vertically striped wallpaper, intricate wall moldings, paw-shaped feet on furniture and floral motifs.
"The furniture was neoclassical but on steroids," says Mitch Owens, Architectural Digest's decorative arts editor "Rather than being nationalistic, it was cosmopolitan—the Prince Regent was a Francophile—and had a sense of swagger that skirted the line between confidence and superiority. The parcel-gilt, architectonic cabinets and bookcases, the sculptural armchairs, and the center tables, it's all about French-polished rosewood and mahogany, bold lashings of gold leaf, gutsy carvings, and often fantastical, exotic forms, especially in the work of Thomas Hope. "
Classical buildings built during this period when George IV was Prince Regent were referred to as Regency architecture and its popularity endured.
That's a good thing since Hughes-Jones was able to film the series in authentic structures that still exist.
The team traveled all over England – even to Princess Diana's ancestral home, Althorp -where the staircase in the "Bridgerton" home and soft blue colors inspired Hughs-Jones's fertile imagination.
But the gorgeous wisteria-covered residence of the Bridgerton family was actually from Ranger's House, an art museum in London. The interiors came from RAF Halton – which I was amazed to learn is one of the largest Royal Air Force stations in the UK.
Fans around the globe are drooling over the gardens in front of the Bridgerton residence, including the dreamy draping purple wisteria that was placed on the building's exterior. Plump, sexy roses populate like happy drops of dewy delight all over the interiors and exteriors of the residence in Dionysus abundance.
Most of us will also never forget those flowers – roses, lilies, tulips and baby's breath – that a conga line of suitors started to bring to Daphne Bridgerton in her sitting room as they were seeking her hand in marriage. Courtship can be so sexy.
"All those were real flowers," says Hughes-Jones, though sometimes expertly designed faux flowers also were added since flowers will wilt during week-long shoots.
And guess who was in charge of the flowers? None other than Helen Byrne, the talented florist who also was in charge of floral design for "The Crown." Palmbrokers helped with the greenery.
Will Hughes-Jones, a veteran who also shaped the decor for films such as "The Spanish Princess" and "The Alienist" wanted a different residence for the Featherington family. Hatfield House, which was also used for films including "Enola Holmes" and "The Favourite," fit the bill.
But Hughes-Jones had to use his trained eye to make distinctions and "contrasts" between the easy wealth of the Bridgertons and the striving of the Featheringtons.
The distinctions he said, would "be informed by colors."
"The Bridgertons would be inhabiting a blue world," he said, "We tried to create a space that has a classical look and no adverse ostentatiousness. We looked at a variety of colors."
And what was his final inspiration?
"Wedgewood blue." Yes, the pottery you see on the classic blue and white porcelains. Genius is inspired sometimes by little objects that cascade into a whole design story.
"The color then allowed us to move to champagne colors, and we found ourselves also creating other blues," he said.
Working closely with costume designer Ellen Mirojnick, they refined the blues used in the glorious floral embellished empire dresses of the Bridgertons and other ladies of the court. Will Hughes-Jones says he often took the lead from Mirojnick's jaw-dropping costumes with its brocades and jewel embellishments.
As for the wallpaper, notice the blue used in the dashing Duke of Hasting's birth and later for another scene. That's de Gournay Chinoiserie's hand-painted wallpaper and Hughes-Jones also looked for "damask" everywhere and put fabrics on walls.
For the Featheringons, the residence would be in "yellows and greens," but yellows that had a mustard tint sometimes. The clothing for the Featherington women would be "over-flowered," adds costume designer Ellen Mirojonick, and bolder sherbet colors.
As for Hughes-Jones favorite scene, it was the outside ball of the Duke of Hasting's home.
"We built that from scratch," noting it was filmed in December when it was freezing and the "ladies had to be in skimpy dresses." "This way the rain was warm, no one got cold and we could have all the flowers and gardens."
In fact, Will Hughs-Jones said one time he repainted flowers in that scene to match Mirojnick's soft pastel frocks, as part of their collaboration. This is what happens when you have two seasoned pros who care less about egos and more about collective excellence.
History has shown that in periods of social and economic changes, people seek lavish visuals for comfort. Remember the Fred Astaire/Ginger Roger movies where luxury was both aspirational and escapist entertainment? We also sigh in delight to see a parade of cheerful colored fashions in contrast to the darkness of Covid and economic and political shifts. Perhaps spring will usher in a new design sensibility.
"The Regency period was raucous, vulgar, glamorous, licentious, and impossibly stylish, all thanks to the taste-conscious leadership of the Prince Regent, later George IV, who embodied all those characteristics," adds Mitch Owens. Perhaps now that our country is in transition, this is the perfect style for the moment.
Netflix's "Bridgerton" has come to us at the right time. It is that visual relief and inspiration in what author Carol Woolten calls, maximalism vs. minimalism, which is gloriously exaggerated but somehow never excessive.
For happier times, the future may be an embrace of maximalism, lush floral wallpapers and fabrics and lots of cheerful colors vs. grey and white.
I, for one, am looking forward to it.
Images courtesy of Netflix.
---
This post originally appeared on FlowerPowerDaily.com.
Jill Brooke is a former CNN correspondent, Post columnist and editor-in-chief of Avenue and Travel Savvy magazine. She is an author and the editorial director of FPD, and a contributing digital editor of ASPIRE DESIGN AND HOME magazine. For more from Jill, be sure to check out her tips for spectacular holiday wreaths here.
Like what you see? Get it first with a subscription to ASPIRE DESIGN AND HOME Magazine.