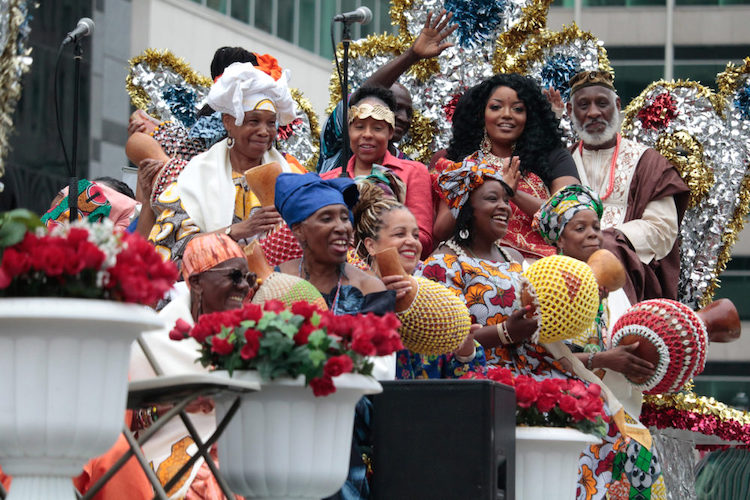 2019 Philadelphia Juneteenth Parade & Festival; Photo by Kait Moore.
On Thursday, June 17, President Biden signed legislation into law establishing June 19 as Juneteenth National Independence Day — a federal holiday commemorating the end of slavery in the United States.
To honor Juneteenth this weekend, think red. Whether it's drinking strawberry soda, savoring a red velvet cake or looking at ruby-red flowers.
Why is the Juneteenth menu at annual gatherings filled with red-colored food, drinks and often flowers?
According to the L.A. Times, the red represents the blood shed by African Americans in the struggle for freedom. A sobering reminder that while the holiday is a celebration it came at the expense of so many Black lives.
The color could also be a reference to red foods carried across the Atlantic from West Africa by enslaved people; most notably hibiscus drinks, cola and red corn.
Kevin Bludso, owner of Bludso's Bar & Que, says "barbecue, red soda and watermelon" form the "Juneteenth trinity" for an authentic celebration. In fact, his popular restaurant offers a special Juneteenth menu each year.
After 2020 saw many Juneteenth celebrations go virtual, major cities across the U.S. are re-establishing safe in-person parades, concerts, and festivals this year. Click here to take a look, embrace red, and get involved with the festivities.
---
A version of this story originally appeared on FlowerPowerDaily.com.
Jill Brooke is a former CNN correspondent, Post columnist and editor-in-chief of Avenue and Travel Savvy magazine. She is an author and the editorial director of FPD, and a contributing digital editor of aspire design and home magazine.
Like what you see? Get it first with a subscription to aspire design and home magazine.