One of Chicago's most recognizable landmarks, the historic Tribune Tower is now an unparalleled residential building.
Like many cities, Chicago hasn't always been kind to its architectural past. From Adler and Sullivan's Stock Exchange to Bertrand Goldberg's Prentice Women's Hospital, the city has allowed any number of significant structures to bite the dust. But it's also seen many others get a new lease on life, including Medinah Temple, the Reliance Building, and Cook County Hospital. The latest – and arguably one of the most visible landmarks to rise again – is Howell and Hood's neo-Gothic Tribune Tower on North Michigan Avenue.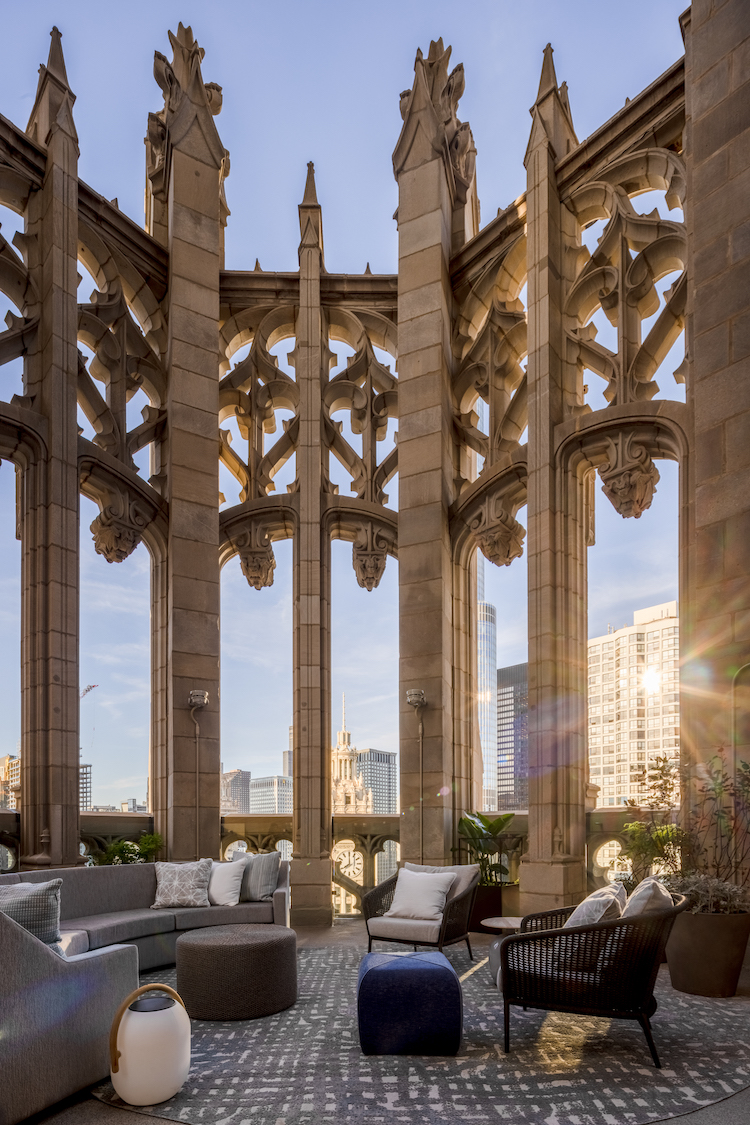 The roost from which the colorful Robert R. "Colonel" McCormick once ran what he called the "World's Greatest Newspaper," hasn't housed the Chicago Tribune since 2018. Now re-imagined by owners and co-developers CIM Group and Golub & Company, the 96-year-old tower and its adjacent low-rise wings have been completely repurposed as 162 luxury residences. Solomon Cordwell Buenz was architect of record for the transformation, while The Gettys Group orchestrated the interiors of the utterly reworked building. "The idea was to comply with the existing vocabulary," says Project Architect, Mandhir Chopra. "Even carrying that through to the metal and glass addition made to the lower volume. The biggest challenges were the mechanicals, coordinating all the electrical and plumbing through the existing structure."
The Gettys-designed units are sharply contemporary, with handsome millwork and white oak and marble flooring adding a visual and textural richness. When it came to fashioning the public spaces, the firm hit that sweet spot between here-and-now and a hint of the past. In the new north entrance on Illinois Street, Gettys addressed the impressive height of the space by installing a large abstract canvas by Jeehee Paik set within multiple frames, and a massive pendant light fixture of swirling curls of metal from Yellow Goat. These very contemporary touches are balanced by a walnut reception desk outfitted with a grille that could well have adorned the lobby of a chic skyscraper in the 1940s.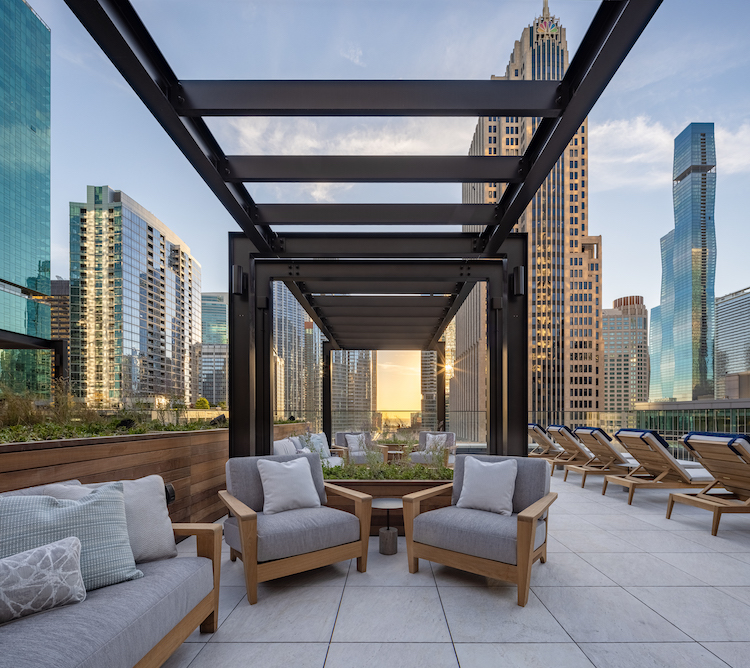 Not surprising for a building where apartments are priced from around $900,000 to over $7 million, The Tribune Tower Residences offer a wealth of amenities, from an indoor pool and an elevated garden to a rooftop terrace under the building's flying buttresses. One of the property's most handsomely homey features is a series of living rooms on the third floor, complete with a bar and catering kitchen. Outfitted with welcomingly transitional pieces from Baker and Kravet, they conjure a very unstuffy private club, where one can kick back and feel on top of the world. "As hospitality designers," relates Ryan Schommer, Director of Interiors for The Gettys Group, "we wanted to bring in a lounge feel." Here again, the firm struck a balance between the old and new, flanking a neo-gothic fireplace that once stood in McCormick's private office with eye-catching acrylic and gold leaf canvases by New Jersey-based artist Lisa Hunt.
Colonel McCormick might not recognize his old haunt, and reporters and columnists no longer crank out copy at 435 N. Michigan Avenue. But not unlike Sears Tower and the John Hancock Center, whose new names still haven't quite stuck – the spire where news was made will always be Tribune Tower. And for some, home.
Photography courtesy of the Tribune Tower Residences.
Like what you see? Get it first with a subscription to aspire design and home magazine.