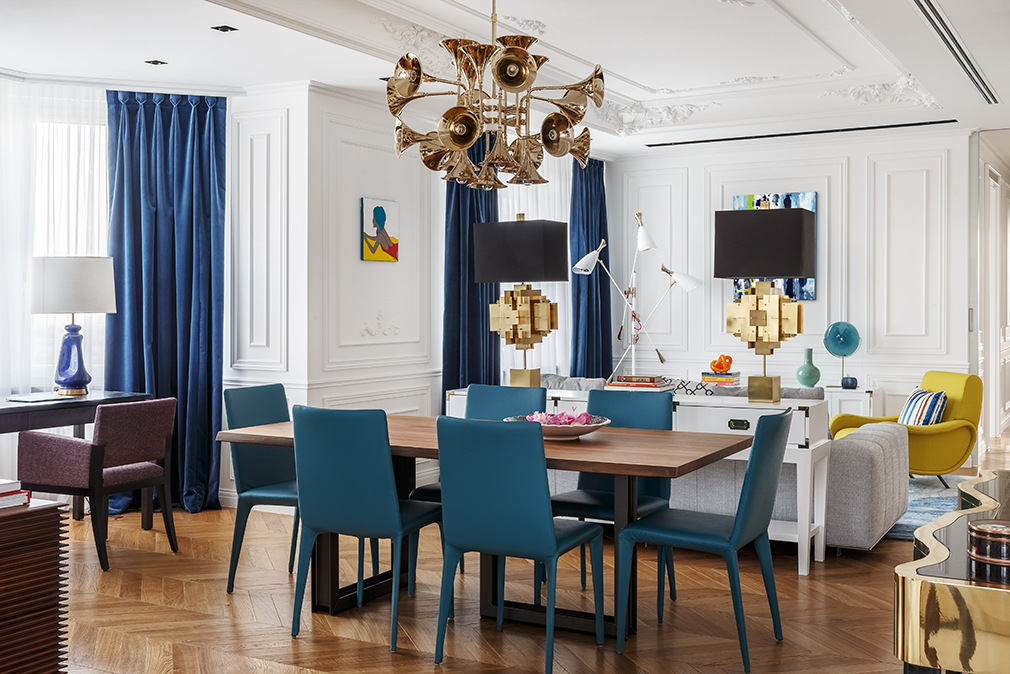 Designer Oksana Salberg-Vachnadze, of the O2 Design Moscow Studio, created this colorful apartment that was awarded the International Property Award in the Interior Design Apartments category.
The studio was asked by the clients, a married couple with a teenage daughter, to decorate their apartment in a modern and respectable style. The original concept for the residence utilized a monochrome color palette, but came to include bright, polychromatic furnishings and decor after the owners asked to add incorporate splashes of color. White cornice mouldings create a beautiful contrast with colorful modern furniture and add a certain cultural context: that of an interior that might have been found in any European capital.
In the Living room area, the color scheme of the space is bright accents against the white background. The stylish rug with a print imitating stone is a link between furniture items: the sofa, the bright yellow armchair and the coffee table with an openwork metal base, with tempered smoked glass resting on the polished stainless steel base.
Next to the living area, is the equally masterful dining room. A perfect symbiosis of styles and colors, the single space is divided into two areas by a console with art deco table lamps. An unusual chandelier, contemporary artwork, and velvet curtains create an atmosphere of aristocratic chic. With a structure handmade in brass and boasting a sophisticated gold-plated finish, the Botti chandelier was inspired by the American trumpet player as a tribute to jazz music.
Wall and ceiling moldings and herringbone parquet flooring are inspired by the Paris impressions. A Venetian mirror and contemporary console are one of the examples of how effortlessly objects coexist in this interior. The handmade mirror is done in a rare, almost lost technique of mirror carving. Sinuous lines make up the elegant character of the console from Boca Do Lobo. With a handcrafted structure in mahogany, a high gloss black lacquer finish and top coated in polished brass, it's the perfect final touch in the dining room.
A convenient ergonomic kitchen is strategic and neutral. The color scheme was chosen specifically so the space would not stand out in an open plan living room/dining room/kitchen area.
Tiffany Blue served as the starting point of the master bedroom's color palette. Crimson, red, and grey objects were chosen to accompany it. Mirrors play a major role in the bedroom's décor: there is a mirror door slope, a mirror above the bed and nightstands that seem to slowly melt into the air.
The bathroom is designed with a deliberate luxury: marble panel, black free-standing bathtub and a contrasting black and white floor pattern. The unique marble pattern in the bathroom resembles the river current. Copper and gold accessories complete the picture.
Photography by Sergey Krasyuk via Covet House.
For more like this colorful apartment, check out the chaotic beauty of this Copenhagen home.
Like what you see? Get it first with a subscription to ASPIRE DESIGN AND HOME Magazine.