Jennifer Welch thrives on staying busy and is always ready to take on more. Her drive and passion has led her to design commercial and retail space across the country with her eponymously named design firm. Jennifer is known for paying close attention to detail while creating interiors that best suit her clients' taste and lifestyle. Her work is best described as, sophisticated, layered with texture, and comfortable. Introducing, this week's Designer Friday, Jennifer Welch.

Jennifer is known for layering textures in client's spaces. Here, there is a refreshing amount of prints that cohesively fall into place with each other.
Andrew Joseph: What makes you angry?
Jennifer Welch: Stupid questions, and the phrase, "there's no such thing as a stupid question." I had an assistant once that asked me if she could come in at noon the day after her birthday because she planned on being hungover. This is a prime example of a stupid question.
Andrew: If you weren't a designer, you'd be a ….?
Jennifer: An attorney. I care passionately about social justice and human rights. When I see Amal Clooney speaking on television about egregious human rights violations, I think, "What am I doing with my life, this gal has got it going on." Then, I realize I'm probably too shallow and materialistic to stay in that zone for an entire career, and glad I chose the design route. My serenity is a lot more intact in a creative environment.

Jennifer makes sure each client's needs are met, depending on their lifestyle and taste. The large granite countertop in this space makes a perfect area to gather around and to create shared memories.
Andrew: What's the weirdest thing a client has ever asked you?
Jennifer: When I first went out on my own as a designer, I was around 25, and an evangelical preacher for a big mega-church hired me to design his home. It was an obnoxious and ostentatious new build, 12,000 square feet. We were selecting paint colors, and the clients were really struggling with the paint colors I suggested. They then asked me to pray with them, in hopes that the "Lord would show us the right colors." I was incredulous, utterly speechless – and I'm rarely at a loss for words. Finally, I told them I wasn't comfortable asking for divine intervention to assist in the selection in paint colors, and opted to get out of the project altogether.
Andrew: What are you most proud of?
Jennifer: I'm most proud of my relationship with my partner, and father of my children, Josh Welch. Ours has been a rather complicated relationship – married, divorced, reconciled, and currently in a committed relationship raising our two sons, Dylan and Roman. Josh has struggled with addiction for many years – hence the divorce. However, his addiction, and the subsequent gut-wrenching pain from it, caused me to dig deep into my own shortcomings. Now, almost six years sober, Josh and I have never been happier. I'm a better boss, a better designer, a better mother for having crossed to the other side of that pain.

Clean lines and a cohesive color palette create a seamless transition between dining area, living area and kitchen in this space.
Andrew: What would your dream project or dream client be right now?
Jennifer: I have a creepy, cult-like obsession with Larry David. His HBO series, Curb Your Enthusiasm, is my favorite television show of all time. I like to imagine Larry hiring my firm and every meeting plays out like an episode of Curb. He would probably be a nightmare of a client, but I wouldn't care. I would enjoy every battle with awe and enthusiasm because my love for him is unconditional.
---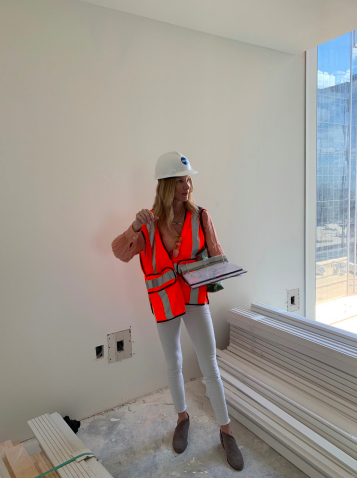 About The Designer | Jennifer Welch has spent the last 20 years designing dynamic, highly specialized commercial and residential interiors across the country – in a broad range of styles. Based in Oklahoma City, the self proclaimed perfectionist with an 'eagle eye ' for detail balances her time traveling the globe sourcing unique pieces for her clients and being on the ground overseeing projects in Hawaii, Palm Springs, Los Angeles, Denver, Nashville , Deer Valley, Durango, and Dallas – amongst many others.
Jennifer Welch and her team are highly respected in the industry for their commitment to detail – creating interiors that are specialized to each client's lifestyle and taste. Her work is best signified as sleek and sophisticated, layered with texture and comfort.
In addition to her design firm, Jennifer is the star of Bravo's 'Sweet Home', which gives all access insight to her multi-faceted, fast paced design business. As her Instagram bio says, she's very busy…and always ready for more! Beyond interiors, Jennifer is also a product designer with collections that span from furniture and textiles to candles.
A mother of two boys, Dylan and Roman, and partner to photographer Josh Welch – Jennifer understands the balance of family and career and is a vocal advocate for women empowerment in business.
---
Andrew Joseph is a regular contributing editor for ASPIRE DESIGN AND HOME magazine. See more of his work here.
Like what you see? Get it first with a subscription to ASPIRE DESIGN AND HOME Magazine.