LA lifestyle-firm owner Kenneth Boyer, head of Atelier K, is a firm believer that modern style comes from a well-curated blend of trends and tradition. His background in fashion, which he studied in London, led him to Ralph Lauren, where he was immersed in the culture of a timeless fashion brand. After attending school for interior design, Boyer brought his taste and talents to California, where Atelier K splits its time between furniture design, interiors, and collaborations between the West Coasts' elite artisan community. Take a look into the life of a renowned designer in our #DesignerFriday below.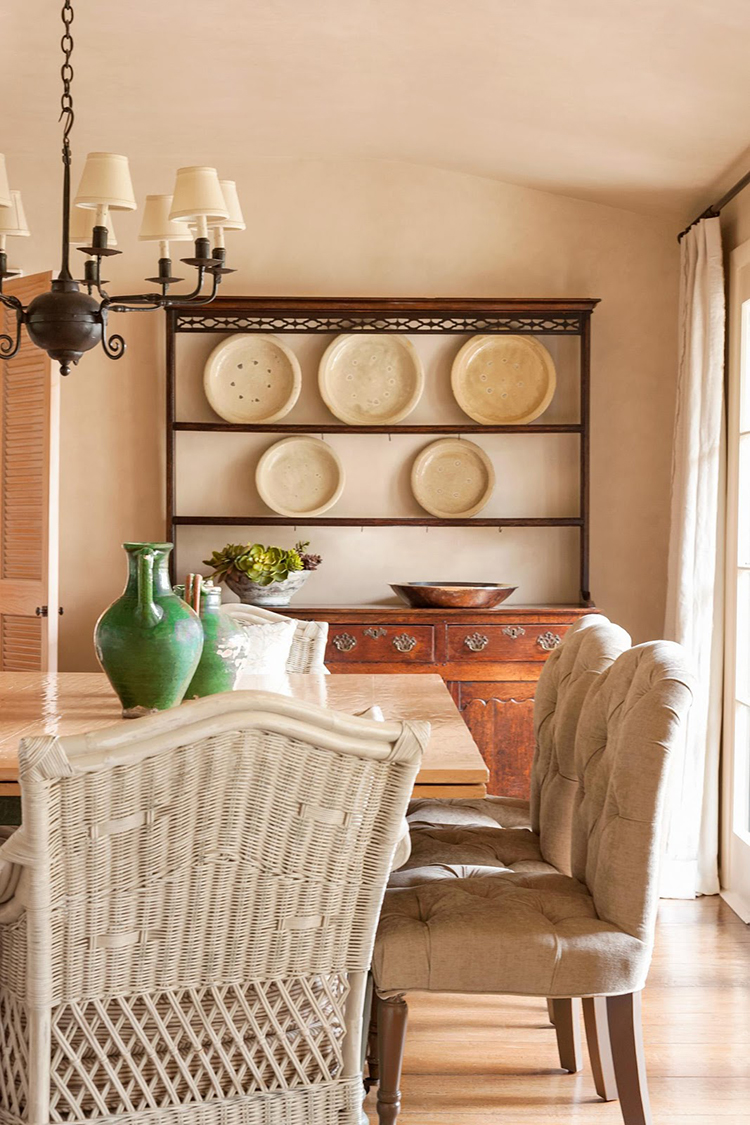 Two different textured chairs sit at the head of this table from Atelier K, a sign of Boyer's knack for mixing the old with the new.
Andrew: What's your wakeup ritual?
Kenneth: My mornings begin with a strong cup of freshly ground and brewed Italian coffee while I am nestled into our window seat that overlooks the garden. I am dedicated to spending at least 10-20 minutes of meditation every day. Sometimes the meditations are guided, or healing. I make a conscious practice of reflecting along with writing a daily to-do list. My meditation and planning rituals are spirited by the adjacent garden's growth. Being an avid gardener, I always find a few minutes to tend the garden, making my mornings flourish.
Andrew: Dream country to work in? Or project to take on.
Kenneth: An opportunity to work on a design project in Austria would be an exciting endeavor. Vienna, in particular, is rich in architecture. The classical baroque and art nouveau buildings are beautifully mixed alongside their newer, modernist structures. Sourcing from the city's design shops and having the experience of working with the local craftsmen and trades would be even more exciting.
Andrew: Vintage or new?
Kenneth: Vintage. However, just because something is vintage does not necessarily deem it to greatness. With a discerning eye for quality, material, and finish there are many unique objects that add character to an interior space. Objects that have a history behind them can be great for conversations, along with intrigue. I recently acquired and restored a vintage baby grand piano. As I find time to play there is a joy in knowing a piece of history is revived to its original grandeur.
Lily white walls make the real lilies in this Atelier K dining room stand out even more!
Andrew: How would you define your work in three words?
Kenneth: Warm, Classic, Curated
Andrew: Favorite piece of clothing you own?
Kenneth: I love fashion and accessories! After years of working for the iconic fashion brand, Ralph Lauren Home on Rodeo Drive, I was fortunate to be exposed to the best global fashion houses around. While shopping around one day I found the most incredible Brunello Cucinelli Saddle leather with a contrasting grey wool handbag. As we know, leather only looks better with age, and this bag now has a beautiful patina and richness unapparelled to many of the men's handbags you can find on today's market.
Andrew: Favorite city to recharge?
Kenneth: I love retreating California's neighboring coastline cities of Carmel and Big Sur. Whether it's renting a bike ride to explore Carmel's serene coastline or walking around the small shops and charming neighborhoods with houses named verses numbered, I always feel relaxed. Both Ventana and Post Ranch Inn are must stay retreats while in Big Sur. Spending time hiking while you are surrounded by nature is truly inspiring and refreshing.
---
About The Designer | The Principal Designer of Los Angeles-based Atelier k, Kenneth Boyer approaches interior design as a cohesive marriage between current trends and traditional roots, form, and function. Largely inspired by classic interior design, fashion textiles, and silhouettes, along with art history, Kenneth creates wonderfully unique, yet timeless residential and boutique commercial spaces that the firm's clients can endlessly enjoy.
After studying Fashion Merchandising and Commercial Design at AIU London, Kenneth received his BFA in Interior Design from Cazenovia College in New York, garnering experience and a heightened passion for design that led him to work on the merchandising and sales teams with renowned fashion brands, including Ralph Lauren. Inspired by integrating fashion and design, Kenneth has focused his passion in the world of interiors, launching his own lifestyle design firm.
Striving to design truly one-of-a-kind spaces, Kenneth values collaboration with local craftsman, artisans and other designers, allowing Atelier k to develop fully customized homes and boutique properties that reflect his client's individuality and lifestyle.
---
Andrew Joseph is a regular contributing editor for ASPIRE DESIGN AND HOME magazine. See more of his work here.
Like what you see? Get it first with a subscription to ASPIRE DESIGN AND HOME magazine.