With over a decade of design under his belt, Orlando Soria is the go-to man for turning your home into a sanctuary. He believes that a "space should be reflective of the person who lives in it- it should feel alive." This mantra is the reason why he appreciates when clients are confident enough to make bold design statements. Leading the way in the design world, Orlando continues to strive for more. So for his next journey, his new HGTV series Build Me Up, will officially be airing, every Wednesday, starting July 22nd at 9pm ET/PT and you won't want to miss it. Introducing this week's Designer Friday, Orlando Soria.

Pictured above is Orlando's living room that he designed himself. The flawless teal 1980's couch is from the iconic @wertzbrother and is accompanied by a beige coffee table. These two pieces create a truly charming and inviting atmosphere. Photographed by Sara Tramp.
Andrew Joseph: What makes you angry?
Orlando Soria: Things being designed badly makes me mad. For example, if there's an inexpensive car it makes me angry if it's not designed well. So much care goes into designing luxury cars and yet oftentimes more affordable cars, made predominantly out of the same materials, tend to be less attractive. There's no reason in my mind for manufactured goods to be badly designed. The people who design them are accomplished professionals who have to go through a ton of training to get to the position of designing them. There's no excuse for bad product design, especially when it's on a large scale coming from brands that have a ton of capital to put into research and development.
Andrew: What is something you hope to see trending in design in the future?
Orlando: Something that's been on the rise for the past five years which I hope to see continue is a movement away from the timid simplicity of the early 2010s (white walls, mid century furniture, etc) towards more bold and inventive design choices. A lot of trends from the 1930s and 1980s have come back in new and fresh ways to bring curve, color, and shape back into interiors. A space should be reflective of the person who lives in it, it should feel alive, so I love when people are confident enough to make really bold design statements.

The focal point of this room is the hand-painted triptych made by Orlando himself. This painting has been featured in his dining room and living room because of its versatility and intrigue. Photographed by Zeke Ruelas.
Andrew: What's your favorite cocktail?
Orlando: I'm a big fan of a dirty martini with vodka and lots of olives.
Andrew: What's your design pet peeve?
Orlando: Generally speaking, I'm pretty opposed to things on a diagonal in a space. There are exceptions to every rule but it always drives me crazy when I see a bed on a diagonal in a room, or a bookshelf, or a sofa. It takes up so much room and makes it impossible to lay out the rest of the space.
Andrew: What's something you always travel with?
Orlando: Even pre-Quarantine I was obsessed with sterilizing wipes. I wipe down everything on the plane before I touch it then regularly wipe down my hands, phone, anything I touch. I like to think I'm not only keeping myself safe, I'm cleaning my seat area up for the next person who gets on the plane.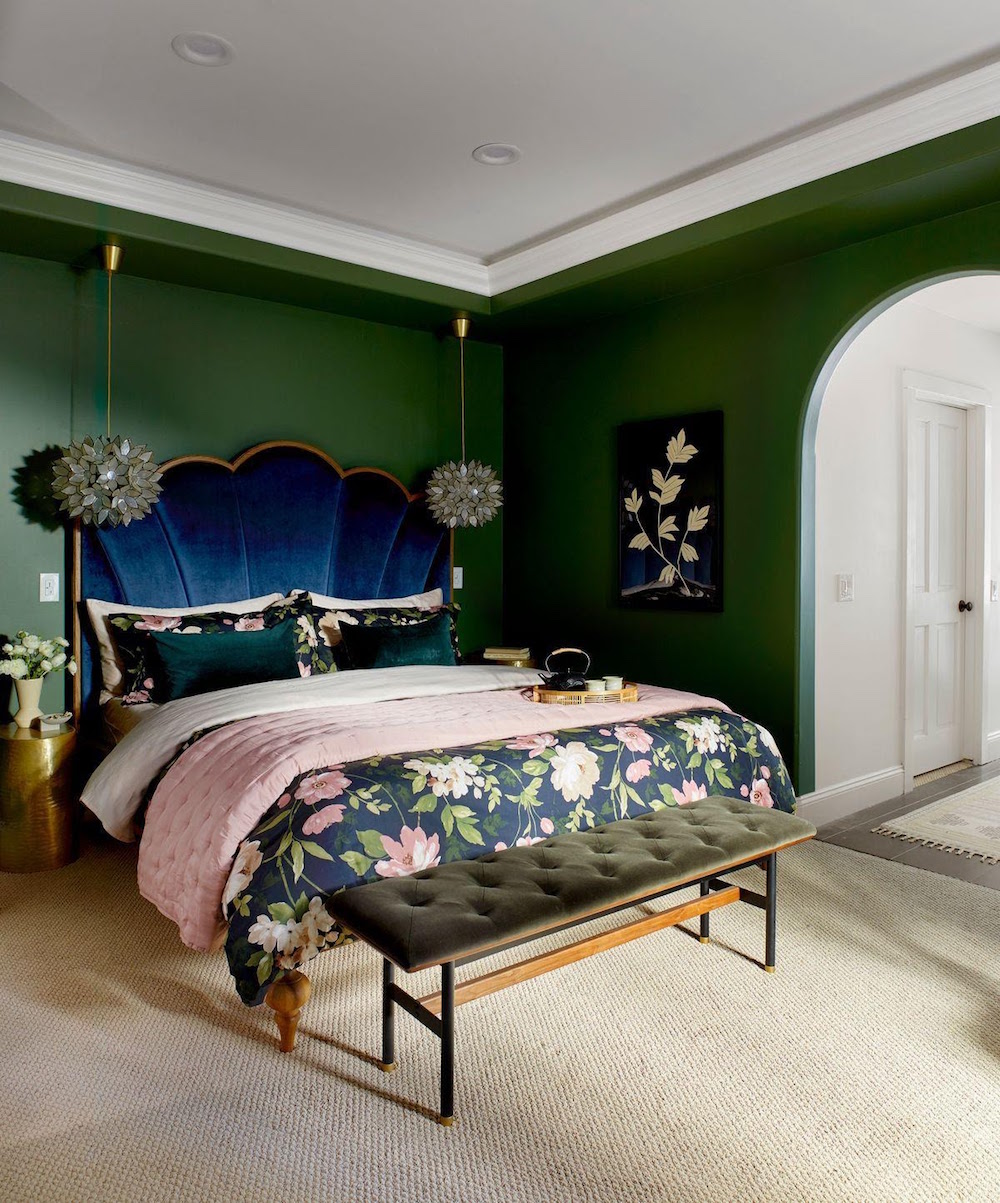 Since Orlando comes from a Fine Arts background, he imbues all of his projects with composition, color, and materials. This master bedroom definitely shows Orlando's skillset of effortlessly combining colors and textures to create a dramatic yet soothing space. Photographed by Sara Tramp.
Andrew: What was your first job?
Orlando: My first job was when I was 14. I grew up in Yosemite National Park and all the kids got jobs when they turned 14 to keep busy during the summer. That summer I worked bussing tables at the largest cafeteria for tourists in the park, The Curry Cafeteria. There was only one or two bussers and a time and hundreds of tables so I was often rushing to clear off tables to make room for people to sit as they waited angrily. It was a truly terrible job for a truly terrible company but I started working at 14 and haven't stopped since. I've come to know that you have to be willing to get your hands dirty, even when you're the "boss." People who don't learn that lesson early on tend to be less effective workers and lack the humility it takes to really get things done.
Andrew: What's your current TV obsession?
Orlando: I love the series "Search Party," which is kind of a Nancy Drew mystery meets dark comedy meets parody of Brooklyn hipsters who accidentally murder someone. The writing is so funny and fresh, it's filled with absolutely brilliant performances, and it's the perfect combination of funny and suspenseful.
Andrew: Favorite piece of clothing you own?
Orlando: I've inherited a lot of my dad's crazy colorful clothes from the 90s which I love. I have a patterned sweater, probably from 1991, that I wore on the cover of my book, "Get It Together!" and that's been one of my favorite pieces of clothing since I took it from my father's closet more than ten years ago.

Having a child who is a revered professional interior designer is for sure one of the greatest luxuries. For Orlando's parents, he designed this playful blue kitchen with gold lighting accents and a custom-built peninsula, painted Olympus Green by Benjamin Moore. Photographed by Zeke Ruelas.
Andrew: If you had one more hour in the day what would you do with it?
Orlando: I'd write more. I have all these ideas for screenplays and books I want to write but never seem to have the time to work on them. I'm the kind of person who's never bored because I have about 1000 goals for things I want to do but I actually have time for about 4 things at any given time.
Andrew: Best advice you'd give your teenage self?
Orlando: I think I'd tell myself that all the things that made it impossible to fit in in high school were the exact things that would propel me as an adult. In school I always stuck out because I was different than everyone else, it was an incredibly lonely feeling. But then you grow up and the thing people value you most in you is your ability to be yourself – it helps them feel like they can feel okay in their own skin – and you realize all those years feeling like a weirdo were just training that help you be a better advocate for other people.
---
About The Designer | A California native, Orlando Soria has been a staple of the design community for more than ten years. After growing up in Yosemite National Park, he moved to the east coast for college, where he received degrees from Cornell and The University of Pennsylvania. After working as a music publicist in New York City he landed back on the West Coast, where his career in design began. He got his big break into the world of HGTV and interior design when he was hired as Emily Henderson's assistant on the series "Secrets from a Stylist." Since, he's operated his own design firm, created Hommemaker Blog (now OrlandoSoria.com), written a book called "Get It Together," and filmed two seasons of his HGTV show "Build Me Up." Orlando lives on a tree-lined street in West Hollywood
---
Andrew Joseph is a regular contributing editor for ASPIRE DESIGN AND HOME magazine. See more of his work here.
Like what you see? Get it first with a subscription to ASPIRE DESIGN AND HOME Magazine.