Sara Carner launched her unisex perfume line in 2010, and now it is spritzed on pulse points in 40 countries and stocked in apothecaries from Beverly Hills to Cannes. Her new headquarters and store are a celebration of the perfumery's 10th anniversary. She calls it "an olfactive universe – diaphanous, with white brick walls and an original vaulted ceiling that captures the vibrating Mediterranean."
"Our perfumes are inspired by Barcelona. They encapsulate the soul of our city," Carner explains. (Best sellers include Latin Lover, with notes of bergamot and patchouli.)
She was as exacting with her architect choice as she is with insistence on wood from sustainably managed forests for the solid bottle caps and candle bases. The design is a nod to "simplicity and effortless living."
Enter award-winning Jofre Roca Arquitectes, with a keen eye for clean lines and a commitment to renewable materials. Roca's work has included a "beach bar" on the seashore and an apartment cerca de la playa. Both make beautiful use of wood. Here, the false ceilings were demolished, leaving views of the solid brick Catalan vaults, which were later whitened.
So, what is this pure wash that creates a shade like clouds, or cotton? "We used natural lime paint for a neutral background," notes Roca. "The lights are mostly hidden. Using a single hue throughout allows the eye to focus on the bottle shapes and colors. The breathable mineral paints create a healthy, comfortable space," he adds.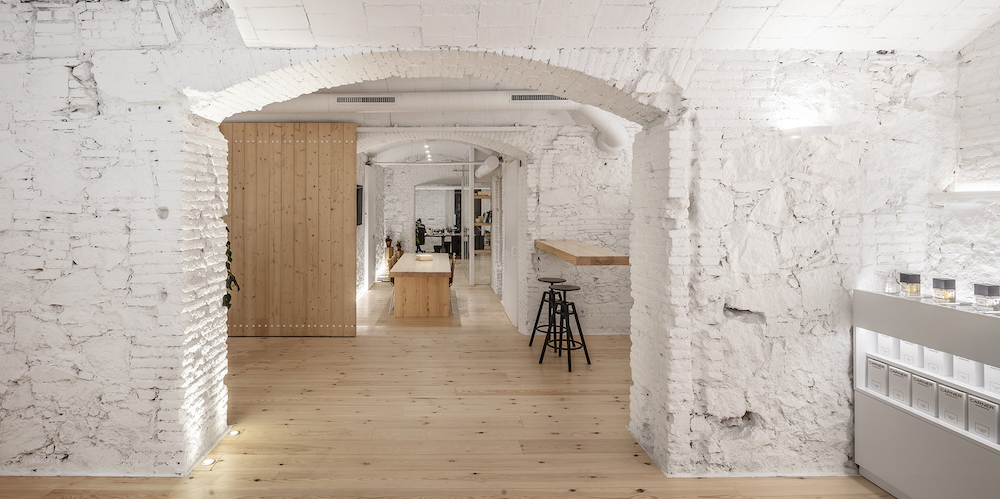 Roca chose materials with low environmental impact. The wood for the furniture and the flooring (Flanders pine, protected with water-based varnish) was carefully sourced. The window frames are painted steel.
Saturday shopping is by appointment only. Shoppers can slow down, sit down and test many scents. What better space to clear your head and breathe in beauty?
Photography by Adria Goula.
Like what you see? Get it first with a subscription to ASPIRE DESIGN AND HOME Magazine.