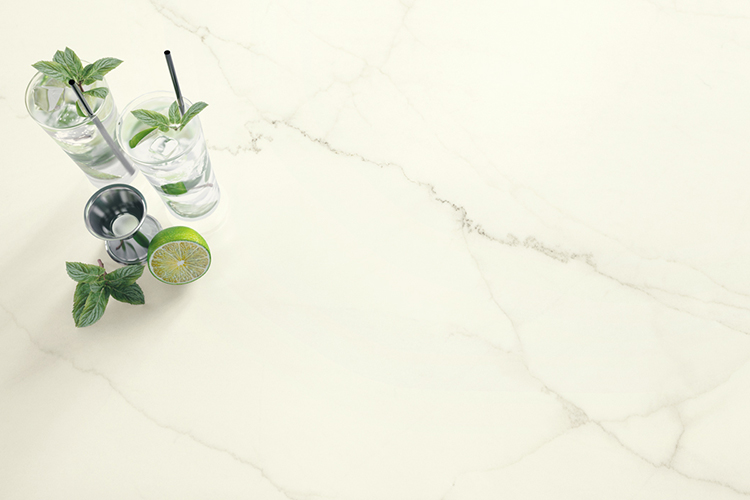 Crossville Porcelain Countertops available at Garden State Tile
---
Designers and homeowners today have more options than ever when it comes to choosing a countertop material. With the countertop being one of the most critical elements in kitchen design, it's a decision that requires thought, education and exploration. Just launched this year, Crossville Porcelain Countertops introduce something new to the mix by offering a unique way to bring style and endurance into even the most demanding projects.
The superior performance you get from using porcelain on floors and walls are some of the very same reasons that make porcelain countertops the best choice for beautiful, durable and eco-friendly designs. With porcelain countertops still being relatively new to the U.S. market, experts from Garden State Tile are here to shed light on everything you need to know about using this incredible material.
Beautiful and built to last, Crossville Porcelain Countertops push the boundaries of innovation and design
---
What are the advantages of porcelain countertops as compared to other countertop materials?
Eric Fischer, Business Development Sales Manager, Southeast Region: The advantages of porcelain countertops are virtually limitless. The basic benefits are its extreme durability, stain resistance, heat resistance and scratch resistance. They also do not need to be sealed, and offer ultraviolet light resistance so they can be used on exterior applications without ever fading.
The size of the slabs also has its advantages. Since the slabs come in a large 63.8'"x127.6" size, it allows for less seams and more coverage during installation than other countertop materials.
---
What are the environmental and sustainability benefits to choosing porcelain countertops?
Valerie Hutchinson, Residential Showroom Sales Manager, Northeast Region: Porcelain itself has a lower environmental impact than other man-made solid surfaces. Many other competitive products contain resins and petroleum that are not recyclable – but porcelain can be recycled! Because of the way Crossville Porcelain slabs are manufactured there is less waste when fabricating. Additionally, the ½" (12mm) thickness allows the option of installing over existing countertops, thus eliminating the waste of a rip out and disposal.
---
What styles are available and how are they in line with today's design trends?
Bonnie Gordon, Design Consultant, Bethlehem, PA Showroom: Currently there are ten colors available ranging from a beautiful Black Tie (black) to Sugar Coat (pure white). The colors are exactly where the market is right now – blacks, greys, Carrara and Calacatta look-alikes with the options of polished or unpolished finishes.
There are also 3 concrete looks available that are spectacular (and are actually my favorite)! They have some shading to them, but are simple and sleek, which allows for the opportunity to do something really fun with your backsplash.
---
Is it difficult to find a fabricator that will work with the material?
Eric: Being that porcelain countertops are new to the market some fabricators might be hesitant to work with the materials. However, once they do, they find that it is actually very easy to work with. The fact that a perimeter cut is not needed makes the cutting of the slabs much quicker and easier.
Now that the countertops are being displayed in Garden State Tile showrooms it has helped to educate both customers and fabricators on the ease and advantages of choosing porcelain.
---
What additional design elements can be achieved with porcelain countertops?
Bonnie: There are multiple edge possibilities when using porcelain countertops, including the opportunity to miter the slab for a 2" thick edge drop as well as waterfall countertops that reveal matching veining as it cascades down the perimeter. The waterfall edge trend is so hot right now in contemporary interiors – especially when used for kitchen islands.
Porcelain slabs also come in truly gigantic sizes that are larger than traditional stone slabs. This allows customers to use the material as a full height backsplash with minimal seams and little to no grout lines.
---
Why are porcelain countertops so popular today?
Valerie: Europeans have been installing porcelain countertops for some time now, but the trend and awareness is growing rapidly in the United States. Designers and homeowners alike love the versatility, durability, and beauty of the product!
To learn more about Crossville Porcelain Countertops, contact your local Garden State Tile showroom today!
Like what you see? Get it first with a subscription to ASPIRE DESIGN AND HOME magazine.