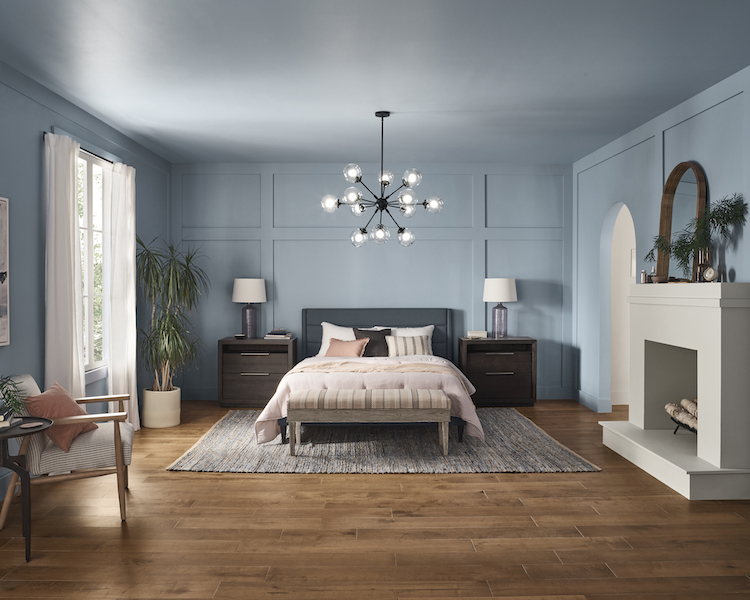 Today, HGTV Home by Sherwin-Williams reveals its trending 2022 Color Collection of the Year and a distinguished 2022 Color of the Year, created in partnership by the design experts at HGTV® and the paint company professionals trust. The Softened Refuge Color Collection is composed of soft and simple tones inspired by peacefulness with a focus on balanced and meaningful colors that help facilitate tranquility.
Influenced by our need to find respite from our day-to-day, Aleutian, the distinguished 2022 Color of the Year, is a beautiful, washed indigo that helps create a space for refuge. Use the palette to easily coordinate paint colors and décor to create your own personal sanctuary anchored in design-forward trends.
"This palette is designed to simplify color selection for a perfectly coordinated home design. Color combinations within Softened Refuge Color Collection can easily be used to craft spaces that help promote positive physical and mental wellbeing," says Ashley Banbury, HGTV Home by Sherwin-Williams Senior Color Designer. "The 2022 Color Collection of the Year exemplifies doing more with less, giving a sense of comfort and calmness with color."
Incorporating colors inspired by simplicity and serenity can create spaces that transform the home into a soothing and comfortable space. This palette helps to design homes that fuel creativity and productivity, while promoting an inviting and tranquil lifestyle. The combination of softened tones keeps things easy and uncomplicated, leaving colors that feel balanced and meaningful.
Here is the 2022 Color Collection of the Year, distinguished 2022 Color of the Year and a look at the paint colors that articulate each trend:
2022 COLOR COLLECTION OF THE YEAR, SOFTENED REFUGE: This palette showcases how home design is fluid, flexible and approachable; simplicity and comfort are the key design actions in the home. This Color Collection is soft and natural, emphasizing that our home is our own personal sanctuary. The combination of softened tones has been thoughtfully curated by design experts to be mixed and matched in any combination for a perfectly cohesive look.
Black Fox (HGSW3471)
Whole Wheat (HGSW2186)
Canvas Tan (HGSW4018)
Retreat (HGSW3283)
Perfect Greige (HGSW2475)
Stone Isle (HGSW1796)
Emerging Taupe (HGSW3035)
Aleutian (HGSW3355)
Slate Tile (HGSW1472)
Alabaster (HGSW4031)
The colors within the Softened Refuge Color Collection are available exclusively at your local Lowe's and on Lowes.com.
Like what you see? Get it first with a subscription to aspire design and home magazine.