There's an air of poetry and depth in gathered homes that branded items and mono-store interiors cannot touch. The act of choosing consciously and collecting over time is deliberate and mindful and totally unaffected by trends. For collector and homeowner Bernie Diedericks, former owner of The Treasury, a much-loved vintage store in Cape Town's gentrified Woodstock neighborhood, it's this slow- consumerism approach that informs his style. Ironically, it's also the threat of clutter on both home and mind that rein it in.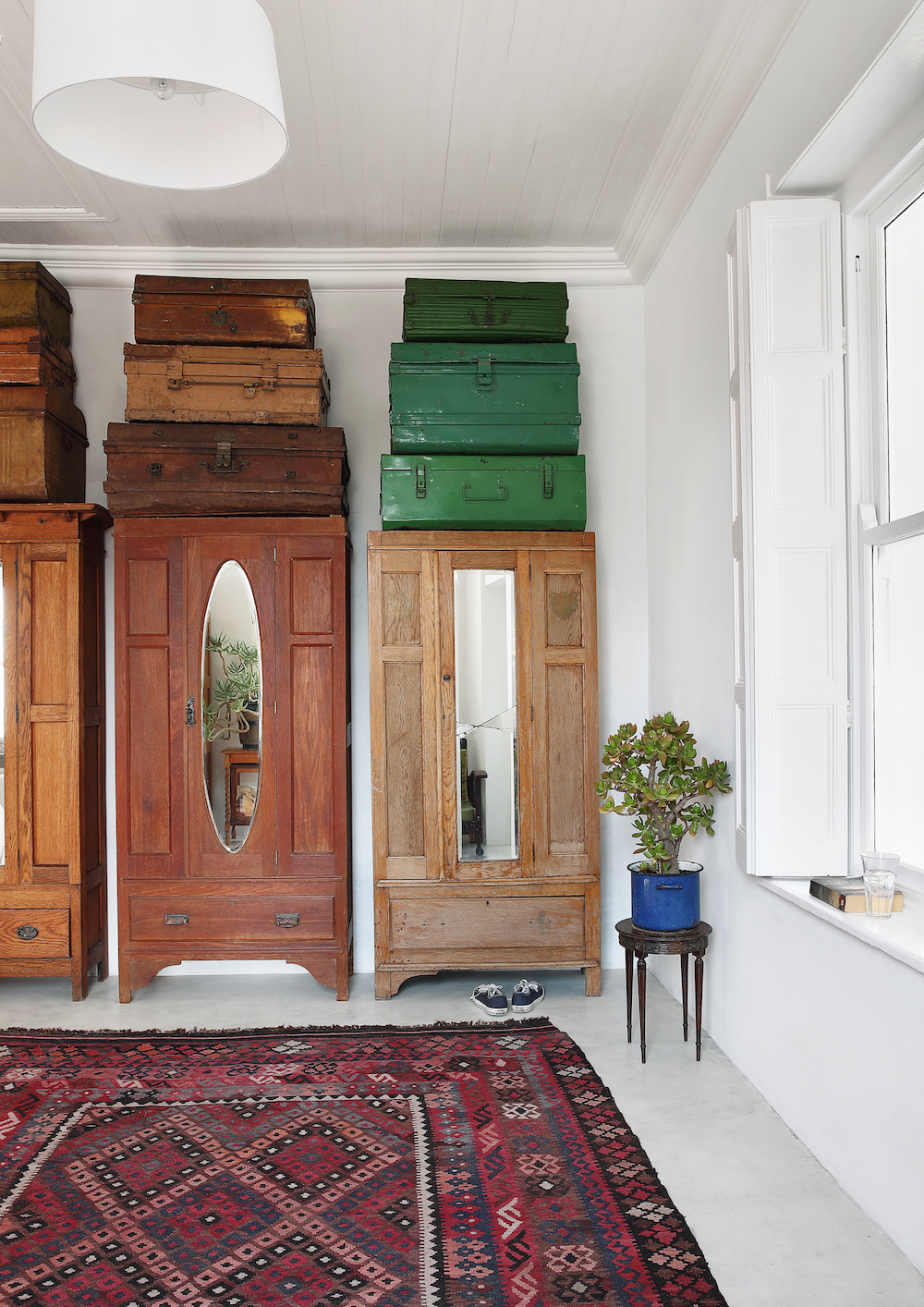 A trio of mismatched wooden cupboards topped with flea-market trunks is lined up along the wall next to a repurposed blue enamel pot that was used by Diedericks' plasterers to cook their lunch in during the renovation.
"I have to be very restrained, I have loads of ornaments, but they're tucked away in trunks. Sure, it would be interesting to have it all out on display, but it'd be too much, like a museum or shop," Diedericks notes.
Diedericks, and his cat Biscuit, reside in Villiersdorp, a Western Cape farming town with a characteristic beauty that marks the hinterland region it's located in, known as the Overberg (which translates to "over the mountain"). Hemmed in by sprawling apple orchards, Villiersdorp lies within a small valley accessed by some of the area's most spectacular scenery. From immense wheat fields to the breathtaking Franschhoek Pass cutting its perilous course through the mountains, Villiersdorp is cradled by postcard views. It charms those passing through with its white-walled Victorian houses and tree-lined avenues. Diedericks' home – on the corner of two streets – is fronted by the great Hottentots Holland mountain range and backed by the Riviersonderend range with the Elands River tributary running before it.

The bed set and pillows came from Barn & Werf in Simondium and the old industrial light with its swiveling shades was found at a shop in Cape Town's Biscuit Mill called Karoo Moon.
He lives a life of simplicity; carless, he cycles into town and back for all his daily needs, takes pottery classes twice a week, practices yoga and seldom uses a computer, confessing to being "a luddite, a builder and a gardener." Surprisingly, for a gatherer, he firmly believes one can accrue too much stuff, speaking of one day stripping right back and "giving it all up." It's in this unlikely place that Diedericks exists: between treasuring the things that he is inextricably drawn to, or more specifically their histories, and living a life of asceticism, completely free of baggage.

A view through a set of Oregon pine doors from the kitchen into the pause area reveals a "set of buggered chairs" from an antique shop in the coastal town of Somerset West. The little wooden plant stand came from Milnerton Market, a favourite haunt of Bernie's in Cape Town.
Giving in to his monk-like inclinations, he closed his shop and left Cape Town for Villiersdorp in search of a life of peace and quiet. He came to view his house in March of 2016, at a time when the temperatures in this valley hover below 86o Fahrenheit and regional drought had ravaged the landscape. "It was a dump! Good enough for a horror film," he declares, relaying the severe damp that lurked within the walls, ineffectively concealed by timber paneling and emitting the stench of rot.

To fashion a bureau, Diedericks has topped a Queen Anne sewing table with a set of metal shelves. Although a rug he bought in Stellenbosch is not of great quality, Diedericks loves the print.
But, for all its transgressions, it was still an original Victorian home on a corner stand in the "nice part of town" with high ceilings and irreplaceable architectural heritage like the classic tin-roofed veranda and deep timber architraves. And for a man like Diedericks, potential awaits in the darkest of places. "I didn't care what it looked like," he continues, "I'm a dreamer and I know I can fix anything." He's not flattering himself; Diedericks has renovated and constructed many houses and has gained a set of skills that most builders would be envious of.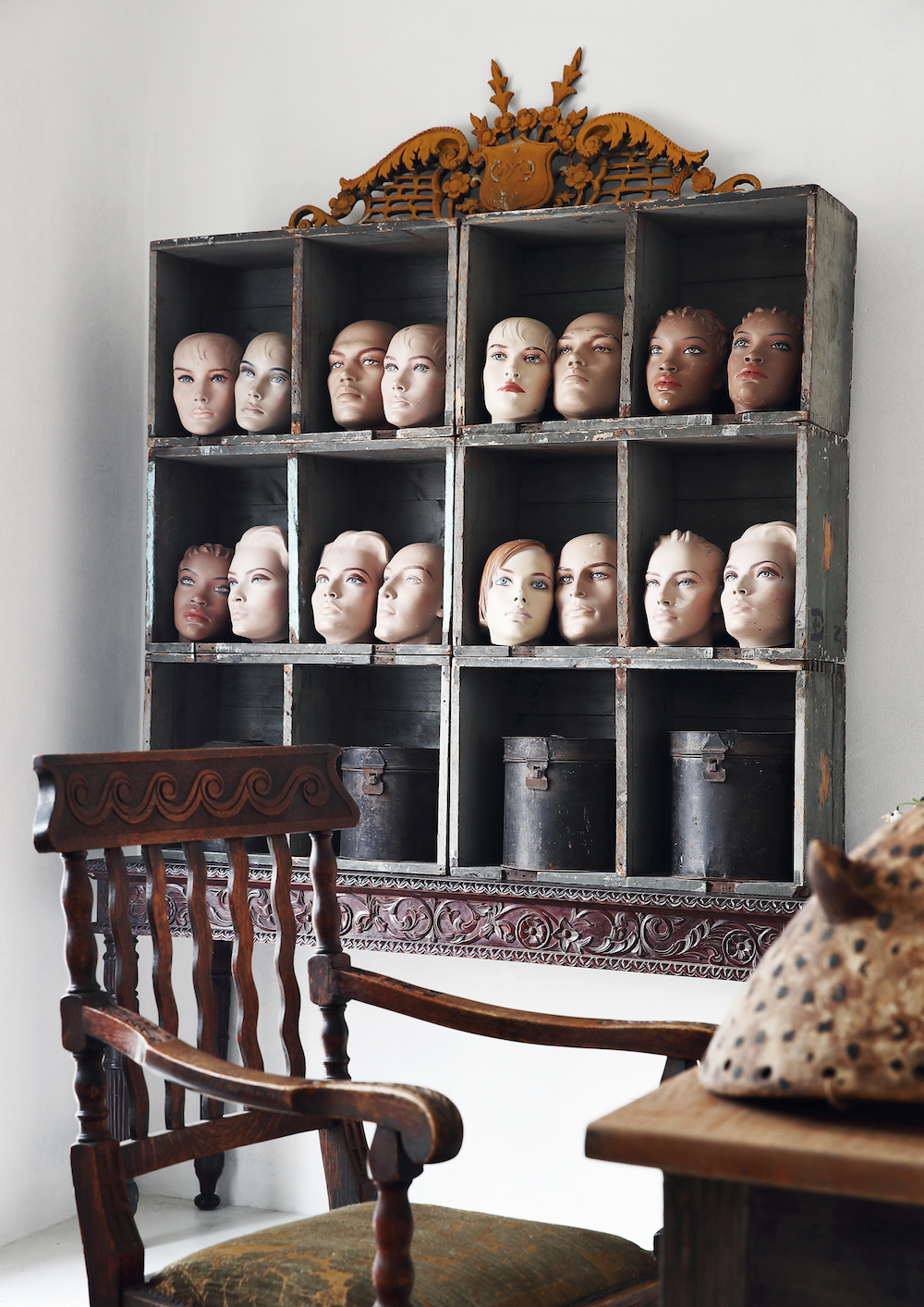 A carved sideboard and stacked World War 2 ammo boxes with the lids removed make for an unlikely display unit. In it, Bernie's collection of mannequin heads bought from Greyton's Die Smouswinkel shop and an assortment of metal storage bins is displayed in an artistic installation.
The transformation has been slow – almost four years slow – but patience is something Diedericks has plenty of and renovation costs money. While the layout remains much the same as before, the house is now flooded with light, amplified by its freshly plastered, clean white walls and new, pigmented cement floors. In order to gain much needed light and infuse the building with the breeziness it now possesses, Diedericks knocked down walls, moved doors and installed a cornucopia of solid wood sash windows, which he had been amassing for decades.

Separated from the house, the scullery used to be the cottage kitchen. Using loose wooden units and a beloved green cupboard, Bernie has created a utilitarian space that still manages to be beautiful and can be dismantled at the drop of a hat.
As a collector with minimalist aspirations, his urge to pare down and live with less is always in the wings. This tension is present among the mass of precious belongings he has congregated over time, edited and styled with an austere undercurrent. White walls with the crispness of an art gallery provide the requisite balance for tactile layers of rusted iron, steel, rattan, imbuia and oak – all of it in a graceful state of aging.
Come summertime, the plane trees that line the town's avenues are dense with foliage, shielding the streets from the full force of the heat while the wild dagga bush, a native to South Africa, produces orange tipped spires that bring the sunbirds to the garden. By his own admission, Diedericks isn't a morning person; he prefers evenings, when the house cools and the fading sun casts a glow. It's then you'll find him on his back veranda sipping a beer or grilling from his wheelbarrow with friends.
Photography by Elsa Young.
For more like this historic Cape Town home, be sure to check out this carefully curated monochromatic loft.
Like what you see? Get it first with a subscription to ASPIRE DESIGN AND HOME Magazine.