There are countless ways to go about achieving that sense of place we call 'home'. For some it's family photos, books and a sofa that can take a beating. For others, it might be gallery-like spaces where the furniture is arranged just so. Andrea de Carvalho's sunlit home in Umbria exists somewhere in between. Expressive, but not effusive, composed but not rigidly so, these interiors project imperturbable self-possession.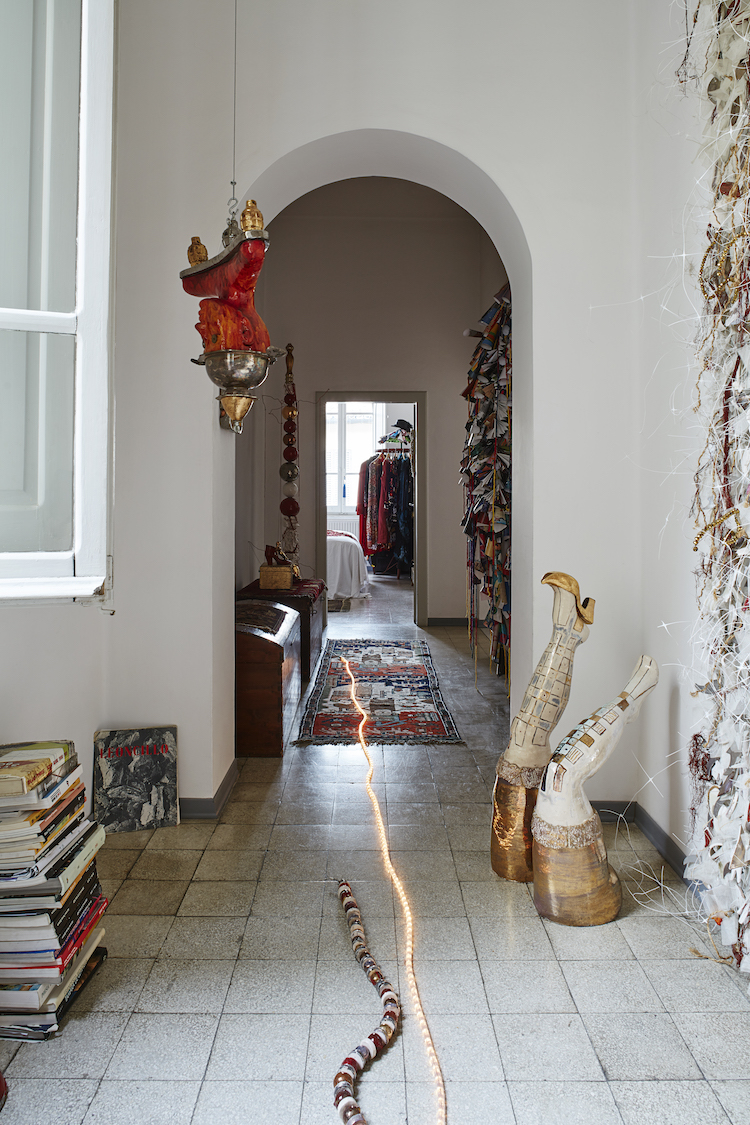 Born in Brazil, Carvalho studied fashion and fashion history in Paris and Milan before turning to art and creating curious, romantic objects from all kinds of material, including ceramics, mirrored glass and textiles. Her home and studio – situated in a former convent in the town of Foligno — is minimalist with a small M. The simplicity of its arrangement appears as much a matter of chance as design. And while undeniably orchestrated, the disposition of everything in it seems to speak of inner personal necessity, not a desire to impress, or even intrigue.
Drawn to the "magical energy" generated by the apartment's spacious rooms, high ceilings, and large windows, Carvalho treats her home as an installation. "In this mystical place, I can intertwine my artistic emotions with my daily life," she says. "It's a place where I can work at any time of the day and where I can preserve my works over time."
Although the primary decorative impulse in the home stems from the display of her work, rather than a determinedly sophisticated presentation of iconic furniture designs or bold display of cutting-edge pieces, there really is nothing gallery-like about these interiors. True, it's impossible not to notice Carvalho's singular creations – a fabric draped chandelier in the soggiorno (like a massive Portuguese man o' war bobbing in the ocean), or a ceramic-studded tapestry in a hallway – but the reasonable arrangement of these pieces makes for a seamless, authentic whole.
With its motley seating and a big, mosaic-like heart on the wall, the dining room is clearly a place for conviviality and conversation, not formality and food fetishes. The artist's interest in fashion is manifest in the striking garments she has designed. Fashioned in red, black and gold, these almost ceremonial pieces are displayed nonchalantly in her bedroom. In the living room, it's not the loosely slipcovered sofa that grabs one's attention, but the various Afghani war rugs which incorporate images of conflict and weaponry.
Even everyday things assume an eye-pleasing presence in Carvalho's relaxed environment. In the kitchen, cooking utensils are gathered in a crock and set atop a humble wooden plant stand. Although one might be tempted to tag this assemblage "sculptural," it's really just a bit of clever functionality – but also a gesture that reflects Carvalho's quest for a sense of harmony and her attention to "breathing space." Like everything in the apartment, it is evidence that this home is not so much decorated, as inhabited.
Photography by Jola Skora.
Styling by Anna Olga Chmielewska.
For more like the home and studio of Andrea De Carvalho, be sure to check out this intrepid home in Normandy.
Like what you see? Get it first with a subscription to aspire design and home magazine.