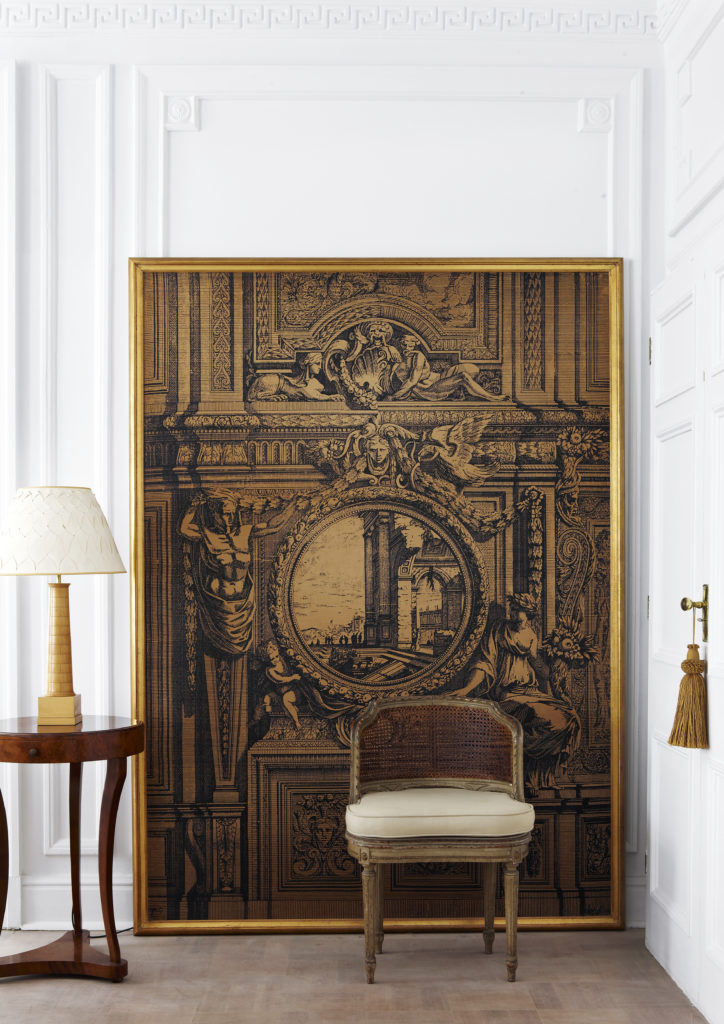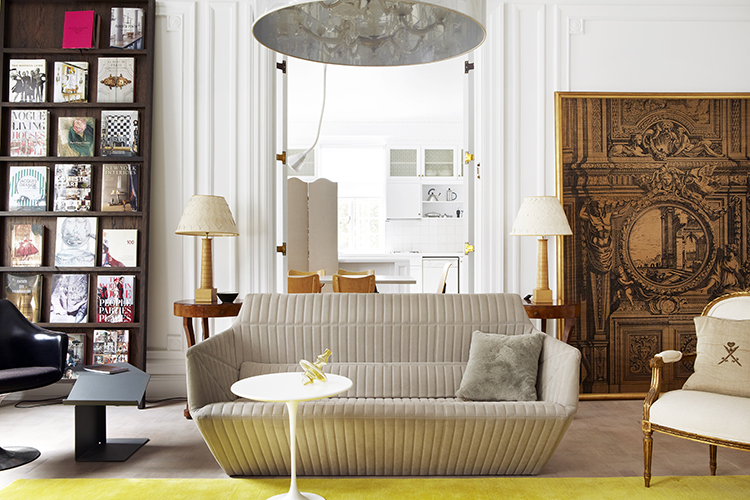 Green's love of gilt antique French furniture lives happily alongside midcentury and contemporary design classics, such as Tonic Design's Alberto Coffee Table and the Bouroullec Bothers' Facet Couch for Ligne Roset. The lamp to the left of the Tapestry is by John Stefanidis.
---
Green has been collecting circular antique mirrors for about 20 years. He was first struck by them when he saw some at the restaurant downstairs from fashion designer Nicole Farhi's shop in London. They share wall space with a Fornasetti plate, part of a larger collection that is not displayed. The Facet Chair is by the Bouroullec Bothers for Ligne Roset, and the Driade Side Table is by Patricia Urquiola and matches the chair in the spare room.
---
A Fornasetti jar on the Platner Table.
---
The eclectic aesthetic of couturier Howard Green resolves antique and modern designs in his graceful but offbeat heritage apartment.
Johannesburg couturier Howard Green is well-known for the exquisite detail of his gowns – from their hand-stitched beadwork to the perfection of their fit. He's known for being a perfectionist, a stickler for craftsmanship, and he's prepared to lavish time and care on a design until he's happy with it. More than anything, he serves a particular idea of beauty. "Anybody in this business must have a deep love of really beautiful things," he says. It's an ethos that spills over into his home, a beautifully proportioned apartment in Killarney's Whitehall Court.
Below a large poster by British performance artist Vanessa Beecroft in the bedroom, a Facet Chair by the Bouroullec Brothers for Ligne Roset shares space with a Diana F sheet metal side table by Konstantin Grcic for Classicon.
---
Philippe Starck's Pratfall Chair forms part of the living room's dazzling array of classic and contemporary design. Its partner is in the bedroom.
---
The lounge is perhaps the apartment's most visually arresting room, its eclecticism held together by its composition. In the center hangs a Moooi Light Shade Shade by Jurgen Bey, which reveals a ghostly chandelier hidden underneath its mirrored modern shade when switched on. The Facet Sofa is by the Bouroullec Brothers for Ligne Roset. (Its cover is an ingeniously stitched pattern that comes off on a single, flat piece, something that is bound to appeal to this couturier.) The Alberto Coffee Table is by Tonic Design and the carpet is by Paco. A Tulip table and armchair for Vitra by Finnish designer and architect Eero Saarinen can be seen toward the back right.
---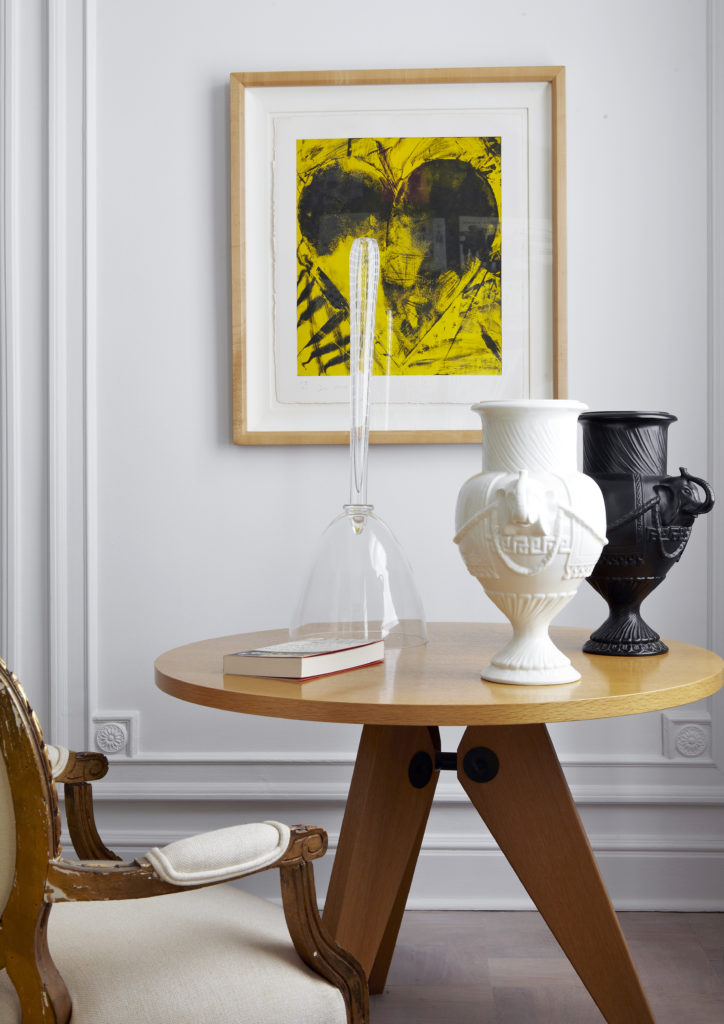 One of Green's favorites, a Gueridon table by Jean Prouve in the lounge.
---
Whitehall Court is arguably the city's finest example of neoclassical colonial architecture. It was built in the early '20s for maverick New York entrepreneur Isidore William Schlesinger, who made a vast fortune in South Africa from insurance, film, property and hotels. (He also built the majestic Polana Hotel in Maputo.) Schlesinger's own vast apartment in Whitehall took up half of one level.
Green's apartment is a subdivided part of Schlesinger's original, which had a sense of scale and grandeur unmatched in the building, and its details like the intricate plasterwork finishes are rare. "You don't find features like this often," shares Green.
The interior of Green's apartment more than lives up to the promise of the pristine white exterior of the building. He's built up a remarkable collection of furniture and art over a quarter of a century, painstakingly selecting design pieces that have struck him. Nothing for Green is purely utilitarian. "I'd rather live in a bare room than have something that I don't like, quite honestly," he states.
Surrounding the door from the kitchen leading toward the bedroom, the built-in shelves are home to Green's collection of interior design magazines, which he can't bear to part with, and various accessories, including examples from his extensive collection of Piero Fornasetti ceramics.
---
The kitchen-cum-dining area is home to a steel topped EM Table by Jean Prouve. At the head is an Anthony Chair, also by Prouve. The other chairs were bought at an auction. They are most likely of Swedish, midcentury origin, and match the table in the entrance hall and the cabinet in the spare room.
---
A door from the dining area leads out to a small balcony. An artwork by Hockney hangs to its left.
---
Yet the poise that immediately strikes you as you walk through the door is deceptive. The rooms might at first appear to be an image of comprehensive perfection, and at one time the apartment was a gilt shrine to French antiques – unsurprisingly given Green's Francophile tendencies and his immersion in couture – but now its eclecticism is quite staggering. "I'm not really crazy about French antiques anymore, but I like a little touch," he notes. "It gives the place a bit of a lift."
The furnishings in any given room are likely to veer from gilt antique French pieces through midcentury/modern classics to contemporary designer pieces. "If you have a look around here, you can see that nothing matches," Green observes. In the sitting room, for example, modernist classics, such as Jean Prouve's Gueridon Table and Eero Saarinen's Tulip Table and Arm Chair for Knoll, rub shoulders with a few persistent French antiques on the one hand and contemporary designs like Moooi's Oblique Bookshelf by Marcel Wanders and others by the Bouroullec Brothers and Philippe Starck on the other. There's even contemporary South Africa design, such as a Tonic coffee table.
In the spare room, the cabinet that matches the dining room chairs and table in the entrance hall shares the space with a wooden chair, Alvar Aalto's famous three-legged birch stool, a Driade Flow Chair by renowned Spanish designer Patricia Urquiola, and an antique French sofa, which Green intends to cover with a camouflage-patterned fabric. A cowhide rug adds texture.
---
The bedroom has what Green says is his most extravagant item of furniture: a Poltrona Frau Jackie Bed by Jean-Marie Massaud. The side table is by Patricia Urquiola. The chair in the foreground is a Standard Chair by Jean Prouve.
---
Various items are displayed on the wooden table in the bedroom, including a Jielde lamp. In front of it is a Standard Chair by Jean Prouve. The artwork is by Catalan artist Joan Miro.
---
In the generously proportioned bathroom, a Tom Vac Swivel Chair by Ron Arad for Vitra and a Baby Rocket stool by Eero Aarnio make up its sparse furnishings.
---
Green's restless eye is what resolves the disparate elements. "It's actually quite hard to get a room together," he muses. "I look at this room and almost think there's too much stuff, yet I think the yellow rug really pulled this whole room together at last." Later, he expresses concern that the bedroom, which he thought he'd perfected, might be too empty. For Green, it's a matter of constant refining. However, he says, "I love things that are a little bit offbeat." The Damien Hirst spot painting that greets you in the entrance hall should be a clue that an unconventional sensibility is at work.
Perhaps the item that best captures the spirit of Green's home is the pair of Light Shade Shades by Jurgen Bey for Moooi. There's one in the entrance hall and one in the living room. Their cylindrical mirrored surface hides a surprise. "When you look at it from the outside without the light on, it looks very modern and simple," Green explains. However, when you switch it on, the mirror turns translucent and reveals an old-fashioned chandelier inside: a ghostly classicism inside the modern exterior.
Ultimately, for Green, his home is not about an idea or a concept. "It's just about living with things that give you joy," he concludes. "It's not done to impress anyone because there's no one to impress. It's just to be happy in your space. To just look at things and love them over and over again. Because I do."
Photography courtesy of Greg Cox.
Like what you see? Get it first with a subscription to ASPIRE DESIGN AND HOME magazine.