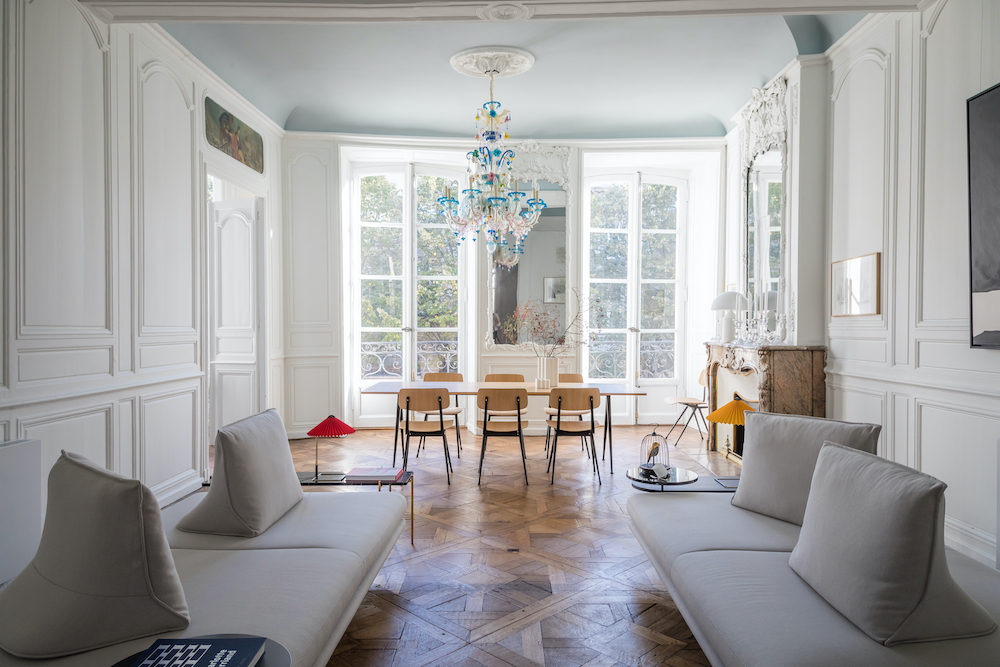 Hailing from the North of France, Jean-Xavier Neuville arrived in Bordeaux eight years ago with two suitcases and a fresh master's degree in architecture. By 2016, the passionate visionary had acquired a weathered duplex built in 1712.
Located in the Saint-Michel district, with its busy town square and basilica, the structure was built on the ditch of the medieval city wall when wealthy merchants and shipowners settled in the southern suburbs. They divided vast districts into private residences – mansions built on the Cours Victor Hugo.
Following his heart, Neuville transformed one historic structure into home base for his firm, which opened in 2018, and ample space for his living quarters. The building had been uninhabitable in the early 2000s; previous owners had planned renovations that didn't happen.
"This was a typical shipowner's house, originally a privileged hosting venue, capturing ashore the maritime power of its owner," he notes. It is the only property of that era that still stands in such pristine condition.
"After years of discovering this jewel city through its sumptuous interiors and unique inhabitants, I decided to create my agency here," he asserts. "The smell of the old noble woods and the chance to reinvent an interior that had kept all its original features immediately seduced me."
He poetically praises the region for the "softness of its blond architecture, generous vineyards and endless lines of majestic pines that never reach the horizon and the sea."
He removed partitions dating to the 19th century and lovingly renovated parquet floors and woodwork. New bedrooms, bathrooms, a library and a handsome green dressing room with wood staircase were carved out of the footprint.
"More than three hundred years have passed, and while the noble floors remain, the other, more modest spaces have been adapted to my way of life," says Neuville. On the lower floor (the living space), fireplaces and ceilings are still intact, as is the half-moon carpentry that separates the library.
"I wanted a place reflecting both past and present – a space where life is good and the sky is always blue," he adds. Along that line, he had the walls of the airy pantry behind the kitchen painted a true French blue, then hung a Moroccan lamp, antique paintings from Bordeaux and a mirror unearthed at a bargain. He added strokes of bold colors in the library and at the entrance, and vibrant pink accents in a bedroom.
Throughout the space, Neuville incorporated historic and contemporary details. For the dining room, he chose light, flexible vintage chairs from 1959 and lighting found at auction. A classic, time-honored kitchen range and hood – "Les Pianos Gastronomes," made in France – is flanked by sleek, modern cabinets that close neatly. Stools stand ready at the island so friends can join him for petit déjeuner – a light breakfast of croissants, jam and coffee, perhaps, eaten in a beautiful place.
Photography by Cecile Perrinet-Lhermitte.
For more like this residence from Jean-Xavier Neuville, be sure to check out Zèbres: A Parisian Shop Of A Different Stripe.
Like what you see? Get it first with a subscription to ASPIRE DESIGN AND HOME Magazine.