Every other year, designers and design lovers alike flock to the Junior League of Detroit's Designers' Show House. This year, ASPIRE DESIGN AND HOME was the official national media sponsor for the event and welcomed the chance to celebrate and promote 40 of the country's most illustrious designers and landscapers as they transformed one of the largest mansions in the Historic Boston-Edison District of Detroit back to its former glory—with a contemporary spin. Below are some of our favorite before and after images.
3RD FLOOR GUEST BEDROOM | DESIGNED BY ANNE STRICKLAND | This space is all about creating layers. Nothing too polished, things with a patina that make you wonder where they have been. Contemporary bookcases hold leather-bound books, objects of interest or a relic from an inspiring trip. Together, all these curated pieces begin to tell a story. It's a story of a person who loves to travel and lives to dream. In a big, busy house this tucked away attic space is the space of imagination. It's a place to get lost in creating, scheming or just getting a little peace and quiet. The collection is neutralized with warm whites, sisals, solid and rich upholstery.
---
3RD FLOOR ARTIST SUITE | DESIGNED BY HEPPLEWHITE'S INTERIORS | This unique space is a true artist's loft, high above the hustle and bustle of the main house. It is calm, quiet, and the perfect place for an artist to explore their creativity. The space is also ideal to unwind with friends and family at the end of the day in a relaxed and cozy atmosphere geared for cocktails and conversation. The walls are painted a soft gray to enhance the zen feeling of the room and feature the exposed brick wall. The furniture is casual, comfortable and fully functional. The choice of decor points to modern trends while still reflecting the casual living embraced by so many. The space features the artwork of Detroit based artist Chris Lujan. Her unique and varied style of art lines the walls, giving the space a true gallery feeling. The design keeps the space focused on the artist's creativity, energy and lifestyle.
---
THE GRAND ENTRY | DESIGNED BY MICHAEL COYNE DESIGN | Our vision for the Grand Entry of the showhouse is modern meets classic. The space will be warm, light and airy. We will use brilliant pieces that enhance the space with a modern flair but will give a nod to the classic style of this beautiful home.
---
VINTAGE GENTLEMEN'S LOUNGE | DESIGNED BY DESIGN DU JOUR | The Billiard room will be transformed into an upscale gentleman's lounge. The room will give off a very moody and sexy vibe; dark colors of orange and greens accented with golds and black. Dim lighting and beautiful fabric will transport you to old Hollywood.
---
MOTOWN RHAPSODY IN BLUES | DESIGNED BY BUCKINGHAM INTERIORS & DESIGN | The concept for this design centers on the vibrance of the city of Detroit, and the blending of old and new to revitalize the stunning historic architecture of the show house. With a nod to the city's Motown culture, I've incorporated bright and playful colors and textures alongside vintage LPs to bring in a fun, playful quality characteristic of Modernique.
---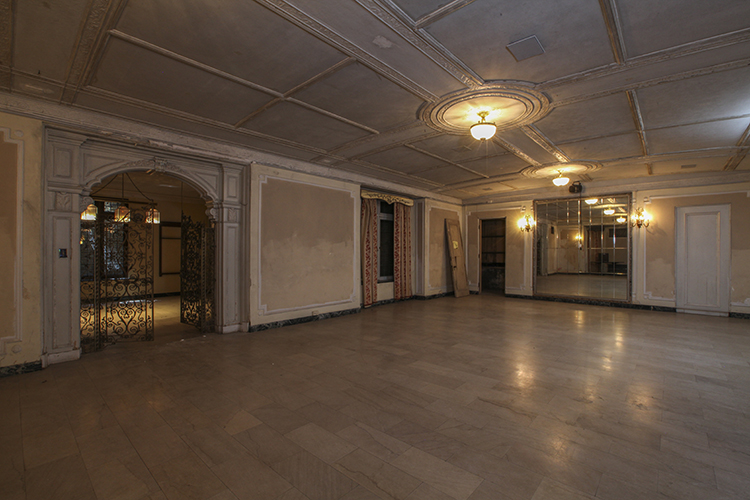 MODERN SALON | DESIGNED BY CRENSHAW & ASSOCIATES, LLC. | A multi-purpose space for varied uses, a place to gather for intimate and lively conversations, group dynamics and discussions. In the modern-day environment, discussions may range from sports, cinema, publications, the latest news, art and games. My team and I have tried to create a space that is inviting, invigorating, accommodating and comfortable with multiple seating areas and a mix of finely detailed modern and vintage furnishings. The room beckons you to enter, come in, gather, indulge, converse and enjoy all the things you can do in a "Modern Salon".
---
THE BOLD STANDARD | DESIGNED BY COREY DAMEN JENKINS & ASSOCIATES | A celebration of classic traditional flair, the Fisher Mansion's Living Room gets a 21st Century update. The room's original Tudor-style paneled walls are layered with bold artwork and contemporary sconces, while the floor plan is punctuated with groupings of clean-lined furniture floating on a custom, geometric patterned rug. The space is brightened with organic elements and a runway fashion-inspired palette of navy and white. The result is a fresh, continental mix of elegance and modernity.
---
THIS SIDE OF PARADISE | DESIGNED BY SAPPHIRE PEAR | The Sun Room is already a captivating room with three walls of windows, an intricate carved stone fountain, and a stunning original blue tiled floor, so it was important that the design for this space complimented that. The mix of traditional furniture pieces you would expect in a Sun Room with the unexpected color palette and layer of patterns will make this space memorable and leave visitors smiling.
---
THE QUEEN'S DEN | DESIGNED BY SHOWHOUSE INTERIORS | With the challenge of infusing a sense of urban modern flair in the traditional dark library, we sought to design a powerful and prideful room; full of history and heritage fit for royalty. The masculinity of the wood paneled walls, wood floors and original hand stenciled wood ceiling (representing the maker's mark of the artisans that originally built the Fisher Mansion) is juxtaposed with an essence of feminine flair. Designed for gathering in the round, the room is purposely appointed with curvaceous modern lounge sofas and ottomans to soften the edges of the room and garner opportunities for guest to converse and share. The room is accented with hues of cobalt and midnight blue which are known to reinforce and symbolizes mind clarity, knowledge, and wisdom. The award-winning photography is intriguing… Who is this Warrior Queen? What is her story? Let's gather in The Queen's Den and explore.
---
FAMILY ENTRANCE VESTIBULE | DESIGNED BY DIANE WOOLSEY INTERIORS | The family entrance to the home is a somber, octagonal space with time worn limestone walls and an iron grate over a small window. It brings to mind a mausoleum or a prison cell rather than an elegant entry to a gracious home. The antidote to this gloom? An infusion of color. With a skirted center table made from Manuel Canovas floral embroidered silk and a tall vase of pink cherry blossoms the room comes alive. The area rug is a black and green wool plush graphic pattern from Stark. Two Louis XVI chairs, covered in Scalamandre' rose and black tiger patterned velvet, sit against the stone wall across from the center table. An ornamental black iron console with gold accents and large black beaded mirror anchors the other side of the room, reflecting the light and color.
---
EURO GUEST BEDROOM | DESIGNED BY BIRCH DESIGN ASSOCIATES | The colors inspired by the Mediterranean. A ceiling of burnished gold, accentuates the spectacular "Calais" chandelier by Niermann Weeks, and offers a reflective quality throughout this inviting space. Wallcoverings include an elegant grass cloth by Ralph Lauren juxtaposed with a playful Kelly Wearstler pattern, both accentuating dramatic molding details innate to the room's original décor. Stark's "Antelope" floorcovering sets a neutral landscape from which to view both contemporary art and furnishings. Antiques are present, but used sparingly, offering a collected feel… These combined pieces lend a sculptural design element in this refined vignette.
---
GARDEN OF EDEN | DESIGNED BY RIGHT MEETS LEFT INTERIOR DESIGN | Welcome to the Garden of Eden. Our ladies lounge bathroom is a colorful and feminine fantasy with an Art Deco flair. The lady of the house escapes here to be inspired and share intimate moments with her closest friends and confidantes. The space brings her joy and is an expression of her unique tastes and personality. It is here she can be herself – without judgement, without consequence, without explanation.
---
LADIES SITTING ROOM | DESIGNED BY MEG CASWELL STYLE | Meg used colorful vibrant fabric designed with natural floral elements to continue bringing the outside in like the large windows wrapping around the room. The use of happy bright colors is a representation of Meg's personal style. She tends to push the boundaries with layering of patterns and colors in a way that can still be calming.
---
SECRET GARDEN ROOM | DESIGNED BY CLOTH & KIND | Our Secret Garden Room was inspired by the beauty and majesty of the Victorian glass greenhouse at The Royal Botanical Kew Gardens outside of London, coupled with our love of mixing old world antiques and vintage finds with modern art and lush textiles. Our jumping off point was the latest wallcovering creation from Fromental, Braque in Cap Ferrat, inspired by the French painter and collagist Georges Braque, which we paired with gorgeous textiles by Carolina Irving and Tyler Graphics. We tipped our hat at the original oriental miniature paintings found in the latticework outlining the room and barrel ceiling with a custom Pagoda Style lantern by vanCollier and a gorgeous antique oriental rug. We envisioned the space as a refreshing getaway, a gardenesque nook that beckons you to meander and abide awhile.
---
THE COVERED PORCH | DESIGNED BY JANE HENDERSON INTERIOR DESIGNS | In the 1920's, I imagined that Charles and Sarah Fisher would spend leisurely summer or early fall afternoons sipping sidecars in the covered porch with friends and family in high style, but in a low key manner. Drawing inspiration from an iconic designer from the same time period, Dorothy Draper, I've infused large motifs and a bold color palette in a fresh classic style that feels current but leaves tastes of the roaring twenties. This covered porch is a shining example of retro glam style with a modern twist. Careful arrangements, cheeky updates, and oodles of color are the signature elements of this space. Whimsical and radiant, these interiors are designed to entice anybody to have a seat, enjoy their company, and sip on some au courant libations.
---
THE SANCTUARY | DESIGNED BY SAVVY INTERIOR DESIGNS, LLC. | Spare no limits relaxing in this swanky conversation room. This historic Hideaway of architectural majesty is resurrected with soulful ambiance. Luxe textures, neutral tones, vibrant metallics, coupled with 20s inspired elements, take you back to a time when spirits were high, and gathering to converse, was of first importance.
All photography courtesy of Jeff Garland Photography.
Like what you see? Get it first with a subscription to ASPIRE DESIGN AND HOME magazine.