This fall, Roche Bobois challenged the renowned Portuguese artist Joana Vasconcelos to reinterpret six of their iconic models. Vasconcelos, who became known internationally after her participation in the 51st Venice Biennale in 2005 with the work A Noiva, recreated these pieces by preserving their original essence while inscribing her identity. Her unparalleled creativity highlights Portuguese artisanal traditions and know-how.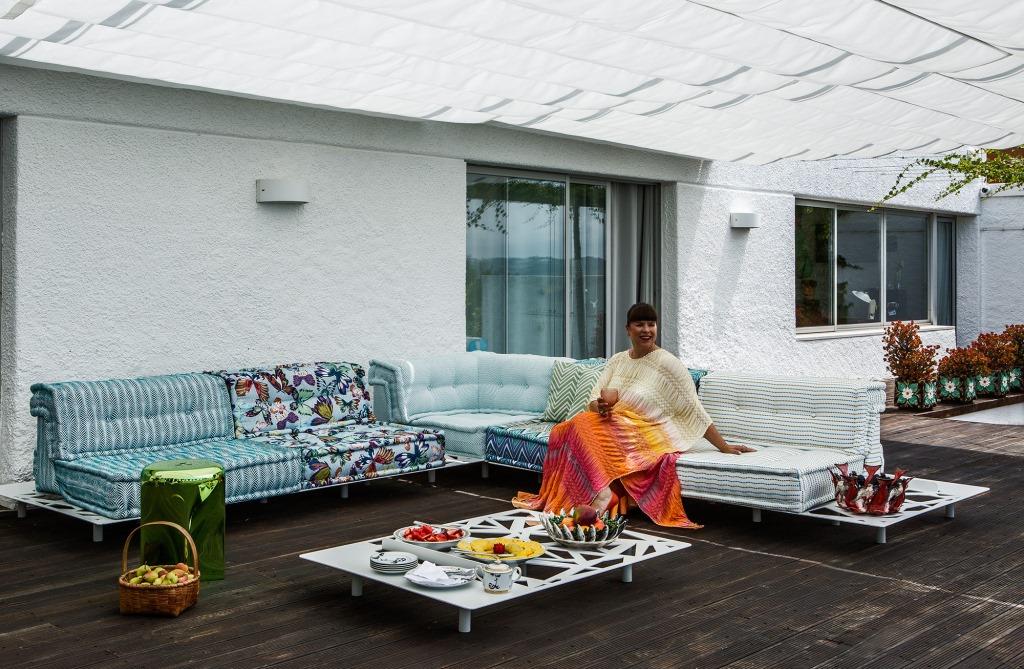 Vasconcelos sits on the iconic MAH JONG Outdoor, this version maintains the endless modular combinations that made it such a success. A metal base with a random perforated pattern supports cushions in refreshing colors. It also features trays on the sides and behind the seats for holding glasses, towels, or sunscreen.
The six revisited pieces – two Ava chairs, the Lady B and Nuage armchairs, the Sismic and Cute Cut coffee tables and a composition of the iconic Mah Jong – were exhibited on May 16 in the artist's studio in Lisbon as part of the ARCO contemporary art fair, before traveling to Geneva, Paris and Miami for display.

The Edito Lounge, designed by Sacha Lakic and upholstered in Techno 4D fabric, stretches in all directions while perfectly maintaining its shape.
"Everyday life is my main source of inspiration," says Vasconcelos. "As a woman, and Portuguese, the know-how and materials specific to my culture are essential: the azulejos that dress both the interiors and exteriors of our buildings or the crocheted doilies that are present in all Portuguese interiors, which cover sofas, tables, or televisions. For me, this collection in collaboration with Roche Bobois represents the perfect alliance between Art, Design and Life."

Roche Bobois armchair, Lady B model, design by Céline Maia Pujol, handmade woolen crochet, ornaments, polyester.
On the afternoon of December 2, Roche Bobois partnered with The Wall Street Journal and Axiom Gallery to celebrate the collaboration. The private viewing took place at Pérez Art Museum Miami (PAMM) ahead of ART BASEL week. More than 200 notable designers, architects, design aficionados and top media influencers attended the invitation-only event.
View the full collection from Joana Vasconcelos here.
Photography by Gilles Trillard.
Like what you see? Get it first with a subscription to ASPIRE DESIGN AND HOME Magazine.