The Aspire House McLean project began in 2018, when Bill Harrison, renowned architect and principal of Harrison Design, introduced aspire design and home CEO and Founder Steve Mandel to a developer he worked with called Artisan Builders. Mandel was immediately impressed, and planning began for a showhouse in this elegant suburb of Washington, D.C.
The residence, which adapts Palladian concepts of geometry, proportion and symmetry, is modern and light-filled, with vast windows to flood the space with sunlight. In order to make sure the interior design matched the caliber of the architecture, Mandel invited Mary Douglas Drysdale to be the design chair. Drysdale explains, "A talented group of designers and creatives from the Mid-Atlantic region displayed their skills to create a home that is a modern classic mix, referring to the architectural traditions of our region and to the lifestyle that people aspire to today."
In our recently released aspire design and home Showhouse Issue, we sat down with Katalin Farnady to learn more about her creative process in designing the entry for this project.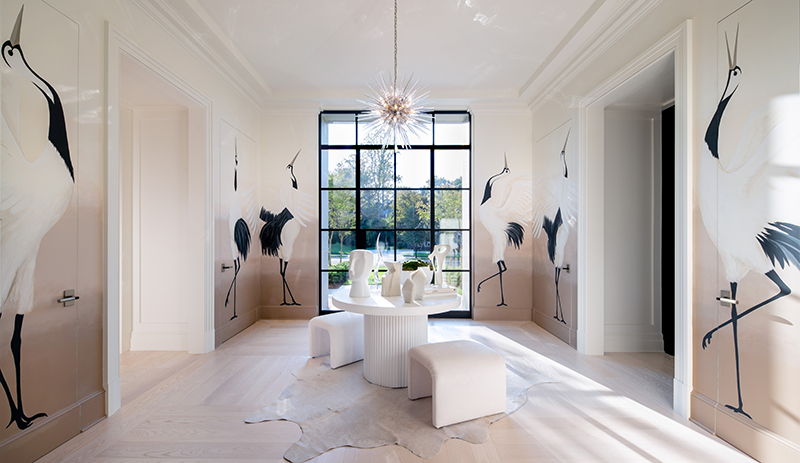 aspire design and home: How much time did you have to complete this room, start to finish?
Katalin Farnady: Less than two weeks.
aspire: What was your biggest challenge? Did you have a Eureka moment during the process?
Katalin: The biggest challenge was that the space had 4 closet doors, 3 entries to different rooms and 1 entry door. I needed to make sure that I made the four closet doors disappear.
aspire: What did you and your team accomplish that you thought would not happen in time?
Katalin: We were well prepared and there were no worries about not being able to finish on time. The only problem we ran into was the delay on the chandelier production but we were able to reselect and get it hung on time
.
aspire: What was your inspiration for this room?
Katalin: When designing interiors I often like to tell a story. Growing up in Budapest, Hungary all the folk tales like children's stories tell how storks deliver babies to the front step of the house. I was diagnosed with both side ovarian cancer while pregnant with my our first daughter. However, after all the surgeries and treatments we both survived and were blessed with two more beautiful daughters. And now, sixteen years later, I was so excited to share our beautiful survival story… and how much more fitting it could be that I was able to do that through an interior… and who doesn't like to hear about a very happy ending, right?
aspire: Did you step out of your comfort zone for this project, and if so, why?
Katalin: I always try to step out of my comfort zone. I like to add some drama and something unexpected to the interior spaces I design.
aspire: Despite the fact that there were so many designers involved, there is an inherent cohesiveness to the home. Did you all converse/collaborate? Or was this a completely individual process?
Katalin: We did not collaborate… However designing the entry foyer that generally creates the feel for any home you walk in and introduces the personality of your home and welcomes your guests, I needed to keep in mind that this showhouse entry was an introduction to all the differently designed rooms of many talented designers. It needed to be a concept that is soft and goes with any design direction while still representing my design beliefs. Through an exploration of dimensions, soft colors, textures, form and materiality, I was able to add the unexpected elements and drama that I like to add to my interior spaces.
aspire: Is your preference for a showhouse a small space or a large space? Does one or the other provide a better opportunity to stretch your creativity?
Katalin: For me, creativity is nothing to do with the size or style of the space I am designing.
aspire: Describe the town of McLean in one sentence.
Katalin: McLean is very safe, clean, high-end and super stylish.
This or That:
aspire: Paint or wallpaper?
Katalin: Wallpaper
aspire: 
Hardwood or rug?
Katalin: Hardwood
aspire: Beach or Mountains?
Katalin: The city
aspire: Saturated Color or Black and White?
Katalin: Black & White
aspire: 
Brunch or Dinner?
Katalin: Dinner
aspire: 
Midcentury or 18th Century?
Katalin: Midcentury
aspire: Draperies, shades, or nothing?
Katalin: Nothing
aspire: 
2001: A Space Odyssey or The English Patient?
Katalin: English Patient
aspire: Week at the spa or Week of Broadway shows?
Katalin: Broadway Shows
Photos by Ron Blunt.
Like what you see? Get it first with a subscription to aspire design and home Magazine.