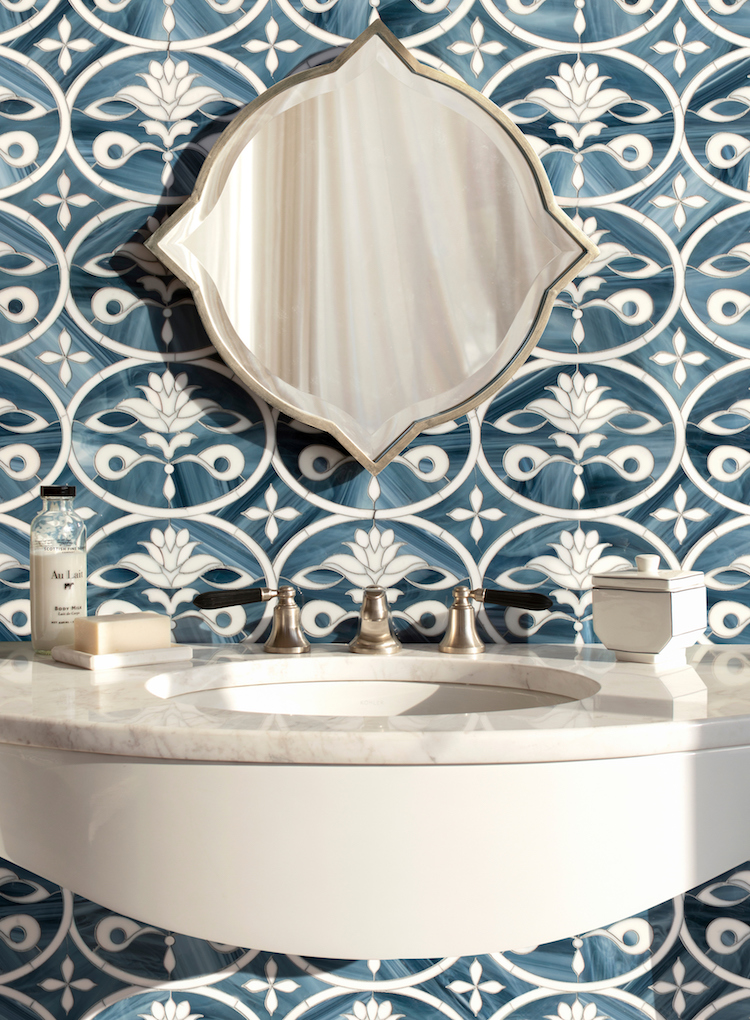 The enchanting gardens, architecture, and culture of the Côte d'Azur come through in the Liliane collection by Caroline Beaupère for New Ravenna. The designer's memories of summers spent on the French Riviera inspired the nine mosaics, handcrafted in natural stone and glass with metal accents.
"It's a very sophisticated and elegant collection with intricate designs featuring stunning combinations of stones and metals," says Beaupère. "The patterns are unique, but most importantly New Ravenna's exquisite craftsmanship and ability to bring my designs to life sets this collection apart from other tile collections on the market today."
Each design was sketched by hand by Beaupère, drawing inspiration from the color and light indicative of the South of France. Béatrice is an art nouveau lily, inspired by the verdant gardens of Villa Ephrussi de Rothschild designed by Baroness Béatrice de Rothschild, who kept 30 gardeners busy at her villa in Saint-Jean-Cap-Ferrat. The vivid blue jewel glass reflects the brilliant Mediterranean sea and sky.

Béatrice.
The range of taupe stones in Béatrice Grandiose indicates the fertile organic soil, where the gardens have thrived for over a century.

Béatrice Grandiose.
The small village of Èze is renowned for its botanical garden. The namesake mosaic is a stylized interpretation of the abundant cacti planted in the garden, with brass and aluminum accents creating glints of shine.

Èze.
The Masséna mosaic in stone captures the belle époche style of Villa Masséna in Nice, with its grand entrance of stately palm trees.

Masséna.
Moving east on the coast is Monaco, the second smallest country in the world. The eponymous mosaic replicates the top portion of the Coat of Arms of the Grimaldi House in Thassos stone combined with brass or aluminum and glass accents. The regal crowns are cradled by elongated decorative leaves.

Monaco.
Monaco Floral is the adaptation of the leaves independent of the royal symbolism.

Monaco Floral.
The Caroline mosaic in tumbled Thassos and polished Calacatta Gold is a deconstructed representation of the Princess Grace Rose Garden in Monaco. Conceived by Prince Rainier III in memory of his wife, the garden has 6,000 rose bushes.

Caroline.
The Caroline Medallion is available in either glass or stone, with butterflies and roses animating their oval frame.

Caroline Medallion.
"I take inspiration in places, people, feelings that make me happy when designing a new collection, so each pattern is unique and each design is one of a kind," says Beaupère.
Click here to shop the Liliane Collection.
Like what you see? Get it first with a subscription to ASPIRE DESIGN AND HOME Magazine.