Curating one of the world's most recognized galleries, Ralph Pucci is simply nothing less than extraordinary. Pucci has been growing the family business since 1950 and has had a trailblazing journey in the art and design world. He collaborates with leading international artists and designers and allows them a space to showcase their works while having received numerous awards such as the City of Design World from the Museum of the City of New York. Recently, a few of his artists were hand-picked to be featured in the Galerie House of Art & Design 2021 Showhouse by renowned participating interior designers. Introducing this week's Maker Monday, Ralph Pucci.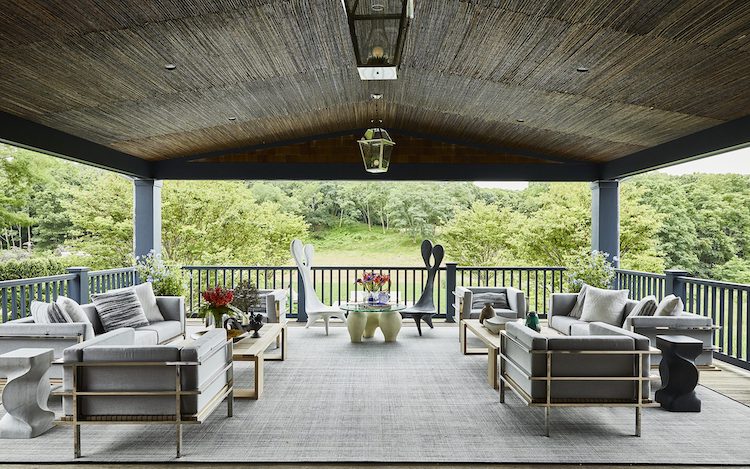 Several of Ralph Pucci's artists were featured in this year's Galerie House of Art & Design. Above, on the terrace designed by Lisa Fayne Cohen, are John Koga's Lounge Chairs and Patrick Naggar's cocktail table. Photography by Genevieve Garruppo.
Andrew Joseph: What is the last book you read?
Ralph Pucci: Francis Bacon Revelations by Mark Stevens & Annalyn Swan
Andrew: What's the best thing that happened to you this month?
Ralph: My son, Michael Pucci, is getting married in Chicago.
These exquisite Mahalo (Grateful) Dining Chairs were created by Honolulu-based sculptor and painter, John Koga; all are made from plaster glass. Photography by Antoine Bootz.
Andrew: What was your first job?
Ralph: Working in my parents' mannequin factory. I've only ever worked for this business!
Andrew: What are you most proud of?
Ralph: My family. I think it has to be when you have a family business!
Made from plaster glass and European White Oak, French artist Patrick Naggar's Demeter Dining Table is pictured above. You can find this piece at Ralph Pucci's Los Angeles and Miami spaces. Photography by Antoine Bootz.
Andrew: Are you a pet person? Why either way? Dogs or cats?
Ralph: We have had dogs through the years and I'm very happy that my daughter Nicole now has a puppy accompanying her to our office.
Andrew: A book that everyone should read?
Ralph: Thelonious Monk: The Life and Times of a True Original.
This Red Clay plaster glass table, known as the Artemis Console, was created by one of Ralph Pucci's French artists, Patrick Naggar. "These new pieces I think are more subtle, beautiful complimentary pieces that capture the handwork involved to make them, great to be mixed with furniture that might be more conventional perhaps" states Pucci. Photography by Antoine Bootz.
Andrew: What are three binge-worthy TV shows/Movies that you've been watching?
Ralph: Any movie by Francois Truffaut, Woody Allen, Martin Scorsese.
Andrew: Where is the first place you want to travel now that everything is opening up?
Ralph: LA! To see my gallery and everything else. This is the longest I've been away from it since we landed there 15 years ago.
---
About The Maker | Ralph Pucci has an eponymous furniture, lighting and art gallery headquartered in New York City, regarded as one of the best galleries in the world, with outposts in Miami and Los Angeles. Ralph Pucci collaborates with the world's leading artists and designers, including India Mahdavi, Hervé van der Straeten, Eric Schmitt, Pierre Paulin, Philippe Anthonioz and many more, and is particularly drawn to pieces that highlight "the hand of the artist." Ralph Pucci also proudly manufactures in NYC in its own proprietary material pieces that are also suitable for the outdoors. This (factory) concept allows our designers to work hand-in-hand with our resident sculptor, from sketch to full-size clay model which is then molded and cast with plaster glass. This renovation to our (factory) was a godsend to us during Covid and allowed Patrick Naggar to create an entirely new show that we debuted across all three galleries this spring and summer.
---
Andrew Joseph is a regular contributing editor for aspire design and home magazine. See more of his work here.
Like what you see? Get it first with a subscription to aspire design and home magazine.