Ceramicist. Explorer. Table Topper. The charming Coralla Maiuri joins us as our Dinner Guest interview in the fall issue of ASPIRE DESIGN AND HOME.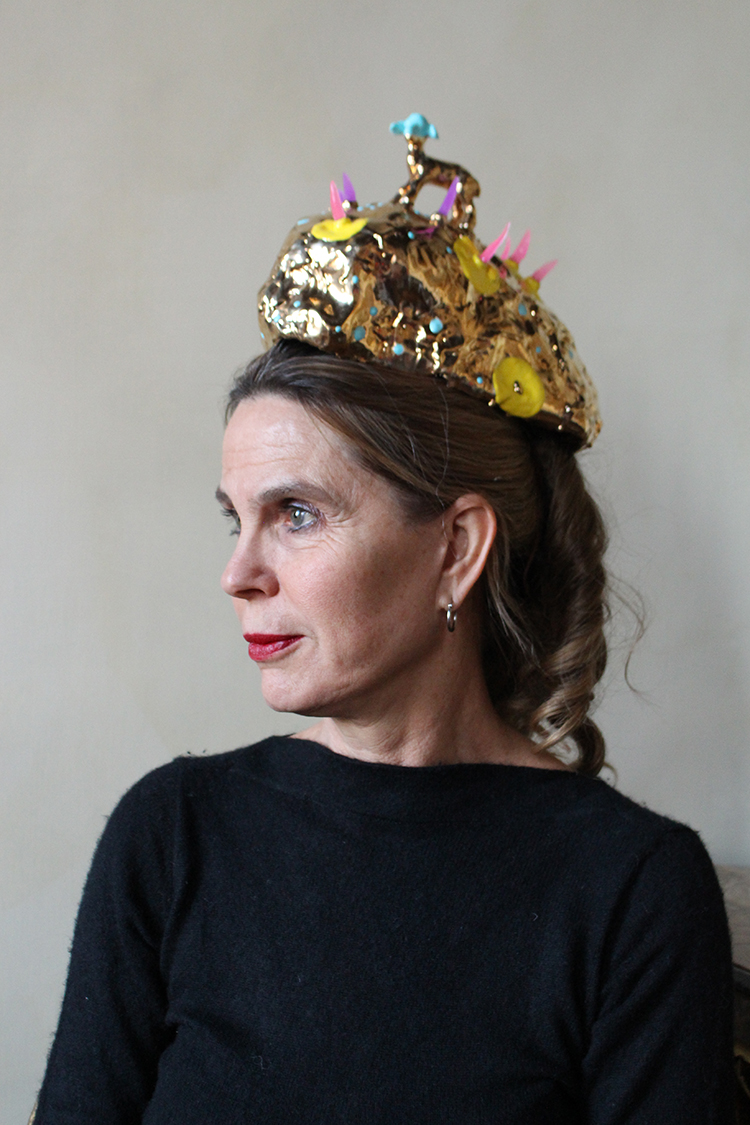 Alice Garbarini Hurley | Your handcrafted line is creating a stir; you unveiled lustrous porcelain and ceramic vases in Paris early this year. Have you always been an artist?
Coralla Maiuri | I lived in the countryside and always fumbled with clay and color and realized early on that art was my way. I painted T-shirts, as many adolescents do. I played as an actress in a movie in Italy, designed clothing in Hong Kong with little success, and eventually dedicated myself to contemporary art – paintings, installations, videos. All along, I designed and produced tables, chairs, lamps, cupboards, ceramics and other objects for everyday use. For many years in Milan, I had a small oven in the living room and kneaded the earth (clay) on the kitchen table.
Then you fully embraced ceramics?
Yes. About three years ago, everything converged and now ceramics is the focus of my work, expressed somewhere between painting and design. Every object I work on is a small world in which I express the biological rhythm of life, of a seed in the earth or of the mystery of space.
You were born in Italy. Were your parents artistic?
My father started his career in the forties as a journalist and publisher of satirical magazines and then became a screenwriter. My mother was an actress, first in Italy, then in Mexico. At times they worked together, as in "Wuthering Heights," the 1954 film. Now my eldest son is a product designer and my younger son studies music and performs in a rap band, the Tauro Boys.
The photo of you wearing a ceramic piece on your head – what is that?
The vase I carry playfully on my head, like a peasant carrying water, is full of baroque extrusions, colored enamel drippings, brushstrokes of gold and fluorescent silicone. An amusement!
Your ceramics seem like presents, yes?
I definitely think of them as precious gifts, very personal. Besides, ceramics are good for all ages and cultures. Terracotta is one of the first elements that humanity used to cook and to express its art, and even today, designers, great artists and decorators are fascinated by it, some repeating motives of the past, others inventing shapes and decorations.
How many cups of tea can those glorious teapots hold?
About six.
Maiuri's 2019 collection of tableware and tea sets.
What do you like about this medium compared to painting and making furniture?
The vitality and unpredictability. There are precious metals, earth, minerals, cooking – a bit like alchemy. Some of my plates enclose embryonic ponds in the center, others have an iconic central shape, round or oval, which represents the sun, the cosmos, the cell, like ancient Etruscan votive plates.
Where is your studio? Do you have a fixed work schedule?
I have a studio at home and one in the countryside. When I work alone, it is difficult to stop; very often, I keep going until dawn. I often eat my meals in my studio and sometimes we invite friends for dinner and eat around the table surrounded by porcelains, vases, colors, brushes.
You've said a dish is "a small planet that has been with us for millennia."
This plate that follows us like a planet, or rather like the sun – it is fortunate that it came to my mind, because it also guides me a little. It always has to do with the border we carry within us between the known and the unknown. In the end, I'm just trying to make a beautiful, enjoyable plate!
How do you make those graceful golden crackled edges?
The crackled edges are real gold. Before cooking, they have the color of honey and are spread with a brush. I do not have the confidence of the wise craftsman who has always done this, and this is the formula that accompanies me: Guess, stutter, search.
One word used to describe your work is "sunny." Do you consider yourself a sunny person?
To be able to convey radiance, I went through dark forests.
Can you name any celeb fans of your tableware?
I could, but I am discreet.
Alba Tramonto Vases.
You say Coralla's Mug sometimes hides small surprises – and is it a good size for coffee?
I made these mugs with my hands. They are not very large, but fine for an American coffee or for tea. I have decorated tens of different ones, and am always attracted to the inside, like the inside of a shell, a living body with an iridescent secret inside. There is something special about them, the small decorative details, the warmth and tactility of the ceramic, the unique shape. I love holding the mug in my hand, so I'll drink anything out of it – tea, coffee, almond milk, water, even Coca-Cola!
Are the plates durable enough to use daily? In today's throwaway world, it's nice to have something that lasts.
The plates are very durable and resistant, because of the high-temperature penetration of the enamel, and my great hope is that they enter intimately into the life of those who buy them and use them every day for lunch, dinner, in the kitchen, with friends, in front of the television.
Should all pieces be carefully hand-washed and dried?
My porcelains can be machine-washed. But considering they are decorated with gold, we recommend doing that in moderation, washing at the lowest temperature on short cycle with soft neutral soap and hand-drying.
What size tableware do you make?
Each table set includes a charger, a dinner plate, a soup bowl, a dessert plate and a smaller bowl. I also make round and oval serving plates and a salad bowl.
Dust & Light: such a beautiful name for a vase. Are the vases purely decorative or vessels for bouquets?
At 28 cm. (about 11 inches) high, these vases are beautiful empty; but with flowers, they are a feast.
Your handcrafted vases are sold on 1stdibs.com. Where else is your work available?
At 10 Corso Como New York; Sue Fisher King, San Francisco; TableArt, Los Angeles; Mary Mahoney, Palm Beach; and in some online stores. We exhibit at Milan Design Week and at Maison&Objet Fair in Paris.
---
RSVP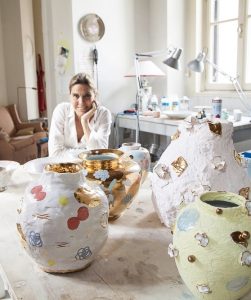 Fave coffee or tea?
Smoked black tea, cold coffee, Indian tea with milk and sugar, Chinese Pu-Erh, Japanese bancha green tea, African tea.
Plates you grew up with?
Green, with little donkeys around the rim – an ancient ceramic design from the 1700s.
First teapot you liked?
As a girl, it was a classic Chinese red earthenware pot, with filter and bamboo handle.
Do disposables belong in our world?
I never want to see objects in disposable plastic.
Best flowers for your vases?
Every vase is different. I enjoy using flowers with freedom – from carnations to gladioli and peonies.
Delicious kitchen colors?
I love huge old kitchens. In southern Italy, they used colored tiles, yellow and green, or yellow and blue, to attract flies so they would stay away from food.
---
Like what you see? Get it first with a subscription to ASPIRE DESIGN AND HOME Magazine.