The Aspire House McLean project began in 2018, when Bill Harrison, renowned architect and principal of Harrison Design, introduced aspire design and home CEO and Founder Steve Mandel to a developer he worked with called Artisan Builders. Mandel was immediately impressed, and planning began for a showhouse in this elegant suburb of Washington, D.C.
The residence, which adapts Palladian concepts of geometry, proportion and symmetry, is modern and light-filled, with vast windows to flood the space with sunlight. In order to make sure the interior design matched the caliber of the architecture, Mandel invited Mary Douglas Drysdale to be the design chair. Drysdale explains, "A talented group of designers and creatives from the Mid-Atlantic region displayed their skills to create a home that is a modern classic mix, referring to the architectural traditions of our region and to the lifestyle that people aspire to today."
In our recently released aspire design and home Showhouse Issue, we sat down with Nestor Santa-Cruz, to learn more about his creative process in designing the library for this project. With its great proportions and generous windows, the designer wanted to enhance the minimalism and simplicity of the room. Black-stained wall paneling offset by a light ash floor established a starting point that could be characterized as a black box—an architectural volume that became an asset.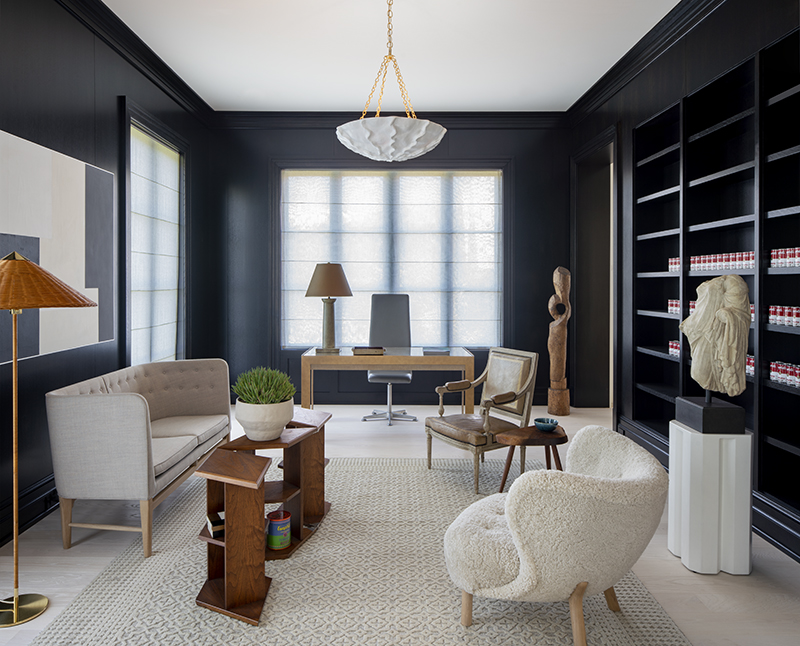 aspire: How much time did you have to complete this room, start to finish?
Nestor Santa-Cruz: The idea took a few minutes! Maybe an hour; I always have ideas that I want to explore or develop. The install took one day, the rest is about coordination and final specs, getting the narrative done and rendering. I'm the client so I can make it very fast as I make all the decisions.
aspire: What was your biggest challenge? Did you have a Eureka moment during the process?
Nestor: Getting it all delivered in one day. With three different delivery companies bringing the product in. Eureka moment: the area rug I selected sold out before I could grab it, but I ended with the first rug I had considered, and it was a success!
aspire: What did you and your team accomplish that you thought would not happen in time?
Nestor: Getting the Scandinavian sofa on time, but my dealer always makes it happy.
aspire: What was your inspiration for this room?
Nestor: It was "A Library for the Soul," so it's a room that is calm: a mixture of interesting art, forms, and a restrained touch, yet it can be whimsical. Jean Michel Frank is always the best reference.
aspire: Did you step out of your comfort zone for this project, and if so, why?
Nestor: Maybe editing more than ever; editing is key!
aspire: Despite the fact that there were so many designers involved, there is an inherent cohesiveness to the home. Did you all converse/collaborate? Or was this a completely individual process?
Nestor: Individual process for me. I think it's an opportunity to express your own design point of view. I was fortunate to have a room that fit my sensitivities.
aspire: Is your preference for a showhouse a small space or a large space? Does one or the other provide a better opportunity to stretch your creativity?
Nestor: No difference to me. I always pick the room that speaks to me in relationship to the ideas or concepts that I want to explore at that moment.
aspire: Describe the town of McLean in one sentence:
Nestor: Upscale town with great nature surrounding it.
This or that:
aspire: Paint or wallpaper?
Nestor: Depends
aspire: Hardwood or rug?
Nestor: Both
aspire: Beach or Mountains?
Nestor: Mountains
aspire: Saturated Color or Black and White?
Nestor: All of the above
aspire: Brunch or Dinner?
Nestor: Dinner
aspire: Midcentury or 18th Century?
Nestor: Both
aspire: Draperies, shades, or nothing?
Nestor: It could be all!
aspire: 2001: A Space Odyssey or The English Patient?
Nestor: 2001
aspire: Week at the spa or Week of Broadway shows?
Nestor: Spa any day!
Photos by Ron Blunt.
Like what you see? Get it first with a subscription to aspire design and home Magazine.