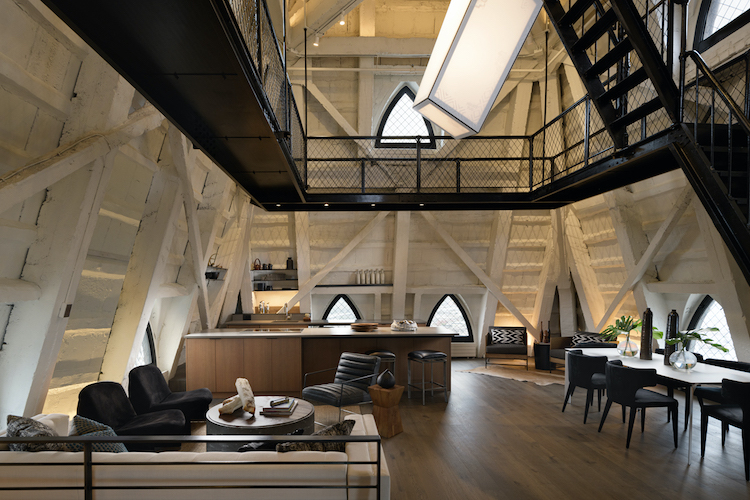 The penthouse at Smith Tower is a once-in-a-lifetime opportunity to secure a long-term lease in the only private residence atop one of Seattle's most iconic buildings. Completed in 1914, Smith Tower was the tallest building west of the Mississippi River until 1931 and remained the tallest building on the West Coast until the Space Needle eclipsed it in 1962. Graham Baba Architects and Valor Builds recently completed a renovation of the 2,128 square-foot penthouse, which is now for lease by owners and managers Unico Properties.
This extraordinary "Urban Lighthouse" space, incorporates elegant modern touches while retaining its original architectural character. The penthouse includes one bedroom, a guest space, and two baths on the 37th floor as well as an open living room, kitchen and dining filling the 38th floor.
The iconic glass globe at the tower's peak is accessible via a spiral staircase, while twenty-four teardrop windows offer rare 360º views of Puget Sound, Olympic Mountains, the Cascades, Mt. Rainier & the city below.
This property is represented by Moira Holley Presents, Senior Global Real Estate Advisor, Realogics Sotheby's International Realty. Click here for more listing information.
Like what you see? Get it first with a subscription to aspire design and home magazine.