Original terracotta tiles line the floor in the dining room, showcasing a vintage dining table and circa 1970 Ward Bennett bentwood and mohair chairs.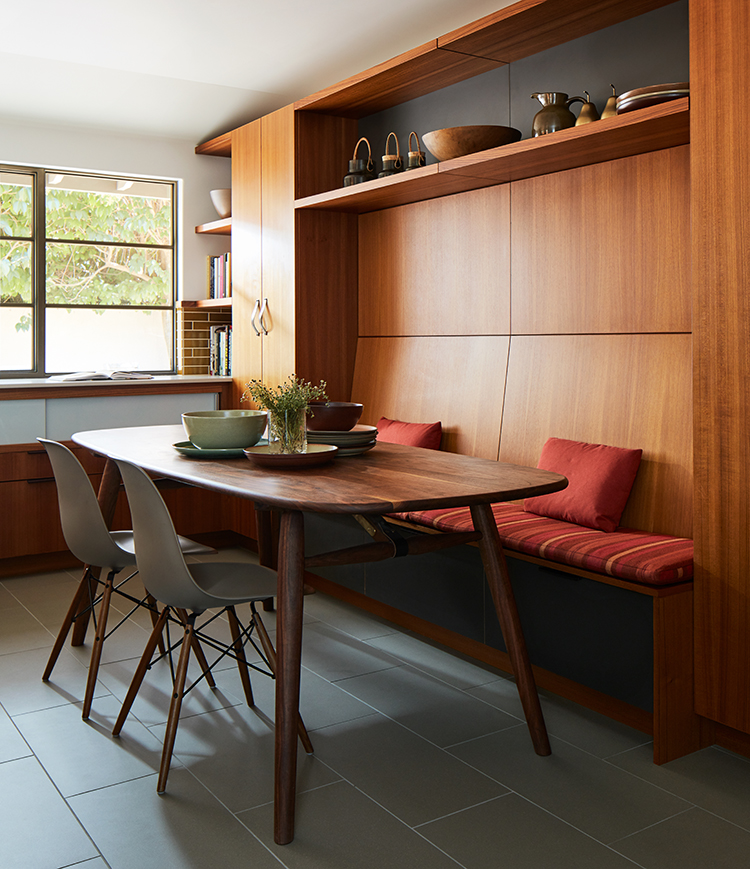 An informal dining space across from the kitchen's cooking area invites casual family meals and chatter with a custom Jacob May table and Henrybuilt built-in bench.
---
When most people hire a designer to renovate their 70s-era home, the goal is usually an update, with of-the-moment styles and trends bringing it firmly into the current era.
Not so for California designer Adlen Miller's client, who invited Miller to work on her circa-1979 family residence. Instead, the owner of the Mediterranean-style Palo Alto home wished for a makeover that would make it more 70s, not less.
"The core theme was 'California and Hawaii in the 70s' as a throwback to the client's childhood memories, in which she spent time in both places with her family," says Miller, who was thrilled to undertake the unique proposition. "She had such strong emotions and desires around how she wanted the house to function, and it was the excitement and the challenge of this that pulled me in."
"They live and thrive in this kitchen": A meticulous setup with a walk-in freezer, food prep area and carefully chosen materials mark the professional-chef client's kitchen checklist.
---
Stepping inside the four-bedroom, 2,200-square-foot home feels like falling into a time capsule, albeit a gorgeous one. There is a whimsical quality to the nostalgic style, yet it falls short of approaching kitsch territory; rather, it's cozy and warm, perfectly capturing the 70s minimalist eclectic vibe translated for contemporary aesthetics.
"The main themes revolve around the idea that design is the solution between a problem and the answer, and the importance of the play and language of all patterns against each other in a home," remarks Miller, who was inspired by a book the client recommended, Christopher Alexander's, "Pattern Language," during the project. "I approached every component of the house as a solution, much of which played out in the patterns."
"I get inspired by the people who will be living in each house I'm designing," comments Miller. The pieces handcrafted by local artisans are her favorite element. "I feel there's a direct connection between the person who handcrafts something and you as the person experiencing it."
The home's understated façade and original, quirky architectural features were adjusted to preserve an authentic retro vibe. The curve of the Spanish style arches was changed to reflect a more 70s style, inspired by the shape of vintage chairs. Steel windows and existing hex-shaped terracotta tiles set the tone for patterns repeated throughout the interior, and a play between soft and sharp details emerges in the use of both square and rounded lines along with thin, narrow details to convey a sense of precision.
Custom teak built-ins by Henrybuilt hold bar essentials in the dining room; a Michael Anastassiades light fixture casts a warm glow overhead.
---
"The client was a professional chef and precision through simplicity is a driving force in her life," explains Miller. "The extremely minimalist architectural and design detailing left no room for error!"
The family's motto, "I like it. What is it?" is framed on the wall; a locally-crafted kitchen table with a custom built-in bench provides a casual eating space. For more formal occasions, the dining room highlights a vintage table set, with 1970s mohair-upholstered chairs and a unique Michael Anastassiades' overhead fixture, all framed in the high-ceilinged room with open teak shelving and original terracotta floors.
A custom cabinet was used as a divider in the master suite, where floral-motif Trustworth wallpaper and mélange flannel headboard create a comforting and visually interesting space.
A Troscan Design Rivera chair, Harris Rubin Folio table, and Tim Gosling's Deco Spiral carpet accent the teak-lined dressing area.
Printed porcelain tile by Patricia Urquiola and a steam shower with custom teak wall outfit the relaxing master bath.
The powder room exemplifies the family's sense of adventure with eye catching Timorous Beasties wallpaper ('Euro Damask' in orange by De Sousa Hughes) and Michael Anastassiades ball light pendants flanking the mirror.
---
Bespoke George Smith sofas set up the inviting living room, along with another local-artisan piece, the coffee table, and an Alexander McQueen 'Pony' rug. Perfectly encapsulating the family's fun-loving spirit, the powder room is outfitted with ey ecatching Timorous Beasties wallpaper and ball light pendants. The master suite shows off a teak-wrapped dressing room where two paintings by the client's grandparents add a sentimental touch, along with custom headboard and bedding; while the guest bath and their young son's room are a tribute to his "sunny" nature with playful color schemes and bold geometric graphics.
"It was a very rewarding project," comments Miller. It was the client's distinctive vision, she tells us, that made for an especially satisfying venture. "They wanted decisions to be made around what was best for them as a family, not what was popular or trendy or even the best practice in design, but what would be best for living life in the way they want to – this was a dream for me as a designer."
Photography Courtesy of John Merkl.
Like what you see? Get it first with a subscription to ASPIRE DESIGN AND HOME magazine.