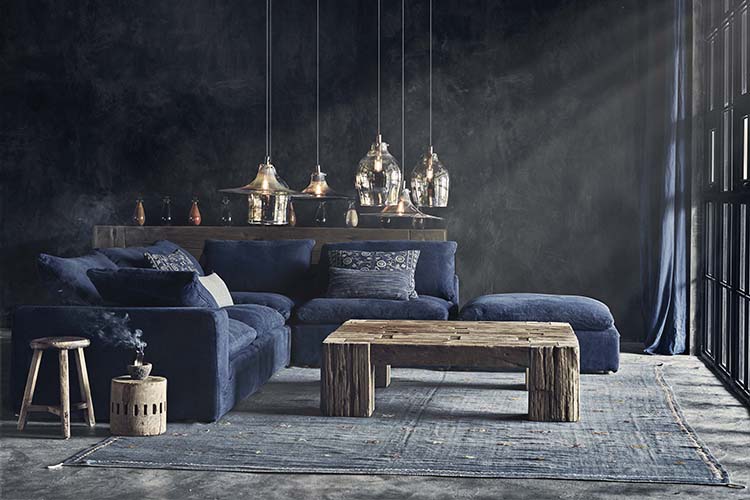 For the first time in the United States, designer Timothy Oulton is sharing his newest furniture collection, Noble Souls. The collection features three different sofas, along with accompanying accessories, furniture and lighting. Handcrafted using ancient, time-honored techniques, it is the first sofa range ever made using only 100% natural vegetable dyes, feathers and natural linens.
We talked to Timothy Oulton about the work that went into Noble Souls, and what he hopes will come of the collection.

What is your design process like in creating an entirely new collection?
I see the creative process as a bit of a quest, a journey. You explore, discover and often end up finding inspiration down pretty unexpected avenues. We're not purely a design company per se, it's more than that, it's about the craftsmanship, the materials, the story, all these things come into play. The materials are always the starting point though, we often don't even decide on the shape until we've got a material in our hands.
Noble Souls is "rooted in natural materials and ancient craftsmanship" how important is the structural composition in your designs?
It's always important, we think about every detail of a product – how it looks, how it feels, and of course how it will be used. With Noble Souls, we wanted to create this epic feeling of disarming softness, so we've used pure down feathers in the sofa cushions, and natural linens, colored using only 100% natural vegetable dyes like indigo and gallnut. But it's also about getting the seat height, contour and rake of the different models perfect – depending on how relaxed or upright you want to be, ensuring there is the right level of support in the way we design the base, getting the perfect quantity of feathers. There's always a great deal of complexity involved in everything we create, but the more difficult it is the more interesting it becomes.

What sets this collection apart from your previous work?
Noble Souls is probably our best interpretation of humble luxury because there's no decoration and it's the opposite of what we normally do. It's still a deeply sensorial experience but it's not just a visual one: it's about reconnecting with something of enduring value which is as powerful as what we always do. But it reaches back in time even further – the techniques we employ in Noble Souls have been around for thousands of years, not just hundreds. It's about rediscovering how the things in our lives are actually made: the effort, the passion, and the beauty.
Ultimately these are products that clients are going to interact with every day, what do you hope their experience will be with this specific line of furniture?
It's not just a sofa, Noble Souls gives you permission to relax and truly let go. It's about epic sensory comfort and disarming softness – a joy-inducing jolt-of-the-senses…every day. I think in today's world, we all find ourselves living in our heads, on our phones, in our screens, and it's easy to lose sense of our true selves. Noble Souls is for anyone who wants to come home and truly let go, to feel that connection again. That's what Noble Souls does, it creates a realm of reconnection in the home; with our senses, our own selves, and with those we love.
Noble Souls is available for purchase at select Timothy Oulton showrooms worldwide.
Like what you see? Get it first with a subscription to ASPIRE DESIGN AND HOME magazine.