In the tranquil village of Oldwick, everyone knows their neighbors. Peaches and apples are plucked for pies, rolling hills follow the sunlight. With acres of crops and proud old homes, it feels like Maine in New Jersey.
For Mary Taggart, a mother of four grown children, maintaining a 19th-century house for decades was a labor of love. But when an electric window candle sparked a fire in January 2018, destroying much of the upper floor, her dream was left charred. Taggart was at work and her kids were out, yet three cats, four dogs, birds and a bunny were home.
"The volunteer fire department and neighbors rushed in to rescue the pets," says Kathryn Tafaro Platt of KP Interiors, who lives a stone's throw away. "We were all saying, 'Where's Mary?' and calling her phone. But she was in a meeting."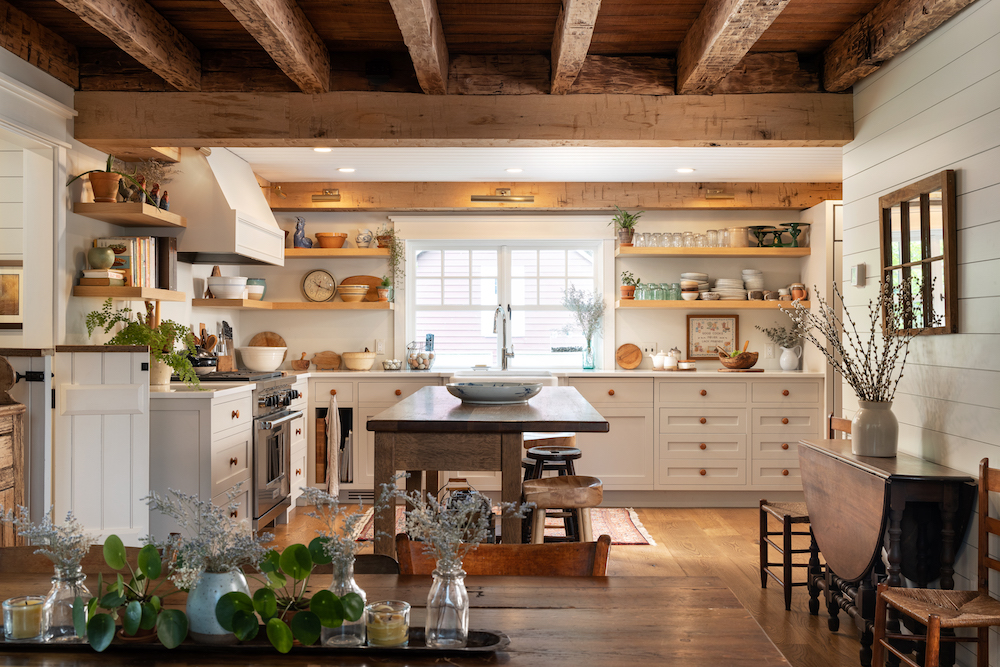 Fortunately, Taggart's home insurer, Chubb, covered a redesign of the first floor. By May 2019, the family moved back into a place they love even more than before. Under Platt's eye but with close input from Taggart, the redo involved moving the kitchen from the side to the back of the house without changing the footprint – and adding a clean, sleek mudroom/bathroom, handy with four pet goats and a large dog. An organized pantry and on-the-button conveniences give the kitchen a level of humming efficiency.
"I love to entertain, but my kitchen was seventy-five years old," says Taggart. Now, the quartz countertops are a great place to line up wire baskets of homegrown tomatoes or eggs from the coop.
"Mary did not want new," notes Platt. "So we found a new way to do an old house." The team uncovered sturdy, original wood ceiling beams and incorporated modern shiplap to blend in on the walls. Since they couldn't put big ducts in an older house, they installed a sleek HVAC system with hidden vents. Bespoke kitchen details, which still blend in with the welcome-home country feel, include open shelving, an island with a wire- brushed white oak top, a whisper-quiet Miele dishwasher, farmhouse sink, deep sliding drawers and new windows, even two over the sink that swing out to feed a roaming goat.
The team even cut out a little cat door for travel to the basement litter box.
The designer chose Benjamin Moore paint: November Rain (walls); Revere Pewter (cabinets); and White Dove (trim).
Two twentysomethings live here. Now that many employees have to fashion home offices, the timing is perfect. "They say 'Work at home? No trouble,'" their mother says with a smile.
Photography by Mike Van Tassell.
For more like this farmhouse kitchen, be sure to check out this project from architect Jill Porter.
Like what you see? Get it first with a subscription to ASPIRE DESIGN AND HOME Magazine.