It took a veritable village to transform the historic Charles T. Fisher Mansion into the triumphant 22nd Junior League of Detroit (JLD) Designers' Show House. The collective commitment and talent of top designers, contractors, members, sponsors and volunteers laid cornerstone to its tremendous success.
"Our dedicated team of JLD volunteers, corporate and industry sponsors and extremely gifted interior designers from across the country produced a spectacular show house that well exceeded our fundraising goals," said JLD Show House Chair, Liana Dabir. "Nearly 10,000 visitors came to experience the beautifully reimagined 1922 estate, which enabled us to surpass our fundraising goals and achieve a net profit close to $400,000! As result, we greatly look forward to expanding our Project EAT initiatives in Detroit.
Together with my remarkable co-chairs Sabine Iafrate and Cynthia Menna, homeowner Hill Harper and our above-and-beyond national media sponsor, ASPIRE DESIGN AND HOME, we thank each and every one who made this significant dream a reality."
---
Designer: COREY DAMEN JENKINS COREY DAMEN JENKINS ASSOCIATES
Photo credit: Werner Straube
Design Direction: The Fisher Mansion Living Room already had a great, historic story to tell. I felt my job was not to necessarily "rewrite it," but rather to add a new chapter. This is the 21st-century vision for this classic space.
Inspiration: My personal home's collection of antique blue-and-white China urns were definitely an inspiration for the color palette I chose for the Living Room. And the Parisian fashion runway was also my muse, specifically the works of Jean-Paul Gaultier and Balmain.
Wow Factor: People really responded well to the boldness of the color story, especially as articulated by the geometric rug from STARK. Another feature that sparked conversation was my choice to outfit the bay window seating area with round leather bolster pillows. And of course, the backlit antique mirror over the fireplace!
Signature Touch: I didn't want this room to feel ostentatious – a mood which would be easy to get with the elaborately ornate wall moldings. Approachability is everything for my brand. I've always aimed to honor and preserve rich, traditional architecture, but the key is juxtaposing it against clean-lined/modern furniture, contemporary art, vibrant color and the use of powerful geometry and patterns.
Resources: City Lights, Currey & Company, Hudson Valley Lighting, LEE Industries, Planterra, Robert Allen Duralee Group Fabrics, STARK Carpet, Theodore Alexander, Howard Elliott, Judy Frankel Antiques, Affordable Flowers
---
Designer: MICHAEL COYNE DESIGN
Photo credit: Jeff Garland
Design Direction: Let the heritage and architecture of the space be the focal point, period!
Inspiration: Inspired by Jack Nicholson's apartment in the movie "Something's Gotta Give": clean, masculine and immaculate.
Wow Factor: The 184-inch x 42-inch chandelier made from hand, dipped-in-polished brass sprockets (2,500 total). I got it because it fit and had an automotive industry node, but not to be a showstopper. Actually, I don't particularly want pieces to stand out, just the room itself to be a completed thought. As Coco Chanel said, "Simplicity is the keynote of all true elegance."
Signature Touch: I have been fascinated with the history of monograms and have been doodling with initials for 45 years. Bespoke monograms and family brand development is a cool hobby-turned-business just like my interior business.
Resources: Theodore Alexander, Floor Tile by Ciot
---
Designers: KRISTA NYE NICHOLAS & TAMI RAMSAY OF CLOTH & KIND
Photo credit: Martin Vecchio Photography
"Old world antiques and vintage finds with modern art and lush textiles."
Resources: Wallcovering: Fromental, Braque in Cap Ferrat Colorway, Rug: Vintage from CLOTH & KIND Showroom Settee: Vintage Baker Settee from CLOTH & KIND Showroom Upholstered in Carolina Irving Textiles Almaty Velvet in Teal Center Table Skirt: Tyler Graphic Jungle Fever in Dove Fabric with Schumacher Hula in Sea Oyster Trim Chairs: Vintage Hitchcock Chairs from CLOTH & KIND Showroom Stools: Vintage Clover Leaf Stools from CLOTH & KIND Showroom Upholstered in Carolina Irving Textiles Almaty Velvet in Teal, Item No. AV02 Consoles: Vintage from CLOTH & KIND Showroom Art and Accessories: Vintage from CLOTH & KIND Showroom Paint: Ceiling: Benjamin Moore, Colony Green Doors, Wood Door Surround, Windows/Mullions: Benjamin Moore, Colony Green Lattice & Baseboard Color: Benjamin Moore, Waterbury Green
---
Designers: TAMARA STONE OF OUR BIRMINGHAM DESIGN CENTER, COLLEEN GAHRY-ROBB OF ETHAN ALLEN AUBURN HILLS AND GABRIELLA ANDERSEN OF ETHAN ALLEN STERLING HEIGHTS
The designers collaborated on the living room suite on the second floor. We call it "Uptown," a modern and sophisticated loft designed for elegant entertaining. The space is richly layered with well-chosen pieces; it's graceful, glamorous and gorgeous – with a hint of glitz.
Resources: All furnishings and accessories by Ethan Allen, Window Shades by Hunter Douglas, Paint by Benjamin Moore, Painting by Creative Galleries, Electrical by Streamline Electric
---
Designer: JENNIFER SHOENBERGER DESIGN
Photo credit: Jeff Garland
Design Direction: I knew it was the nanny's bedroom and I imagined a smart savvy young woman from the South who has relocated to Detroit to study at Wayne State and be a part of the revival that is taking place currently in the city of Detroit.
Inspiration: Because it's in my home state of Michigan, I drew from all the bold and beautiful designs of the Grand Hotel with their elaborate canopy beds, floral chintz, traditional ticking stripe and the ceiling porch blue paint color on my ceiling, matched that of the world's largest front porch.
Resources: Schumacher, Scalamandre, Greenhouse Fabrics, Malone's Wallpaper, Benjamin Moore, Robert Allen, Howard Elliott, Ballard Designs, Lamps Plus, Cruel Mountain Designs, Wisteria, Art & Design Rugs, Steve Mackenzie artwork, Lighting Resource Showroom
---
Designer: BECKY STOITSIADES OF HEPPLEWHITE'S INTERIORS
Photo credit: Jeff Garland
The exposed brick wall, high ceilings and ample light gives way to a perfect backdrop for the original art featured in this room. The choice of casually chic decor points to modern trends while still respecting the focus on the artist's creativity, energy and lifestyle.
Resources: All materials and furnishings: Hepplewhite's, Paint: Benjamin Moore, Original art: Chris Lujan
---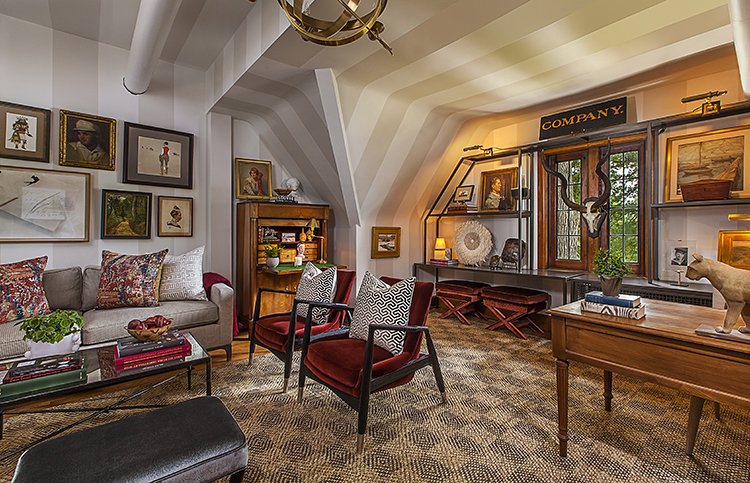 Designer: ANNE STRICKLAND
Photo credit: Jeff Garland
"Being tucked away in the attic, it is a place to get lost in discovery, scheming or just getting a little peace and quiet." This third-floor study is a space where the homeowner can escape the chaos of a large family home. A hideaway to be inspired, a place to think, write or plan a trip. I wanted to create a story for a person who loves to travel and lives to dream. Contemporary steel book cases, warm neutrals, rich upholstery and textured sisals neutralize collections that reflect the cultured and adventurous spirit of the owner.
Resources: Circa Lighting, Stark Carpet, Emagination Engineering, Michael Coyne Design
---
Designer: KRISTEN SHELLENBERGER
Photo credit: Jeff Garland
"What was so intriguing to me was to accept and tackle the challenge of turning an outdoor open porch into a fully plumbed and operating garden bath, embracing all the original architecture and adding new and modern elements."
Resources: Tub and Toilet: Kohler Veil, Showerhead: Kohler Purist in Rose Gold, Faucet and Tub Filler: Kohler Loure in Rose Gold, Sink: Kohler, Modern Art: Melannie Chard/M Contemporary Art, Tile: Tile Shop Accessories: Iron Key Designs and Howard Elliot Schonbek light fixtures by Lighting Resource Studio
---
Designer: ELISABETH MEDA
Photo credit: Jeff Garland
"Our guest bedroom is classic in design, and highlights gold tone accents in the nightstands, ceiling light and chest, and is on trend. The diamond pattern in the wallcovering is echoed in the nail head trim design on the mohair velvet, upholstered headboard."
Resources: Rug: Stark Carpet, Chandelier and Bed Side Table Lamps: Visual Comfort, Bedding: Cristions, Matouk, Fabrics and Trims: Schumacher, Highland Court, Kravet, Stout, Wall Covering: Thibaut, Cabinet knobs: build.com, Custom Headboard: Bix Furniture Service, Inc., Night Tables and Chest: Stanley Furniture, Custom Valance, Bed Skirt and Pillows: Newcastle Blinds & Draperies, Painting: Meda Quality Painting, Paper Hanging: Tom Morey
---
Designer: Julia Buckingham of Buckingham Interiors & Design
Photo credit: Jeff Garland
Design Direction: As this room is one of the very first you enter in the home, I wanted to create a really comfortable family-oriented dining room but also have a touch of glam. Being sure to make a small homage to Motown was also particularly important to me.
Inspiration: The enormous history behind the location of the home played a big role in inspiring the entire room. I really wanted to make sure we highlighted the special architectural elements while keeping the room really modern and livable.
Wow Factor: The chandelier and the artwork were the most commented-on items in the room. I think the fact that the chandelier was so bright, sparkly and oversized really attracted people to it. The art by Windy O'Connor played a big part in pulling people into the space as well.
Signature Touch: I designed the Birthstone Chandelier for Global Views and this installation was its first debut, hanging in a residence which was very special to me and the team. Seeing your designs come to life – like the dining room did in so many ways – is just one of the reasons I love designing.
Resources: Wallpaper: S Harris, Window treatments: S Harris fabric, fabricated by The Shade Store, Table: Keith Fritz, Head Dining Chairs: custom design by Buckingham Interiors + Design, S. Harris Fabric, Side benches: vintage sourced at market w/ Root Cellar Designs fabric, Rugs: Lapchi, Chandelier: Julia Buckingham for Global Views, Sconces: Louise Gaskill, Additional Lighting over fireplace: Circa Lighting, Sideboard: Julian Chichester, Art: Windy O'Connor Art, Shelves: Howard Elliott, Modernique
---
Designer: JEANINE WHITE-HAITH OF SHOWHOUSE INTERIORS
Photo credit: Beth Singer
Design Direction: My first impression of the house was its formality and its sense of history. The architectural details with the dark wood paneled foyer, living room and library were impressive. But the house felt very heavy and masculine as if it were built solely for the man of the house.
Inspiration: My inspiration for the room was the idea that as women we love to gather in the "round." Although the house has a sense of formality, I wanted the room to be warm and inviting as if it were greeting you with a big hug. No hierarchy of seating, no one's back to another . . . a space for open and honest thoughts and dialogue of encouragement.
Wow Factor: I knew I wanted to introduce artwork that would be as equally authentic as the original detail of the space. Everything included in the design needed to be original or one-of-a-kind. Nothing massed-produced. I envisioned that when the home was originally built the walls may have been adorned with oil painted portraits of the Fisher family in heavily ornate gold gilt frames. The bookcases would have been filled with leatherbound books of that era.
Signature Touch: I try to introduce at least one vintage or antique piece of lighting in all my projects. In this case I placed a vintage Lucite flame design lamp on the bar cart. It was quietly positioned at the side entrance/ exit of the room. I love telling stories in my spaces. I want a room to feel collected and layered. In my opinion nothing achieves this more than an antique or vintage lamp that makes a statement.
Resources: Sofa Loungers: Weinman Home/Fabricut, Sofa Ottomans: Weinman Home/The ROMO Group, Ottoman: Theodore Alexander/S. Harris/Harper Upholstery, Drapery: Eve's Drapery Workroom/Stroheim Fabric/Fabricut Trim, Vintage Throne Chair Fabric: Pindler, Console and Accent Tables: Global Views, Chandelier and Console Lamps: Theodore Alexander, Vintage Book Collection: Booth and Williams, Inc., Accent Lighting: Circa Lighting, Photography Artwork: Jenny Boot, Netherlands, Mirrors: Howard Elliott Collections, Rug: Stark Carpet, Window Shades: McDonald Wholesale, Custom Pillows: Chris Mollison Workroom, Fabrics: Beacon Hill, Pollack, Stark Fabric, Vintage Furnishing, Accessories and Artwork: curated and available through ShowHouse Interiors.
---
Designers: NIKI SERRAS/SCAVOLINI + CHANDRA MOORE/coG STUDIO
Photo credit: Jeff Garland
Wow Factor: People loved the look of the Dekton by Cosentino countertop, not to mention the windows which were gorgeous with the natural light.
Signature Touch: I am a proponent of contemporary design and making a space current and comfortable which came into play with this space.
Resources: Countertop material by Dekton by Cosentino, Fabrication by Paxton Countertops, Kohler Fixtures, Sub Zero/Wolf Appliances, C.D. Construction LLC Wood Flooring and Construction
---
Designer: ERICA HARRISON OF HUDSON AND STERLING
Photo credit: Nick Johnson
Design Direction: I wanted to create a space that would be inspiring for a child to grow up in. A place that was less about being a nursery but more about a space he could grow into and become inquisitive about the world – a space more tactile and accessible as opposed to technology driven. It was a way to get back to basics: wood toys, music, books, art, lots of visual elements – anything that was to provide freedom of exploration and imagination.
Resources: Paint: Benjamin Moore, Wallpaper: Aimee Wilder, Bed: Wayfair, Professional Carpets: West Elm, Antique Bedding: John Derian, Les Indiennes, John Robshaw, Desk Chair: Industry West Lighting: Circa Lighting Toys: DIA, Melissa and Doug, Disaster Designs Books: Phaidon, Scholastic, Penguin Baskets: Amsha Studios, Art: Hugo Guiness, M Contemporary Art
---
Designers: BARRIE SPANG + ASHLEIGH CLARK OF SAPPHIRE PEAR
Photo credit: Jeff Garland
We were inspired by the Detroit Art Scene. When we first came to see the Charles T. Fisher mansion, we visited The Heidelberg Project and were inspired by the celebrated street art in Detroit. Our painterly ceiling wallpaper and graffiti entrance paper are nods to that. The starting point for our design was the original Flint Faience Tile floor in shades of blues. We wanted to be sure we highlighted it, so we decided on black walls to complement the floor and to highlight the stunning windows and French doors.
Resources: CR Laine, Oliver Gal, Fabric Showcase, Beat Up Creations, Hinkley Lighting, Couture Lamps, Pierre Frey through Donghia Cleveland, Schumacher Troy Showroom, Designer's Guild, Kim Johnson of ADL, Masland Rugs, Hope Farmer, Jana Bek, Lauren HB, John Strauss & CMJS, Bungalow 5, Kenian Furniture, Planterra, Gabby Home, Benjamin Moore
---
Designer: MEG CASWELL STYLE
Photo credit: Jeff Garland
"I love using playful patterns, whimsical art and explosions of color to create rooms that make people feel happy!"
Resources: Furniture: Newton Paisley, Ceiling Light: Circa Lighting, Lamps: Meg Caswell Style for Couture Lamps, Tables/Chairs: Mirror Vintage, Grasscloth Console: Society Social, Artwork: Patrick Roullier, Paint: Benjamin Moore
Designer: Tiffany Edison of Birch Design Associates
Photo credit: Jeff Garland
"Ivory, caramel, burgundy, and azure lay the foundation for this elegantly appointed guest bedroom"
Resources: Lighting: Niermann Weeks, Ralph Lauren, Vintage Christopher Spitzmiller Wall Covering: Ralph Lauren, Kelly Wearstler for Groundworks Paint: Benjamin Moore, Sydney Harbour Flooring: Stark Furnishings: William Sonoma Hom, Hickory Chair, Schumacher Chenille, Antique Empire Accent Pillow – Vintage Brunschwig & Fils, Brunschwig & Fils, Annie Selke Duvet Custom Roman Blinds: Suzanne Kasler
---
Designers: LORETTA CRENSHAW + JOEL BAIRD OF CRENSHAW & ASSOCIATES, LLC
Photo credit: Mitty Carter
"Palette of Gray, Gold, Crème and Black Modern and Vintage Furnishings."
Resources: Fine Furniture & Accents: RJ Thomas LTD, Michigan Design Center, Troy General Contractor: Brinker Group, Detroit Messers: Swearing & White, Stark Carpet/Scalamandre – Troy Painting & General Services: Troy Ware Paint: Benjamin Moore, Marketplace Antiques – Detroit Private Collections of: Scott Juzswik, Todd & Carla Smith, Michael's Lamp Shop Fabrications: Elaine Harris, Denise Simmons-Bolden, Donna Shine, Gwendolyn Krol Room Rendering: Jeff Luedi, and wonderful and supportive Clients & Friends
---
Designer: coG-STUDIO
Photo credit: Jeff Garland
Wow Factor: Now Appearing: Black-and-White and Cool All Over A true show stealer, the unmatched drama of black-and-white plays a leading role in this well-performing bath starring a vintage-inspired tub, walls clad in dimensional subway tiles and decorative cement flooring underfoot. The open concept shower brings a refreshing dose of Hollywood glamour to this personal space. Top billing goes to the design combination, earning this bath a five-star review.
Resources: Tub and Faucets by Kohler
---
Designer: KEVIN SERBA OF SERBA INTERIORS
Photo credit: Jeff Garland
Design Direction: Our goal was to create an updated, elegant atmosphere with an unexpected mix of pieces from different eras. We used a clean background and contemporary furniture pieces to play to modern sensibilities, mixing in antique accents and original artwork in order to celebrate the European architectural style and historical significance of this very special home.
Inspiration: The spectacular architecture and craftsmanship of the home was our original design inspiration.
Wow Factor: The ceiling fixture over the bed definitely got a lot of attention!
Signature Touch: We love to mix in antique pieces, original artwork and custom-designed furniture whenever possible.
Resources: Furniture: Custom Fabrics: F. Schumacher Area Rug: Stark Carpet Artwork and Accessories: Private Collection
---
Designer: coG-STUDIO
Photo credit: Jeff Garland
Adjacent to Kevin Serba's Master Bedroom is an unexpected amalgamation of natural materials.
Resources: Sinks, Tub and Faucets by Kohler, Surfaces by Ciot
---
Designer: COURTNEY MCLEOD OF RIGHT MEETS LEFT INTERIOR DESIGN
Photo credit: John Neitzel/Digital Destinations
Design Direction: Our idea was to create a luxurious and joyful ladies' lounge and ensuite bath: a place for our fictional Eve to dream, be inspired and share with her closest confidants.
Inspiration: The entire design was inspired by the incredibly beautiful "Garden of Eden" printed grasscloth wallpaper by Aux Abris.
Wow Factor of the Sitting Area: Certainly, the wallpaper, the saffron velvet custom sofa seemed to glow from within and begged to be touched.
Wow Factor of the Bathroom: Custom marble mosaic feature wall with tile by Ann Sacks in the ensuite bath elicited more than a few Wows!
Signature Touch: I am known for joyfully elegant, color confident interiors so this project is a perfect reflection of my aesthetic.
Resources: Key Sponsors: Aux Abris (Wall Mural), Ann Sacks, Plumbing fixtures and faucets by Kohler, Nobilis, Creations Metaphors, Visual Comfort, Additional Products: EJ Victor, The Rug Company, Lee Jofa, Mr. Brown London, Julian Chichester, Delightfull, Matteo Zorzenoni for MM Lampadari, Hudson Valley Lighting via Lighting Resource Showroom, florals by Olive's Bloom Box
---
Designer: JANE HENDERSON INTERIOR DESIGNS
Photo credit: Jeff Garland
"Dorothy Draper-inspired glam with a modern twist"
Resources: Abode Couture Wall Covering, Anna's Drapery, Collier Construction, Cyan Design, Dorothy Draper Fabrics, Dunes and Dutchess, Jana Bek Designs, Mr Brown, Samuel and Sons, Scalamandre Fabrics, Schumacher Fabrics, Stark Carpet, Thibaut Fabrics, Windy O'Connor, Circa Lighting Chandelier
---
Designer: DIANE WOOLSEY
Photo Credit: Jeff Garland
"The antidote to this gloom? An infusion of color."
Resources: Rozmallin, Stark Carpets, Scalamandre', Newcastle blinds and draperies, Bix Upholstery, Christine Codish, Blake Mucciolio of Crystal Clean Powerwashing, Jared Cantin of Cantin Properties, LLC
---
Designer: ISABELLE WEISS OF NEXT:SPACE LLC AND TIM GIBBS STUDIO
Photo Credit: Jeff Garland
"a fascinating study in material, texture and detail"
Resources: Mid-century modern original furniture, lighting and objects: TOM GIBBS STUDIO. Available for purchase at TOM GIBBS STUDIO and at tomgibbsstudio.com Contemporary studio furniture, lighting, textiles and objects: available through NEXT:SPACE exclusively from Detroit-based designers including: Alex Drew and NO ONE, Nina Cho, Hunt & Noyer, paula schubatis, Elysia Vandenbussche, zuckerhosen and more. Available for purchase at NEXT:SPACE and at nextspacedetroit.com
---
Designer: DONNA CONNELLY OF MICHAEL COYNE DESIGN
Photo Credit: Jeff Garland
"Warming and Elegant."
Resources: Theodore Alexander, Foam – N – More, Pindler & Pindler, Cyan Design, Visual Comfort, Surface Design/PCL Carpets, Selvaggio & Hayes Drapery, Global Views, Arteriors, Nordlie
---
Designer: LAURIE BOLACH OF OLIVE'S BLOOMBOX
Photo Credit: Jeff Garland
"Fresh, Fun, Fragrant"
Resources: Mayesh Wholesale Floral, Nordlies Inc, Eastern Market, Detroit, Continental Floral Greens, Telly's Greenhouse, Home Depot, Etsy, Blue Ocean Traders, Four Sprouts Marketing
---
DESIGNER: FIFI & COCO INTERIORS
Photo Credit: Jeff Garland
"There is always a past in the future!" – PJ Whitehead
Resources: Furniture & Fabrics: Duralee Robert Allen Group Chandelier: Mod Mart Vintage Side Table Lamp: Circa Lighting Olsen Table Lamps Posters & Furniture: Designer Inventory Rug: Hagopian Fine Rugs & Carpet
---
Designer: SAM SOBH OF DESIGN DU JOUR
Photo Credit: Jeff Garland
"An upscale gentlemen's lounge"
Resources: Carpet: Stark Fabric: Scalamandre Furniture: Furniture, Uttermost, Zodax Decor Oliver Gal, Delivery: Clark's White Glove Delivery Sculpture Cabinetry & Renovation Desiree Kelly Art Detroit City Distiller Kristina Beaty Studio Glamour Hair Sculpting Gallery
---
Designer: SIENNA & CARTER OOSTERHOUSE
Photo Credit: Jeff Garland
"A fascinating study in material, texture and detail"
Resources: Howard Eliott, Theodore Alexander, Lee Industries, Pewabic, Kohler, Benjamin Moore
---
Designer: Elizabeth Barrett Design
Photo Credit: Jeff Garland
Sleek/Modern/Industrial
Resources: Ciot Stone and Tile, Kohler. Kallista, Lighting Resource Studio, Lamps Plus
---
Designer: Angie Lane Architecture, PLLC
Photo Credit: Alane Fisher
"The palette is black & white neutral with a bold pattern and fresh color."
Resources: Visual Comfort, VG Kids, Andy Tyra – Illustrator, Saline Picture Frame, Stark Carpet, Spoonflower, Target, CB2, Robert Allen, Stuff by Andrew Neyer, Lampsplus, Etsy, George Kovacs, Tamar Mogendorff, Mended Material in Ferndale, World Market, Schumacher, Wary Meyers, Ferrick Mason, Cloth & Kind, Julie Cravens Lasting Impressions LLC, Ralph Lauren, Submaterial Design Studio
---
Designer: STACY L. EVANS & ANNETTE SANKS-GREEN OF SAVVY INTERIOR DESIGNS,LLC
Photo Credit: Jeff Garland
"Swanky, urban, hideaway"
Resources: Decoroom Designer, Camille Naimy – MDC Showroom, Troy, MI, Gardellas Furniture, Detroit, MI, Decoroom, Troy, MI, Laurie Houle Designs/Custom Decorative Finishes, Sterling Heights, MI, Donald Calloway Artist Studio, Detroit, MI, Legacy Construction Innovations / Legacy Development Foundation, Detroit, MI, Adams Airbnb, Detroit Golf Club, Detroit, MI, GBT (Green Brothers Trucking), Detroit, MI, Home Goods
---
Designer: TIFFANY RENÉ INTERIOR DESIGN
Photo Credit: Jeff Garland
The inspiration behind my alcove/hallway design, affectionately called "My Love Letter to Detroit," was inspired by the city which sparked my creativity, so I was not only intentional about the representation of local Detroit artisans, but the luxurious Art Deco style materials, brassy tones, and layered textures throughout the space are reminiscent of Detroit's largest Art Deco object, the Fisher Building. When I decided to design this once overlooked area of the home, I saw a unique opportunity to not only show how a small space could make a huge impact, but to bring purpose to an otherwise useless corner…then end result was beyond fancy!
Resources: Thibaut, Detroit Wallpaper Co., R. Hughes, Delinah Simmons, Gentner Design, Norwest Gallery Of Art, Ochre, Regina Andrew Detroit, Leadhead Glass, Pavoni Luxury Leather, Nordin Brothers, M Contemporary Art, Sullivan Fine Rugs
Like what you see? Get it first with a subscription to ASPIRE DESIGN AND HOME magazine.