We all know that cats need shelters too, and Architects for Animals is making sure the kitty community in L.A. is sheltered in style.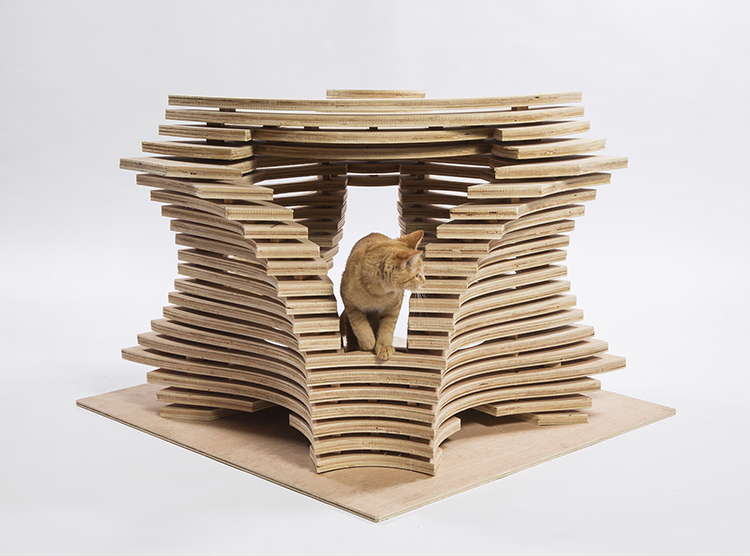 One of this year's most innovative design events, the "Giving Shelter" exhibit, returns to the HermanMiller Showroom in Culver City on September 5th, 2019. The Architects for Animals sponsored event invites LA's top architecture and design firms, as well as individual architects and designers, to design, build and donate one-of-a-kind and functional outdoor cat shelters.
The fundraiser benefits LA-based FixNation, which provides free spay and neuter services for the city's skyrocketing population of homeless cats. Shelters will be displayed at a cocktail reception attended by the public, VIPs and media representatives. Also on display: cat food bowls decorated by feline-loving celebrities such as Charlize Theron, Jason Momoa, Morgan Fairchild, William Shatner, Jay Leno and Bo Derek; all bowls will be available for purchase via an online auction.
"We are so grateful to all the philanthropic designers, architects and celebrities who have generously donated their designs," says FixNation's Co-Founder and Executive Director Karn Myers. "Everybody loves cats but not everyone cares about homeless cats. We are so lucky to have this community who has helped us raise awareness about these animals who need practical care solutions."
It is estimated that Los Angeles is home to as many as three million street cats, one of the nation's largest populations of homeless felines. FixNation is a model for successful Trap-Neuter-Return (TNR) and humane colony management programs across the country and around the world.
"Many people believe euthanasia is the best way to control the population of stray, abandoned and feral cats. Such methods are not only horribly cruel, they simply don't work," explains Myers. "TNR is a much more effective and humane alternative. Our mission is to manage colonies of homeless 'community cats' and naturally reduce their number through mass sterilization."
Participating firms include Abramson Teiger Architects; HOK; Morphosis; Perkins + Will; RDC, Stantec; Standard Architecture | Design; and WORD.
The Giving Shelter is open to the public from 5:30 pm to 9:30 pm at the HermanMiller Showroom, 3641 Holdrege Avenue in Los Angeles.
Cat shelters photography from the last Giving Shelter event via Meghan bob Photography.
Like what you see? Get it first with a subscription to ASPIRE DESIGN AND HOME Magazine.