A stately circa 1860 Italianate villa in Summit, New Jersey was given a down-to-the-studs refresh using bold patterns and a crisp color palette while maximizing the architectural interest of the original design elements. The result? A daring amalgamation of classic and contemporary that cleverly balances two different eras.
Every space benefited from the artistic vision of CWI.DESIGN president and principal designer Rachel Kapner, whose firm is based in New Providence. Kapner revived the traditional interiors by highlighting some of the Victorian design elements like ornate moldings, detailed fireplace mantles and high ceilings then infusing them with unexpected colors and textures.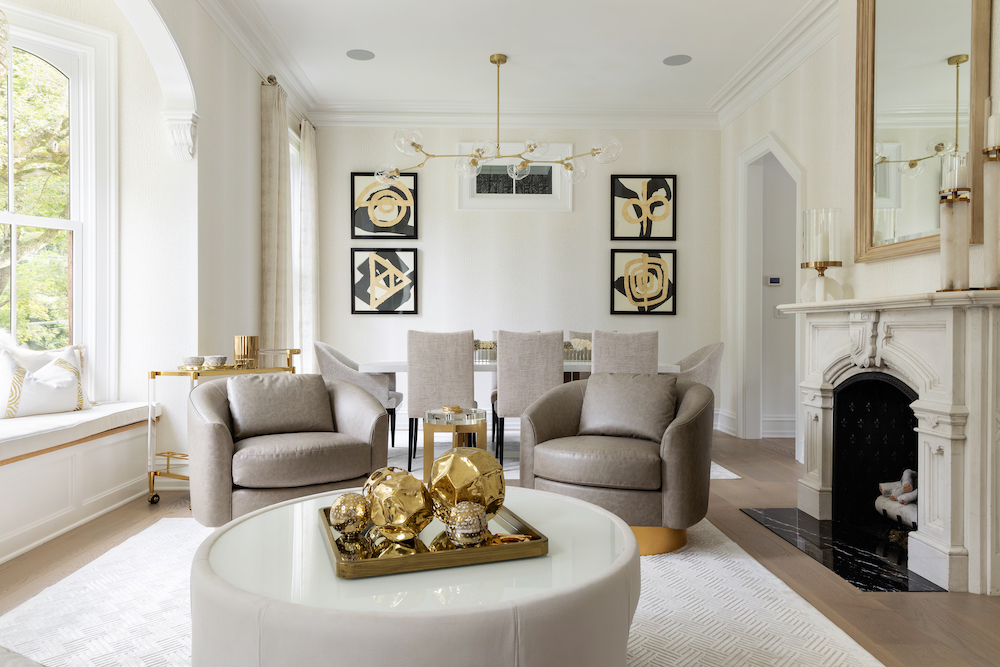 An underlying black and white color scheme visually unites many of the principal rooms, while acid green accents provide an unexpected jolt. "The fresh pop was just what was needed to contrast against the white and black," Kapner noted. Her goal for the expansive floor plan was "to come in and see the heart of the home where everyone would congregate, while having separate spaces to relax in as well."
The homeowner and her family were captivated by the 19th century architecture from their very first visit. "We fell in love with the house because of its unique features, 11-foot ceilings and Victorian windows. Working with a talented team we were able to capture the old Victorian style, and add a modern twist. The kitchen is one of our favorite rooms; there is plenty of space to gather and light pours in. In the winter we love the family room, sitting by the fire and looking out the wall of windows."
Due to the numerous facets of this renovation, Kapner collaborated with Rich Curran of Richkraft Construction who contributed to the high level of craftsmanship and attention-to-detail; Tom Conway of Rosen Kelly Conway Architects in Summit, and kitchen designer Heidi Piron of Heidi Piron Design & Cabinetry in Chatham.
"The inspiration and starting point for this kitchen was the exciting, bold black and white 'Grand Antique' polished marble on the island," Piron said. "The beautiful marble island, with its chunky striations of black and white, I felt this was a piece of marble that could have been found many decades ago in a Parisian flat."
As the kitchen's focal point, the island was an inspirational launching point, she added. "All the other design details in the kitchen were chosen around this massive island, which also functions as artwork. Its drama is echoed in the high gloss dish pantry with satin brass- integrated metal and oversized brass hardware. While the dual sinks were selected for this high functioning kitchen, having two matte black faucets instead of one faucet heightens the drama."
The white cabinetry is also anything but ordinary, Piron explained. "It is innovative and the height of cool with its oversized vertical bevel and integrated polished nickel trim on the top and bottom of the doors. The modern feel was continued with sleek appliances, such as a Wolf induction range with ceiling vent and flush integrated Wolf steam oven."
Architect Tom Conway of Rosen Kelley Conway Architecture and Design in Summit worked closely with Kapner and Piron throughout the process and contributed to the clean-edged lines of the exterior, generous outdoor deck and improvements to the façade. "Collaboration was important to the success of the job," he added.
"It was exciting to be a part of the redesign as the home evolved, and not surprisingly, it ended up raising a lot of curiosity among local residents, Kapner said. "It was a labor of love; it was watched from start to finish by many as they traveled through town. Many eyes were on it and enjoyed the progression of the work. People would stop me if they saw me outside and ask questions. This home truly is stunning and was a pleasure to work on."
Construction by Rich Curran of Richcraft Contracting LLC.
Photography by Mike Van Tassell.
For more like this Victorian mash-up, be sure to check out this classic in the Pacific Palisades.
Like what you see? Get it first with a subscription to ASPIRE DESIGN AND HOME Magazine.