Ilé Ilà (translated "House of Lines") was started by Tosin Oshinowo in 2017 to celebrate her native Yorùbá culture. It is a lifestyle furniture line designed and handmade in Lagos, Nigeria, specializing in period-conscious furniture with a contemporary African context. Oshinowo's explorative architectural design can often be contrasted by her need for a minimalist aesthetic, but she finds the dichotomy between the two constantly fascinating and interesting. As they formally launch their furniture line, Ilé Ilà honors Adekunle Gold, a pioneer in celebrating African culture in an urban context as their muse. Collectively showing what can be achieved with the diversity of their design aesthetic and celebration of culture.
To see more of Oshinowo and Ilé Ilà's divine furnishings and other projects, check out their website and Instagram.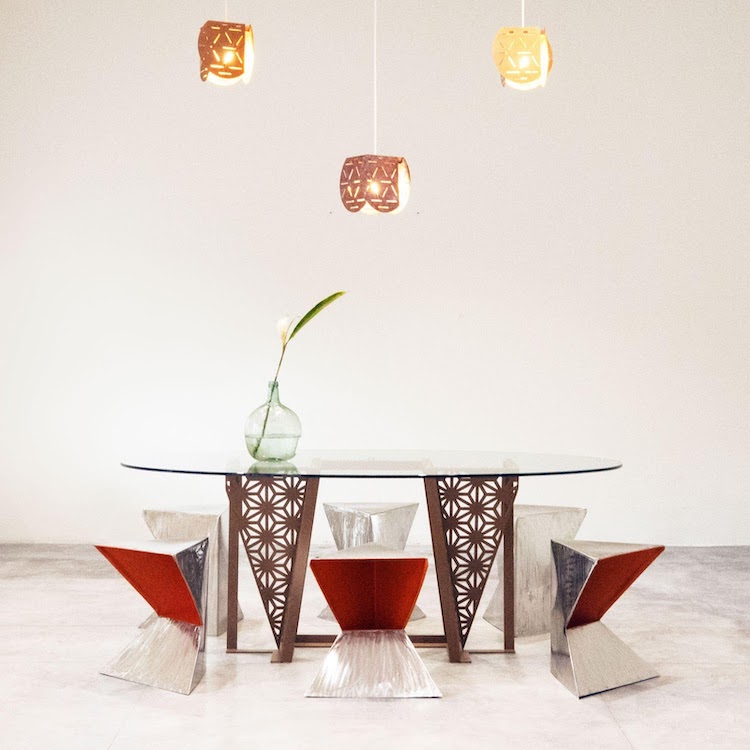 This custom Ironorun Table set was inspired by the Adire iconography "Guinea Corn," whose proverb says "the hand that feeds you never lacks." Surrounding the table sit hyper-architectural Akaba Parasa stools made in conjunction with celebrated artist, Olu Amoda.
Reed Davis: How has your heritage inspired your work?
Tosin Oshinowo: My Yorùbá culture influences my work with Ilé Ilà. I use our traditional fabric Așǫ Oke to upholster contemporary designed accent chairs. This came out of my exploration of cultural identity and seeking means to represent that identity in a modern-day context.
Reed: How can African design tell the story and preserve the histories of Africans with integrity?
Tosin: It is very important in the context of the Continent to make an effort to ensure that our cultural identity influences and is represented in our work. It is particularly important because in the last 300 years, we have been subject to a system that discourages our indigenous identity in favor of colonial influences. Those who embraced these influences and religious beliefs were rewarded with economic mobility, which further stigmatized indigenous influences.
As we have moved past this era, we are in a position to look back and reflect on these mistakes of the past and ensure that generations to come have available the experiences and knowledge to reference.
Made from Nigerian teak wood and upholstered with Indigenous Yoruba textiles, Asò-oké (hand-woven cloth created by the Yoruba people of West Africa) makes up the Àdùnní chair. Meaning 'daughter of the sweet one' in Yoruba, the Àdùnní is the kind of chair that has beauty and alacrity sewn into every fiber.
Reed: How do you see the African design industry evolving?
Tosin: It is important the African design industry does evolve but this cannot happen with investment in infrastructure.
Most of the work being produced on the Continent is being carried out at a small scale and those who are experiencing success are very aware of the challenges to scale-up.
There needs to be investment in infrastructure to enable African design to compete on an international scale in terms of quality and quantity.
Reed: What is your fondest memory from childhood that inspired where you are today?
Tosin: I grew up in 1980's Lagos, Nigeria. At the time, we had a military government with high inflation and devaluation of the Naira. There were strict sanctions on imports and limitations on what the average Nigerian could afford.
I grew up making the toys I saw on television or in magazines. I think that early innovation meant I learned to re-appropriate objects to suit my needs. That school of thought has stayed with me and I can see it even in my work today, I look for design solutions that help me achieve my intent within the limitations of my environment.
Reed: Describe your design style as if you were explaining it to someone who cannot see.
Tosin: My background in design is influenced by modernism and minimalism specifically. I consider my style afro-minimalist, where I take these schools of thought and tie to my Yorùbá identity.
Pictured above is the Àdùnní chair in the color BÚLÚÙ. This chair celebrates African modernism and pays homage to the cultural excellence of Kedike who was the muse behind this photoshoot.
Reed: What is the last book you read?
Tosin: I just finished reading What Britain did to Nigeria: A Short History of Conquest and Rule by Max Siollun. I am currently reading Revolt: The Worldwide Uprising Against Globalization by Nadav Eyal.
Reed: How about a book that everyone should read?
Tosin: Black and British: A Forgotten History by David Olusoga.
Reed: What's your favorite cocktail?
Tosin: A cosmopolitan!
Reed: How would you define your work in three words.
Tosin: Meticulous, colorful, and fun.
Reed: What would you like to be remembered about you?
Tosin: I would like to be remembered for adding value through my work as an architect and product designer. I hope future generations will see my work as a reference point that celebrates our identity.
---
About The Designer | Tosin Oshinowo is a leading architect based in Lagos, Nigeria, as well as a designer, creative entrepreneur, and founder of Ilé-Ilà, an internationally recognized furniture brand that explores bold colors through period-conscious furniture in a contemporary African context. Oshinowo is a registered Architect in the Federal Republic of Nigeria and a member of the Royal Institute of the British Architects. Since 2012, she has been the Principal Architect at cmDesign Atelier (cmD+A) an architecture design consultancy practice known for environmentally conscious and boundary-pushing contemporary architecture in Nigeria and across the African Continent.
Oshinowo is known for her socially responsive approach to architecture and urbanism and her exploration into the African identity in the modern context, in which she has written articles like "The Reclamation of Public Space in Lagos" for the African Artists Foundations. Oshinowo also has a regular column at Omeka online called "Afromodernist: Identity, Architecture & Sexuality". In addition, she has also featured on TEDx, speaking on "The Identity of an African Building". Her work in the public space of Lagos includes bringing art and design installations to the city in addition to co-curating the 2019 Lagos Biennial.
In addition to Oshinowo's many collaborations with creatives, including her project with Victor Ehikhamenor, which was documented by Netlix's "Amazing Interiors", she has been nominated for the EbonyLife TV Sisterhood Awards for Entrepreneur of the year and received a recognition from leading Ladies Africa as one of 100 most inspiring women in Nigeria. She also won the 3rd City People Real Estate Awards for Architect of the Year 2017 and in January 2018 she joined the Board for The Lagos Theatre Festival with the British Council. In March 2019, she was awarded the Lord's Achievers Awards for Creativity, in celebration of World Achievers Day. Oshinowo also won an award at Lagos Photo, 2011 amateur photography competition, sponsored by Etisalat Nigeria. She partnered with Lexus International on a conceptual design project called 'Freedom to Move', which showcased at Design Miami in December 2020. She also contributed an essay to the book Expansions: Responses to how will we live together? A publication as part of the 2021 Venice Architecture Biennale.
---
Click here to see more of the Voices of Africa series.
Like what you see? Get it first with a subscription to aspire design and home magazine.