If you owned a parcel of land on a remote island, who better to design your place of peace than someone already immersed in that tranquil state of mind?
The Seattle family who commissioned this new build – a weekend and vacation home with guest house – called on Hoedemaker Pfeiffer, a firm known for bespoke architecture, interiors and landscape.
Partner Steve Hoedemaker, a third-generation Seattle native who traveled the world but found his way back to the city and a farm in the San Juan Islands, understood the task. His team sees their work as an exploration of the relationship between indoors and out, people to buildings and buildings to sites.
Only a few of the 172 named islands and reefs in San Juan County are served by ferries. This one is not.
"The island name is confidential. It is accessible only by small boat or plane," confesses Hoedemaker. The one small store is only open sometimes, so residents bring their own provisions.
"The owner was looking for a personal retreat inspired by a home lost to fire decades ago in the hills of Appalachia," he adds. "We wanted to imbue it with a new spirit in the Pacific Northwest." It was important that the design fit the unspoiled surroundings. So the team, inspired by its own remote San Juan's site, envisioned a series of simple stone volumes.
With sweeping views of Puget Sound, the light-filled, three-bedroom home is built on a small plateau on a steeply sloping hillside, with a stone wall – pure and spare in its beauty – at the base and rear. Two stone fireplaces rise together. Fir trees sway outside.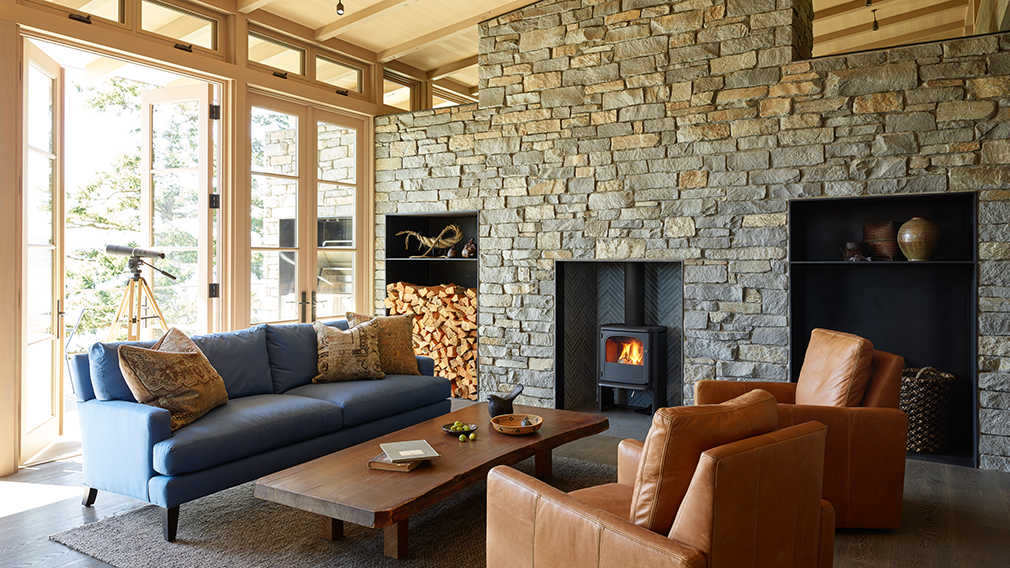 "A simple shed roof tips low in front to protect from the summer sun," remarks Hoedemaker, "and winter light penetrates deep into the main living spaces through a wall of glass."
Design team member Todd Beyerlein, LEED AP, recalls that "Our client used the word "sanctuary" to describe the main house soon after it was completed. We loved that."
Every detail is clean and streamlined. Custom cabinets conceal all working aspects of the kitchen, including refrigeration, pantry and dishwasher. Remember, you're on vacation here.
"The site for the guest house had more technical challenges. We built the concept around a stone tower set near the center of the small circular parcel," describes Hoedemaker. Large casement windows allow natural light to fill the main stairway that leads to two bedrooms on the lower level. A deck extends from the great room.
"The dining room was conceived as a three-sided glass object floating in a forest of trees," Hoedemaker adds. "Two steel beams carry its entire weight and extend deep into the floor system." The team preserved trees only a few feet away with custom retaining walls.
No AC required, not with that island breeze. Family and friends can kick back in surroundings hand-tailored to guarantee a peaceful break from the hustle-and-bustle.
Like what you see here and want a little piece of it? The architecture firm has opened Housewright, a brick-and-mortar Seattle shop that carries vintage and modern furniture and home objects with a focus on small-batch and artisan-made.
Photography via Kevin Scott.
If you enjoyed this project be sure to check out this bright and open Barn Home in Sonoma, California.
This story originally appeared in our Summer 2019 issue. Get it first with a subscription to ASPIRE DESIGN AND HOME magazine.