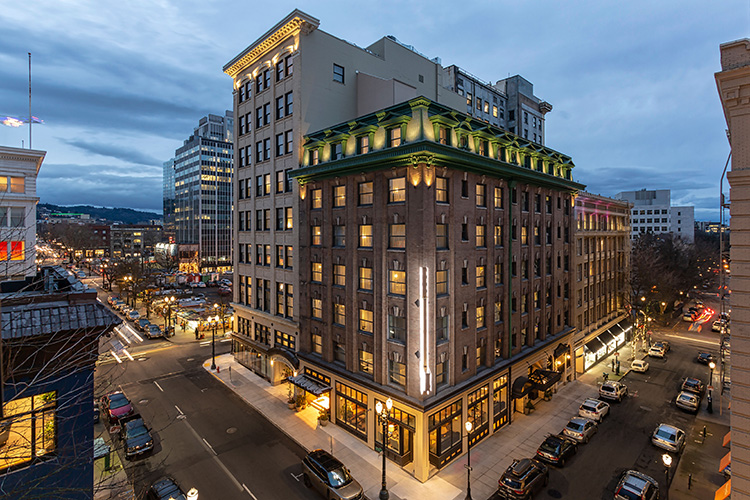 With a nod to the past and a look toward the future of hospitality in the Pacific Northwest, Woodlark is Portland's newest hotel in the heart of downtown. The highly-anticipated, 150-room hotel, has breathed new life into two buildings – the Cornelius Hotel and the Woodlark Building – and joined them together to reclaim the historic Cornelius Hotel's original moniker and offer guests the ideal combination of sophistication and warmth as the city's modern-day "House of Welcome."
"Woodlark holds a special place in our heart, as we've worked with Provenance Hotels over the last several years to bring this hotel to life," says Lauren Noecker of NBP Capital. "It is a hotel that speaks as much to the growth and change that Portland has undergone, as to its history. We wanted to ensure each investment made, each design decision and partner we aligned with reflect Portland's past, present and most importantly its future."

UPON ARRIVAL
The design at Woodlark, as imagined by OfficeUntitled, and the teams at Staicoff Design Company, and Smith Hanes Studio, seamlessly blends two historic buildings, demonstrating the power of partnership, collaboration, and community. Each building was restored following strict guidelines to maintain their registry status and adaptively reused to bring forth individual nuances and characteristics.
Flooded with natural light from skylights in the elevator landing and floor-to-ceiling windows that encircle the building and create a connection with the city's bustling streets, the lobby sets the tone for the hotel experience. Guests are greeted with high-design touches from black-and-white cement tiles and warm grey woods to lush plants and richly appointed details, including brass inlay and custom brass and hand-blown glass light fixtures. Painted wood panels made from recessed molding nod to the original walls of the historic building. A communal table and 10-foot-long sofas encourage comfort and conversation among guests and visitors.
Tapping a network of local tastemakers, Woodlark features an array of amenities and quintessential experiences for guests. Colibri, a custom floral design studio, plant store, and event space in NE Portland was founded by James Beard Foundation winning chef, Naomi Pomeroy. The Colibri team have transformed part of the Woodlark lobby into flower shop with custom flower arrangements in a glittering brass and glass case. Available for guests and locals to purchase, it is not only a showcase for their artistry but also an amenity for the city.
ACCOMMODATIONS
The guestrooms are designed to be a home-away-from-home for design lovers, trendsetters, tastemakers and in-the-know travelers seeking a fresh take on the classic hotel experience through the lens of modern Portland.
Bright and refined with a dramatic edge, the custom-designed furnishings in Woodlark's 150 guestrooms feature an array of lush velvets, natural woods, soft white details, and pops of deep oceanic blue. Taking cues from the city's natural surroundings, a striking custom-designed wallpaper illustrating flora found in Portland's Forrest Park and framed botanical works by featured artist, Imogen Cunningham, complete the look.
The intimate boutique hotel offers 11 room variations, including a Loft Suite with a spiral staircase and Woodlark Suites, featuring sumptuous sleeping quarters behind a glass wall with 270-degree views of Portland and the West Hills.
Like what you see? Get it first with a subscription to ASPIRE DESIGN AND HOME Magazine.