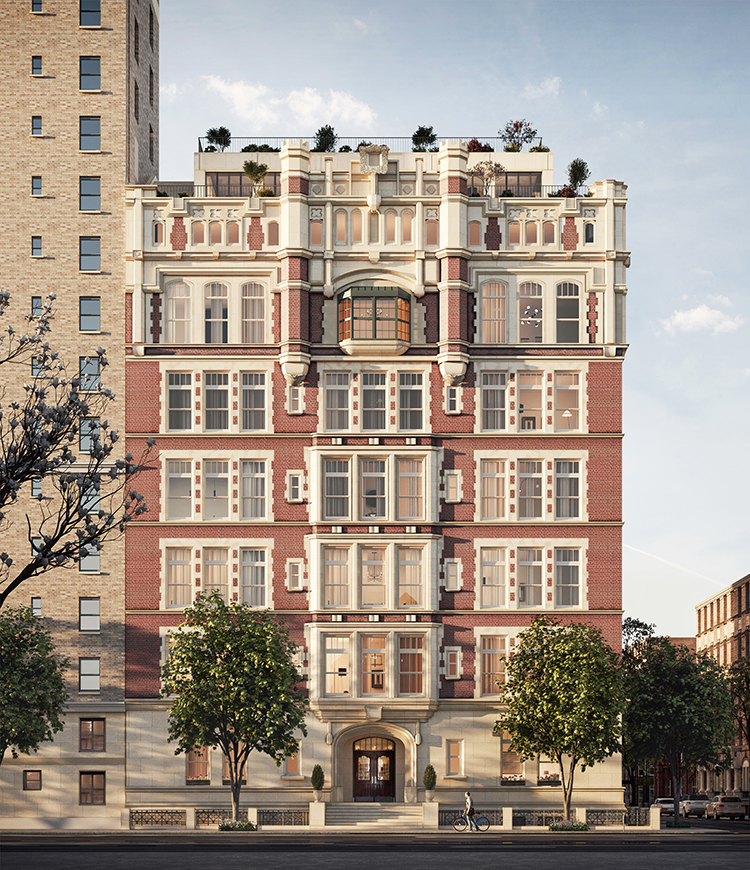 Manhattan-based architect and developer Cary Tamarkin employed his understated style at 555 West End Avenue, a new residential project in the heart of New York's Upper West Side. Tamarkin conveyed a fresh, modernist design aesthetic to a landmark Beaux Arts-era school, where he worked in partnership with millennial interior designer Charlie Ferrer. These two innovative minds combined cool and classic in highly original ways.
"555 West End Avenue was built at the turn of the 20th century as a prestigious private school, so it has absolutely incredible bones and inimitable interior architecture like soaring ceiling heights ranging from 12 1⁄2 to nearly 20 feet, towering windows bringing in an abundance of natural light and expansive floor plans," Tamarkin explains. "We are celebrating the building's history by carefully restoring the landmarked façade's original details, like parapets and the roof's signature turrets, while transforming the interior spaces into one-of-a-kind residences."
As a nod to the building's past, Tamarkin re-worked some of its quintessential spaces into spectacularly detailed gathering areas. "The solarium penthouse, borne from the school's rooftop gymnasium, features an original barrel-vaulted ceiling stretching nearly 20 feet, and the library has an iconic catwalk overlooking the open living/dining room, paying homage to its former life," Tamarkin notes. "Everyone who comes into the space is absolutely blown away because they feel like amazing private homes, not city apartments."
The choice to bring on Charlie Ferrer of FERRER to curate the model home was based on his ingenious use of eclectic design elements, luxe fabrics and an artful approach. "This model is incredibly special in its level of detail and incorporation of vintage and custom furniture and art," Tamarkin comments. "FERRER fused 20th-century statement pieces with contemporary designs to create cohesive interiors that are sophisticated and warm." Using many items from his personal collection, Ferrer produced a look that appreciates the past while celebrating modern living.
555 West End Avenue was originally built in 1908 by architect William A. Boring, known for his work on the Immigration Station at Ellis Island and Lemonnier Library at the University of Notre Dame. It was home to St. Agatha School for Girls under the Episcopal Archdiocese and later became St. Agnes Boys High School run by the Archdiocese of New York. "The building is an icon on the Upper West Side, and people constantly stop to admire its intricate façade," Tamarkin reveals. "We're taking great care to protect the history while also giving it a new life."
If you liked this project, be sure to check out the revival of this historic West Village loft.
Like what you see? Get it first with a subscription to ASPIRE DESIGN AND HOME magazine.