Decorative hide rug designer Kyle Bunting and interior designer Jennifer Welch join us to discuss their recent custom rug collaboration.
Raymond Paul Schneider: When did you first start to develop this new collection?
In August 2020, once Jennifer bought the new office, she got to work right away with Kyle Bunting to create custom pieces that she used as the basis for designing the space.
Raymond: What was the overall time-line from conception to achieving the final design?
In a Hans Butzer-designed, multi-building office complex, Jennifer Welch finally moved away from being a renter and made the dive into purchasing space for her business earlier this year. Upon buying the office space, she knew that she wanted to include Kyle Bunting's designs because of her already established relationship with him and his collections. There was only a short 2-3 month turn- around from when the office was purchased, custom rug designs were created with Jennifer's and Kyle's combined creative input, and the office was fully completed.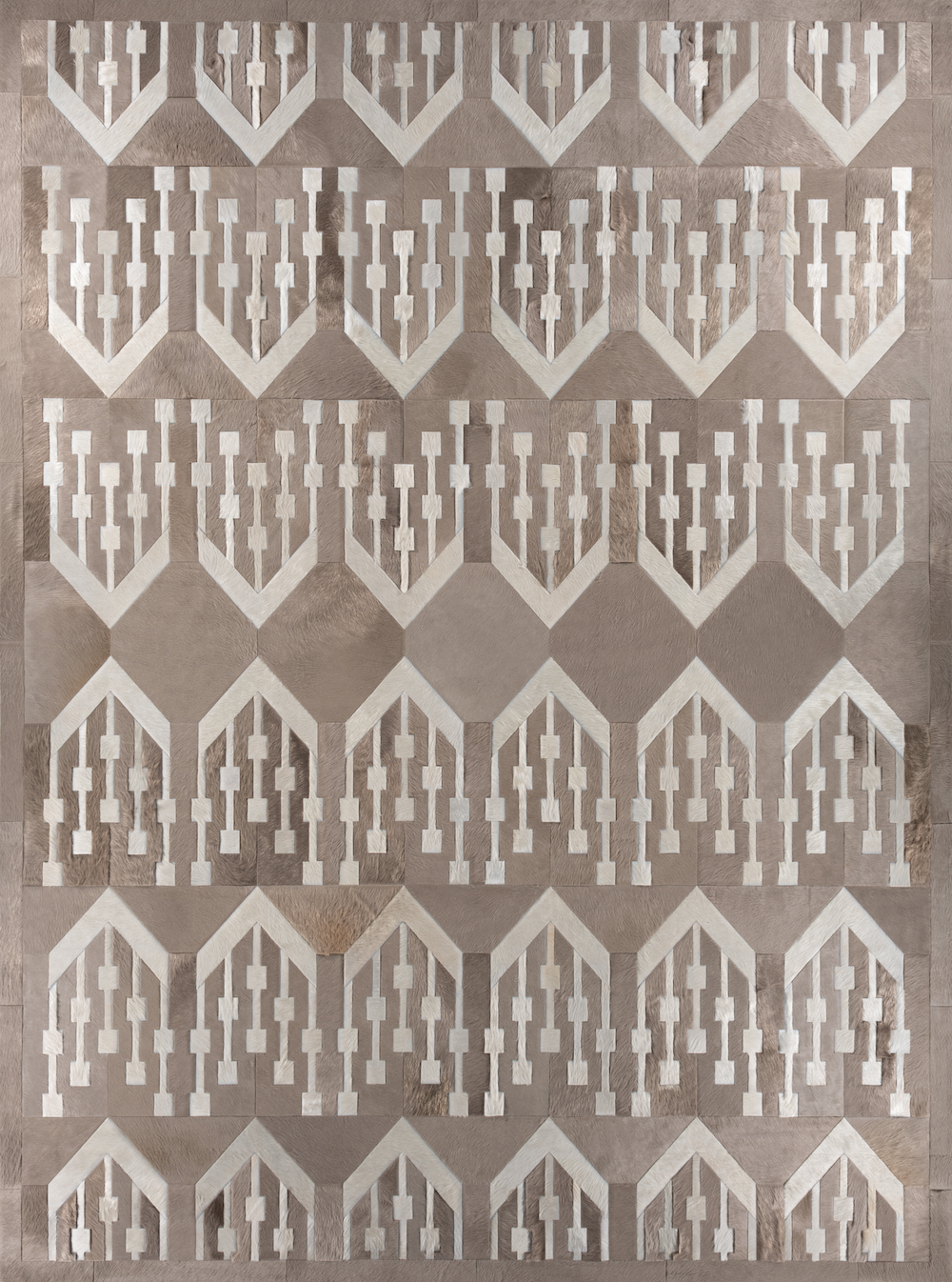 Raymond: What was your initial inspiration, and where did the idea come from?
Welch has a passion for Ikat fabric, specifically that of traditional Turkish and Uzbekistani origin. With her love for the feathered edge designs made from thread-dyed weavings, she has worked directly with Kyle Bunting to create a bespoke line of cowhide directly inspired by ikat-style and designs. Jennifer's primary inspirations are easily described as "TEXTURAL." Jennifer likes to work with texture in all avenues of her curatorial design process while applying it into very clean-lined and modern interpretation and style.
Raymond: Please describe your overall creative and design process.
Jennifer's process focuses on the principle that a single statement piece can shape the whole vision for a project. In this way, she can search out that "special item" that speaks for space she is working on, and then with that spark of inspiration, she works around that statement piece to create a cohesive and striking end result.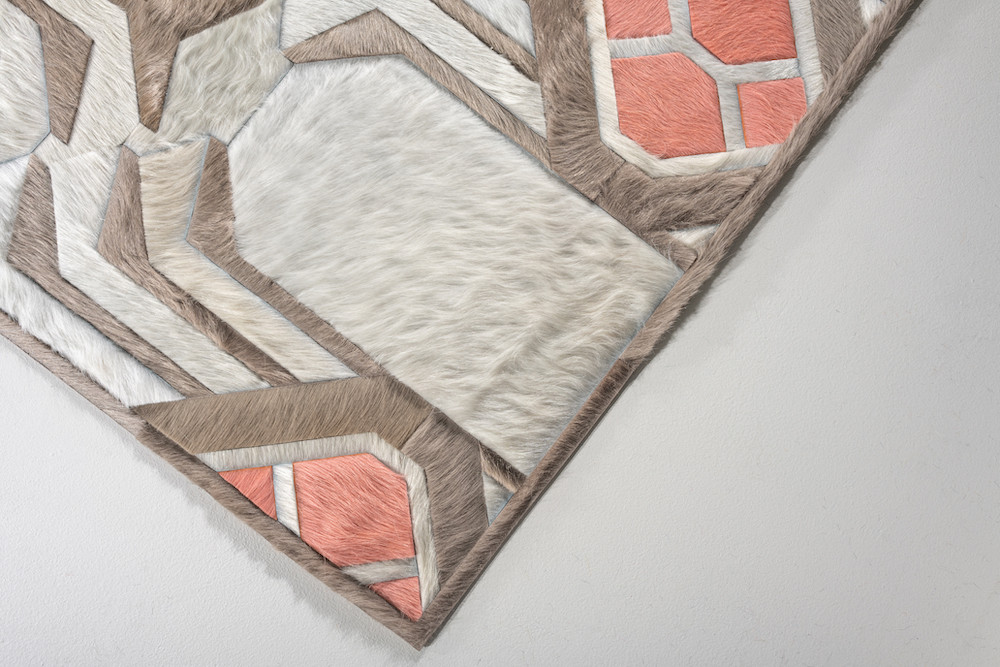 Raymond: Did you have a specific audience or theme that you had in mind?
Based in Oklahoma City with projects nationwide, Jennifer's clients in Oklahoma and Texas have a visceral reaction to cowhides and leather. This synergy has led to a fantastic working relationship between Jennifer and Kyle. Not only do they cater to the clientele, but they add a newly discovered way of championing a modern style and design with the conceivably traditional material that cowhides are.
Raymond: Please describe the methods, tools, and materials that you used to develop and prototype this design?
Jennifer works directly with Kyle in creating these custom rugs. She will mock-up images or scans of traditional ikat fabric, adjust the scale, and then send them over to the Bunting team. They will work out the details and nuance of the repeats and create edits that reflect the limitations of cowhides, including piecing and colorways, while still holding onto the original design ideals that Jennifer has laid out. This strong partnership is a testament to why Kyle Bunting has such a diverse and remarkable portfolio.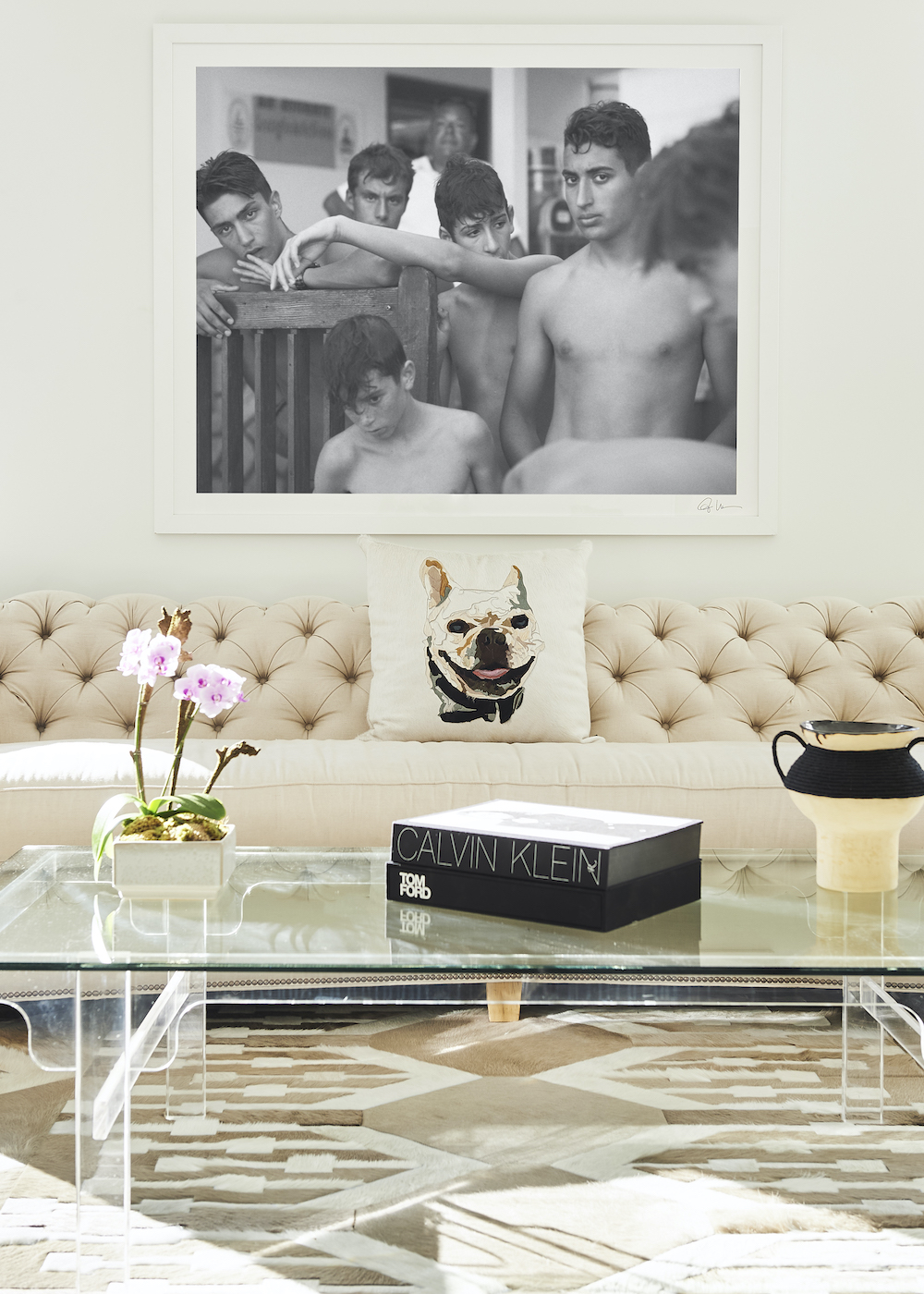 Raymond: Did you utilize a new technique or technology to conceptualize this product?
Kyle Bunting's designs with cowhide are unlike anything else on the market in the same material. He also has championed his "top secret" technique to create the highest quality products alongside his striking designs.
Raymond: Please describe any challenges that affected the design and perhaps steered you to an entirely new final design?
Jennifer and Kyle's relationship is organic, based on mutual respect and fondness, making their custom projects easy. They have developed a shorthand while working together to create unique and custom designs in Kyle's signature style and material!
Photography by Josh Welch.
Click here to see more of our "Anatomy of a Design" series.
Like what you see? Get it first with a subscription to ASPIRE DESIGN AND HOME Magazine.