Photo courtesy of David Giesbrecht/HBO.
In HBO's sleek murder mystery, The Undoing, Donald Sutherland treats the Frick Collection much as his private home. He lounges in its Garden Court and discusses "whodunnit" with family members in front of the Veronese, an Italian artist known for his opulence and theatricality. The way the actor settles into the museum's tufted bench tells the audience everything it needs to know about his character, billionaire aristocrat Franklin Reinhardt.
With networks like HBO, Netflix, Amazon Prime, and Showtime delivering increasingly elaborate and high-quality programming these days, it's a golden age of television. But it's also a golden age for television and film production design.
Which brings us to our "Best-Dressed Rooms in TV and Film Awards" which critiques and shares the details that make set decoration so memorable.
Here's a detailed look at one of the awards categories: the finalists for Best Artwork Display. To today's sophisticated audience of Instagram-users, museum-goers and décor connoisseurs, what's hanging on the walls in these shows telegraphs everything from degree of wealth to politics and age. In television and film, fine art is not the background anymore.

Photo courtesy of David Giesbrecht/HBO.
The Undoing
Set decorator Keri Lederman, who has earned raves for her sleek chic decor for The Undoing – including a nomination in Best Contemporary Design – knew that she needed impressive art with recognizable names since the HBO murder series tells the story of a very affluent New York family. Like other savvy set decorators, she sought the expertise of an art consultant.
"None of this would have been possible without the help from Fanny Pereire, our art consultant, who was able to obtain the rights and permissions to reproduce numerous works of art," says Lederman.
Pereire told judge and art critic Alexandra Peers, that dozens of artworks were sought after to create scenes and identities for the characters. Among them are the following: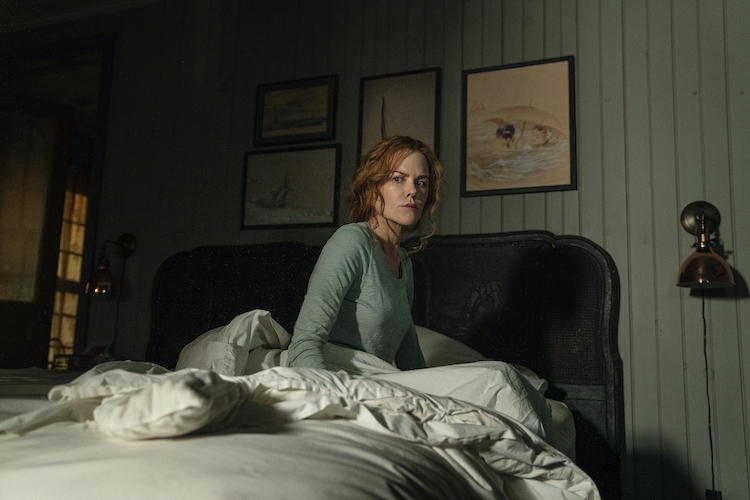 Photo courtesy of David Giesbrecht/HBO.
As a little girl growing up, who wouldn't want to have an Alfred Sisley in the bedroom? Nicole Kidman's character, Grace Fraser, had one in The Undoing.
Choosing the art for the palatial home of Donald Sutherland's character was the "most fun and interesting and challenging" part of the job, says Pereire, in part because Sutherland is quite knowledgeable about art and had some picks of his own.
The actor particularly liked that, when he was sitting in his main chair on set, he could gaze at a Francis Bacon. Sometimes, the art is important because "It's what the actor sees," says Pereire.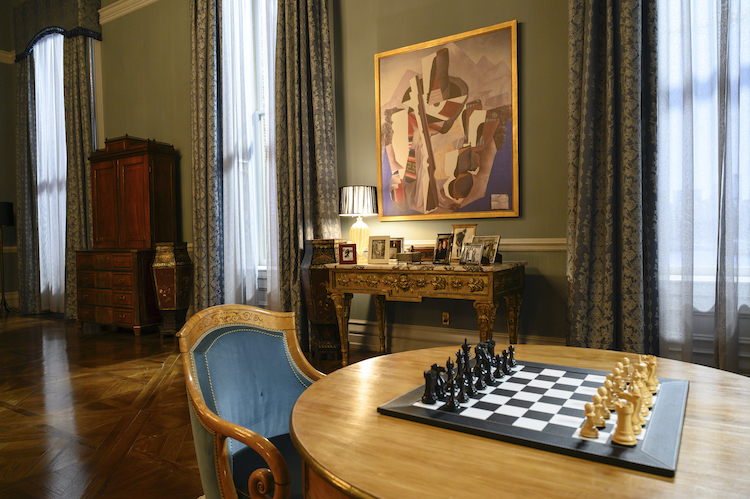 Photo courtesy of David Giesbrecht/HBO.
Franklin's Manhattan apartment also included some J.M.W. Turners, plus Willem de Kooning's "Door to the River" and Henri Rousseau's "The Repast of the Lion." (It shows a blood-spattered lion, half-hidden in a grove of trees and flowers, contentedly eating a live lunch). Later, at his beachfront home, the mood shifts and it's mostly drawings by American artists like Homer and Hopper.
Great art popped up in The Undoing from the very first episode, Pereire notes, at a charity event filmed in the World Trade Center. So much effort went into that set, and it was so rich in visual choices, that there were two Jeff Koons "Gazing Balls" in the bathroom that didn't even get on film. Imagine that.
---

Photo courtesy of Netflix.
The Crown
Netflix blockbuster series The Crown and its use of art to tell the British Royal Family's nearly century-long history was a real favorite with the judges.
Set Decorator and awards judge Lydia Marx singles out the opulent series for special merit. "It is always a challenge to find great art for sets that do not call attention to itself or distract from a scene," she says. "The Crown manages to not only do it well, in volumes that would be daunting to any decorator, but then they go even further and find pieces that actually seamlessly become part of the narrative."
Part of the narrative, indeed.

Photo courtesy of Netflix.
"In The Crown, no less than three artists are featured prominently and one art dealer. And the appearance of art is almost always a synonym for truth or lies in the show," says Peers. "There's painter Graham Sutherland and his highly unflattering, almost decaying, portrait of Winston Churchill. It was arguably dead-on, according to some critics (both of art, and of Churchill), but so hated by his family that his wife burned it."

Photo courtesy of Alex Bailey/Netflix.
Another key moment is when Cecil Beaton, in his coronation photoshoot, creates an image of the royal family and lush, if superficial, iconography that is still with us today. A photoshoot with Anthony Armstrong-Jones, later to be Lord Snowden, is another turning point for Royal sibling Princess Margaret and launches the show's history of the licentious 1970s. An entire episode is devoted to the Queen's infamous art curator, who happened to be famous Russian spy Anthony Blunt.
Summing up the skillful use of art in The Crown, judge Jenny Tobin notes "Well, you can hardly beat a Renoir in Queens Hall can you?"
---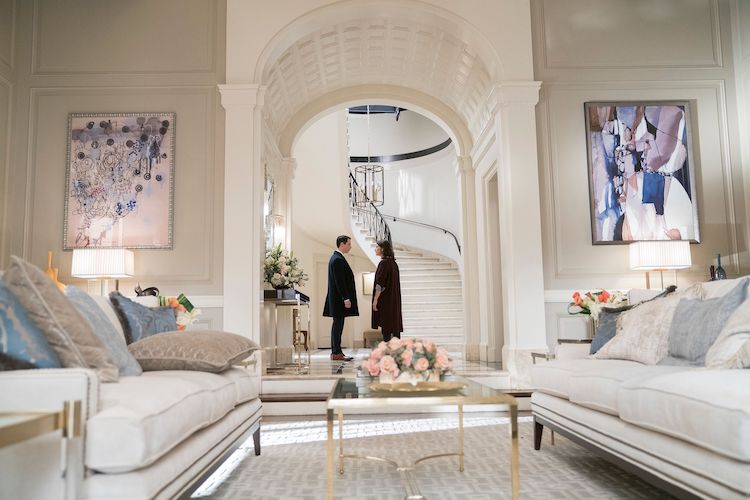 Photo Courtesy of Peter Kramer/HBO.
Succession
In Succession, members of the Roy family/media dynasty are diabolical; under-cutting each other as they scheme of revenge, power and earning daddy's approval. The art that the family poses in front of establishes that level of cruelty.
It is clear that patriarch Logan Roy, a billionaire, can pretty much have almost anything he wants in his dining room. But he chooses the enormous 1850 William Bouguereau "Virgil and Dante in Hell," (which actually hangs in Paris' Musee d'Orsay.) In the painting, the two men of the title tour the underworld witnessing one doomed soul rip the throat out of another. A laughing demon circles overhead. It instantly introduces Mr. Roy and the family.

Photo courtesy of HBO.
Set decorator George DeTitta also humanized him a bit by putting some Scottish landscape prints in his office to reveal his Scottish roots.

Photo courtesy of Craig Blankenhorn/HBO.
His challenge to create production designer Stephen Carter's vision was to create modern art that didn't distract from the overall narrative. However, very expensive paintings – even if loaned or reproduced – can get costly and risky.
"The prices we'd pay for recognizable artists in a weekly series show most likely wouldn't be affordable as you tend to pay based on how often it may be seen," DeTitta explains. "I tend to gravitate toward art that we like and don't have a problem seeing over multiple seasons."
DeTitta found prints he liked and just scaled them to fit the living room scene. In fact, he was so happy with the result, because "It also gave us an opportunity to give the Roys a more contemporary feel in the approach to the decor."
Once again, an art piece immediately placed the character into a time, place and economic zip code which is De Titta's formidable skill. Isn't he both efficient and clever?
---

Photo courtesy of Nicole Rivelli/Showtime.
Billions
Showtime's Billions, about ruthless hedge fund King Bobby Axelrod, takes the lead character's art collection seriously and tells us a lot about its owner.
Says Gail Davis, interior designer, of the show about a ruthless but somehow lovable main character: "The artwork made me smile. It is a sign of 'mama I made it' for Bobby. He made it off Long Island, with no degree or help from anyone. Like many, it is a sign that one has made it despite the odds. Each piece is not just about the beauty, but the price tag and what that price represents to the art owner."

Photo courtesy of ViacomCBS.
The show, whose set decorator is Stephanie Bowen, features both real artworks and licensed reproductions by such artists as Basquiat and Gregory Crewdson in the halls of Axe Capital. Its art is very much of the now, and little that is conventionally decorative or pretty. in Bobby's own house, there's the real expensive stuff: the Van Goghs, the Monets, the Old Masters. For an extra touch, there's even Sotheby's auction house stickers on the crates in the vault.
"They completely nailed the specific aesthetic of this place and time with their collection of the "greatest hits" of hedgefund art collections," adds set decorator Lydia Marx. "They then successfully adapted it for the changing season's storylines."
---
Bridgerton
Art is not in the background in today's shows, it's a catalyst for plot. In popular period romance Bridgerton, would-be lovers Daphne and the Duke of Hastings first bond, and hold hands, in the Royal Academy's Somerset house, over his mother's favorite landscape. "It reminds me of waking up in the country…it is serene, as if I could be the only person left in the world, and yet somehow I am not lonely," Daphne explains, taking his hand.

Image courtesy of Netflix.
Bridgerton took art seriously (so much so that it drew the attention of historians at the J. Paul Getty Foundation.) Consider the painting of a Black aristocrat, presumably meant to represent one of the Queen's ancestors. In Bridgerton, Queen Charlotte sits before a portrait based on a celebrated likeness of Juan de Pareja enslaved assistant in the artist's studio who then became an artist. What a thoughtful symbolic choice. On-screen, his head and collar have been digitally superimposed on the body of an aristocrat, re-writing British (and art) history somewhat.
---

Photo courtesy of Fox.
Empire
In the influential Fox show, Empire, music tycoon Lucious Lyons has one of the best collections of art ever on the small or the big screen; He not only built a recording empire, notes interior designer Courtney Sloane, but also an impressive art collection that anyone would find impressive especially with its canon of influential black artists throughout time, including emerging artists.
His family's treasures include works by leading contemporary artists Mickalene Thomas, Kerry James Williams and Kehinde Wiley— but also a Monet in the hallway and huge Seurat. Wiley was the artist who former President Barack Obama chose to create his presidential portrait.

Photo courtesy of Fox.
Most of the works featured on Empire are in museums and prominent collections, so the art on screen is reproductions printed and stretched on canvas.
Interestingly, some of the other artists featured on Empire, such as Toyin Ojih Odutola, were not as well-known when their works first appeared on the 2015-2020 show but are now superstars.

Photo courtesy of Fox.
Which shows how art impacts the viewer and how viewers pay attention to art.
Readers and viewers have until April 20 to vote. Winners will be announced on April 22nd.