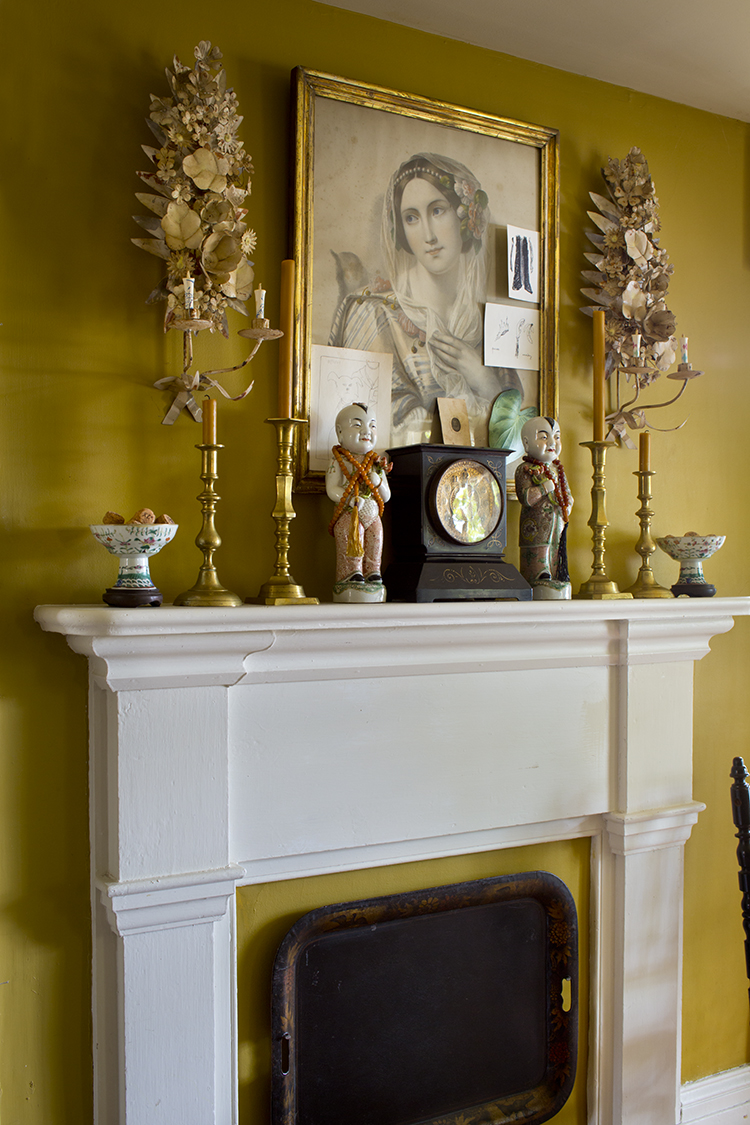 In the dining room, an ochre-colored wall sets off a faux fireplace with a mantle from the 19th century. Assembled on top are some of the prized accessories Coviello has collected in China over the years.
---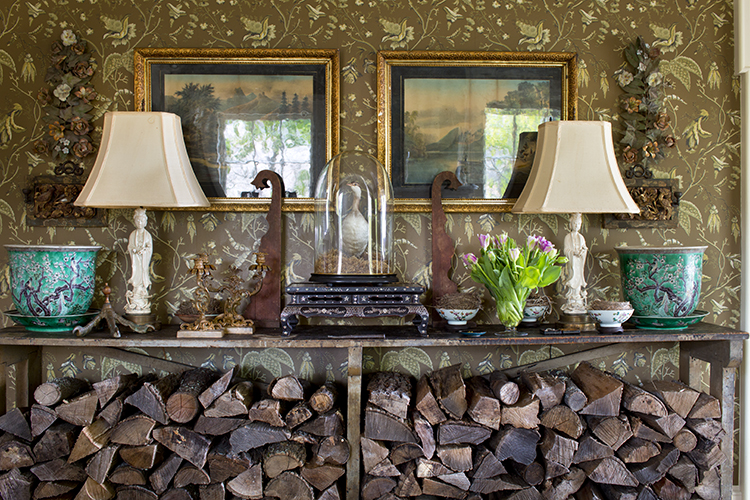 Ready for chilly evenings are a stash of logs beneath a handmade table in the living room. The c.1930s lamps were found at a NYC flea market. The wallpaper, an 18t hcentury design, dates from the 1960s.
---
Fashion designer James Coviello had three non-negotiable demands for the weekend house he wanted. It had to be as untouched, as original, as possible; it had to be in the country, but not too far from a town; and it had to include some land, but not so much as to become problematic.
It was a tall order, but the first house he saw, a Greek Revival built in 1840, answered the clarion call. Nestled on an acre tucked between rolling green pastures and cornfields about 15 miles from the town of Hudson, in Columbia County, New York, it had been used as a weekend house, not a full-time residence, for the past 100 years, "sparing it from 'vinylization' in the fifties and sixties," he recalls. "And I would be only the fourth person to own it. All I had to do was bring it back to life."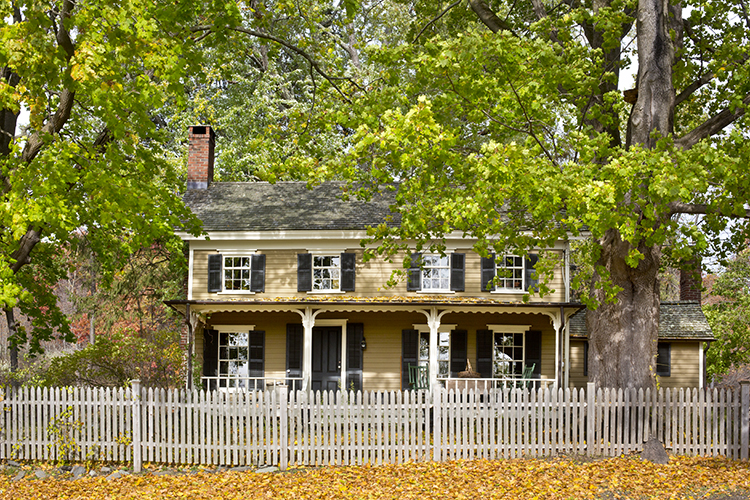 Surrounded by a cedar picket fence, the eightroom, Greek Revival home built in 1840, fronts a lush green landscape.
---
Accessorized with many items from the 19th century: a rug found in Massachusetts; a pine Shaker table surrounded with ebonized Belgian chairs with cane seats; a chandelier from Lima, Peru, a city filled with antique shops. Plus, the dining room's full-length cupboards make entertaining easy.
---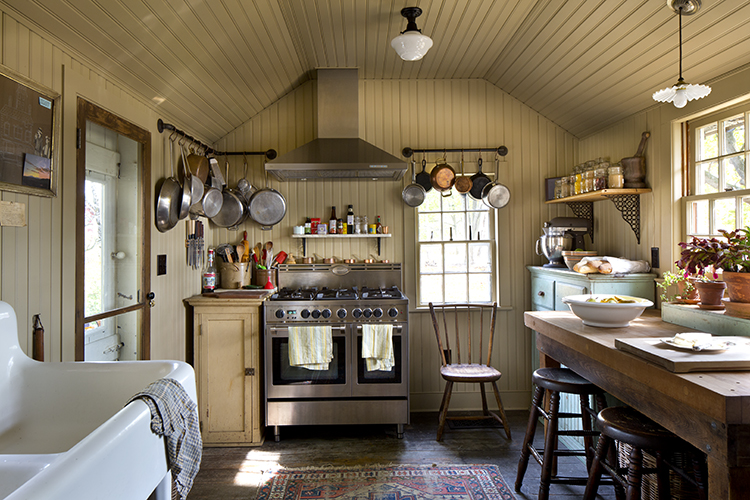 The cozy kitchen sports a 1930s farmhouse sink purchased in Brooklyn and a top-of-the-line stove for frequent entertaining.
---
Countering the lack of built-ins are such items as this turn-of-the century cabinet sporting its original brightly-hued paint.
---
Working with Gabe Shaftlein, a restoration carpenter based in Troy, New York, who Coviello says understands the "fine line" between knowing when to make something pure and when to make it practical, he began with the two most challenging tasks: he would need to gut the kitchen and the second-floor bathroom – the plumbing dating from 1932 – and replace the dilapidated asphalt roof with a historically appropriate one of cedar shakes.
Making the journey from his Brooklyn Heights residence as often as possible, and staying as long as he could, he recounts, "Over time, I saw what was needed and determined what I would do: create a home where I could live comfortably in the present with the trappings of the past, which coincides perfectly with my romantic, slightly nostalgic aesthetic."
"The style of the 19th century has always drawn me in," he explains further. "I really love the naturalists, from Balzac to Zola with a little bit of Wharton thrown in for good measure. The very detailed descriptions of daily life and the surroundings in which their characters move, evoke a feeling that I have tried to recreate for myself in daily life." A quick view of Coviello's Instagram account reflects the dozens of photos of the era's top historic homes that he's visited throughout the US and England, photos that inspired the design of this house.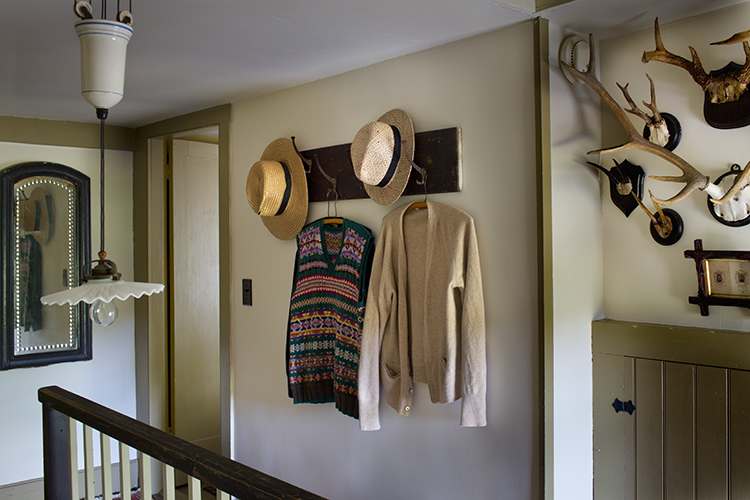 Brightening the upstairs hallway is an unusual pulley-operated, porcelain-and-glass light fixture. One of two found in Basel, Switzerland, it dates from the 1890s. Pieces from Coviello's extensive antler collection are displayed at right.
---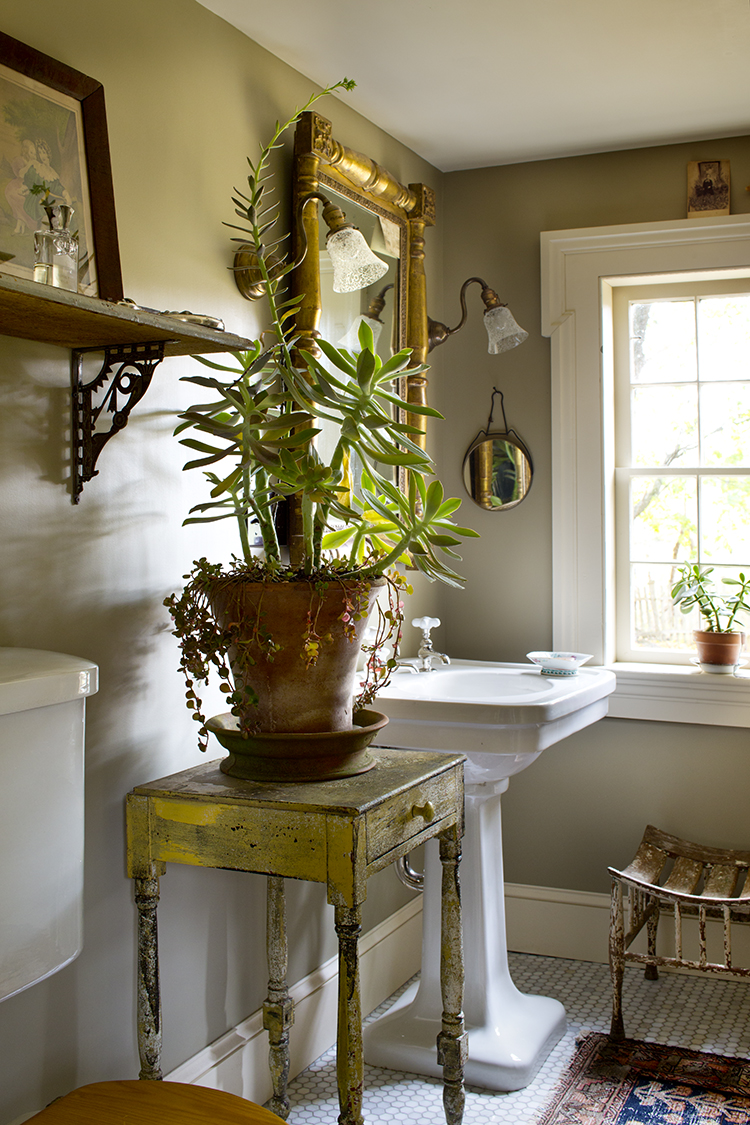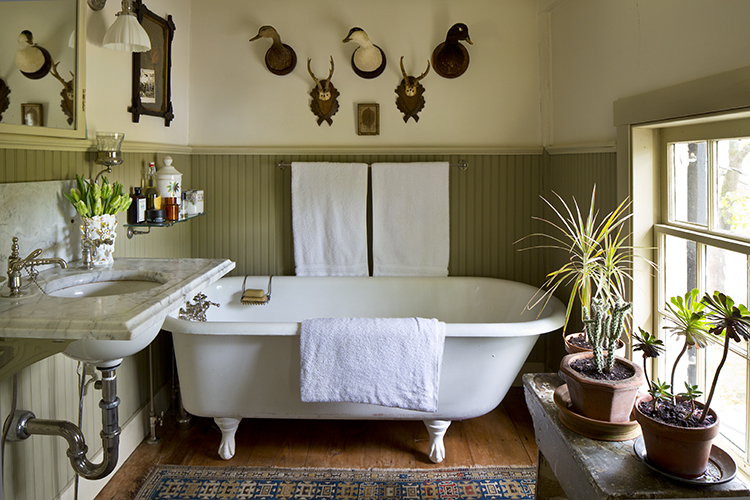 Another cozy bathroom furnished with original fixtures and artwork from local antique shops.
---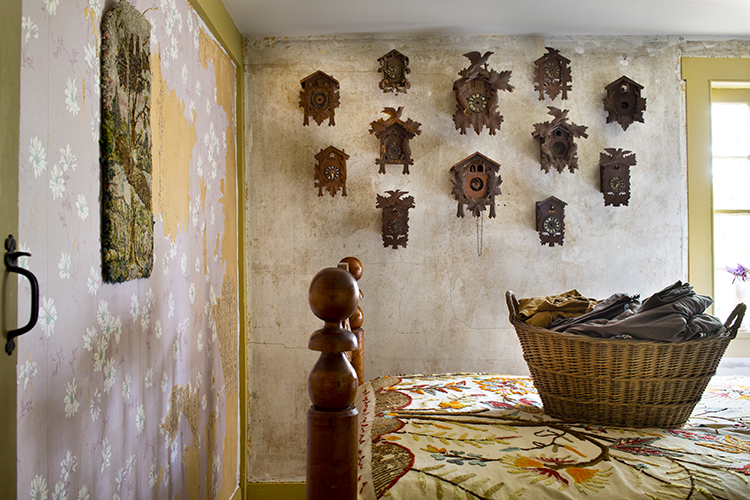 The guest room's original plaster walls provide the perfect setting for its mélange of furniture sourced in China and the nearby Hudson Valley town of Hudson. The cuckooclocks were purchased at an antique shop for $10. Bits of the original wallpaper cover parts of the plaster wall at left.
---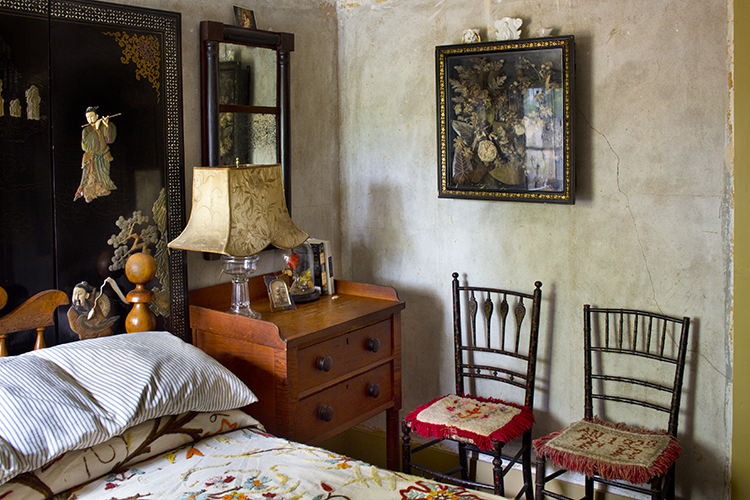 The master bathroom, an addition to the house, is as genuine as possible with the marble sink from 1900 set with replated, original fixtures and the claw-footed tub from 1895.
---
To the untrained eye, the décor looks completely of the period – in part due to the original wide-planked floorboards, doors, locks and even windows that were left in place. But it's really the designer's vision. The colors he used, for example, ochre, moss and olive green and robin's egg blue, were popular in that period, but these particular shades are his take on them. As he puts it, "I'm looking at the past through rose-colored glasses."
A habitual shopper who makes a point of visiting antique stores and flea markets on his frequent trips to clothing factories for the James Coviello line sold at Anthropologie, and James Coviello for Anna Sui knitwear – Coviello didn't have to look beyond his own many collections to furnish much of the house: The c. 19th-century chandelier over the Shaker dining table picked up in Lima, Peru, was just waiting for a place to be hung. Bibelots on the fireplace mantels come from China, a place he travels to frequently and where he's found dozens of such treasures. The antlers displayed throughout the house – "I think they're beautiful." – are from a collection begun decades ago that includes a few from 19th-century Paris and London. To sum up his philosophy about furnishings, "I do have some very 'fine' furnishings, but it's not the provenance that counts, it's whether I like it or not."
With dining and living rooms, kitchen, pantry, two bedrooms, two baths and a study within 1,400 square feet, there was a lot of decorating to be done, but he says, "I wasn't in a rush. If I had to wait to do something like the cedar picket fence, which was too costly for me at the beginning, I waited. I didn't want to compromise on anything."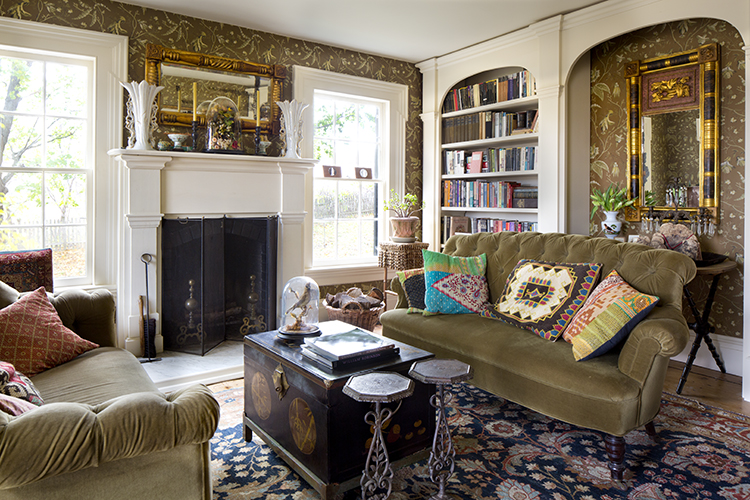 Reflecting the columns on the Greek Revival-style fireplace are the bookshelves built by the designer. The velvet-upholstered Chesterfields and Chinese antiques add to the relaxed ambience.
---
Coviello encountered some surprises as he worked on the house, endeavoring to keep it as original as possible. In the kitchen for example, he pulled three layers of linoleum off the floor, then one of plywood and finally one of hardwood before reaching the slate blue-painted one underfoot now. In the guestroom, beneath the flowered wallpaper, he found original plaster walls that had never been painted. He peeled as much of the paper off as he could and left the pieces that refused to budge.
Currently working on a new wing with two bedrooms and a sunroom, Coviello says he doesn't understand why so many people buy a new house when they outgrow their old one. "I'm just going to keep adding on here. What could be more fun than that?"
Like what you see? Get it first with a subscription to ASPIRE DESIGN AND HOME magazine.